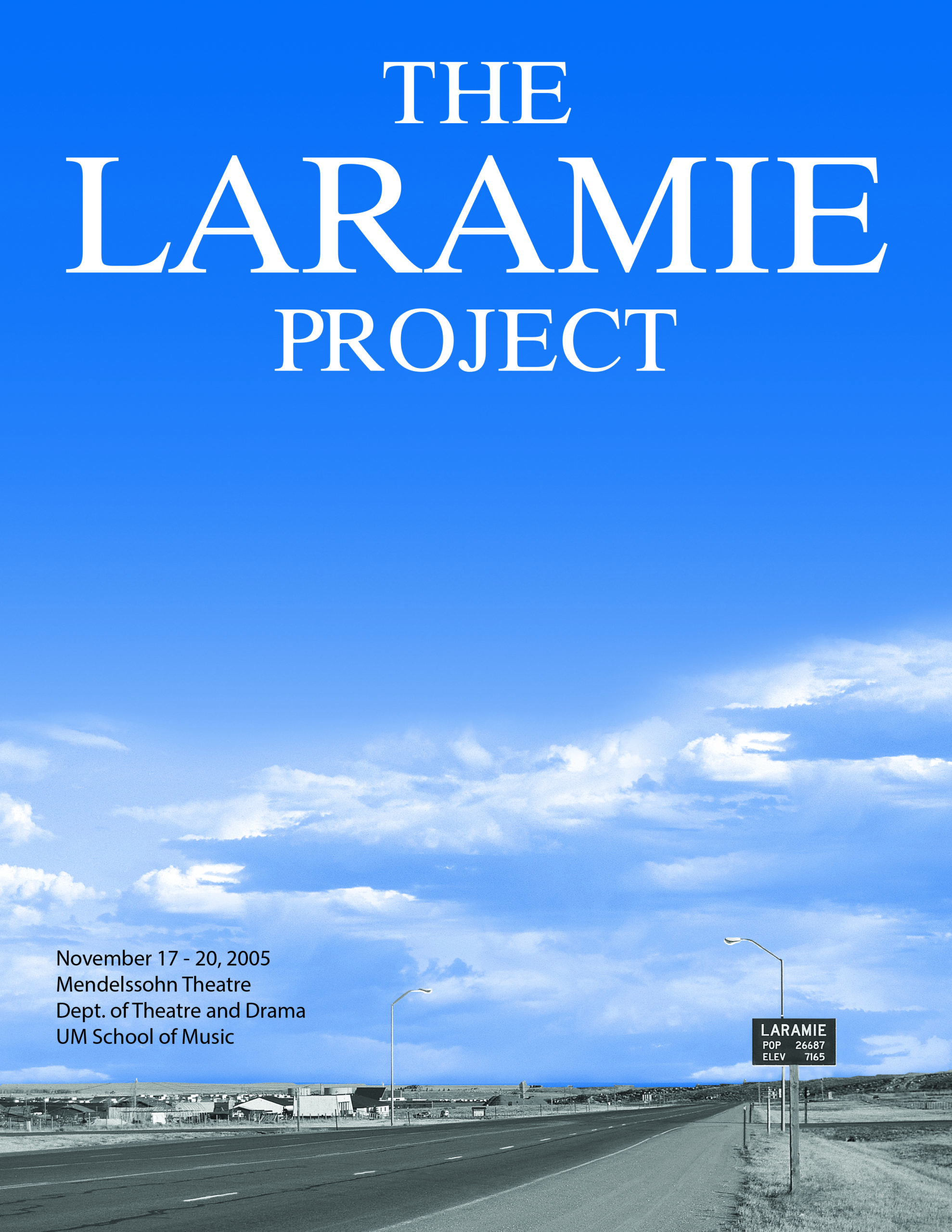 The Laramie Project
By Moisés Kaufman and Members of the Tectonic Theater Project Department of Theatre & Drama November 17-20, 2005 • Lydia Mendelssohn Theatre
In October 1998, university student Matthew Shepard was brutally beaten, tied to a fence and left to die outside the town of Laramie, Wyoming, because he was gay. His death cast the eyes of the world on this small western town. The Laramie Project emerged from a series of interviews with residents, creating a moving theatrical experience by portraying  the varied reactions of the townspeople to this event and subsequent trials. From the idealized perceptions of small town life in the open West, to the deflating reality of a crime that caused an international outcry, The Laramie Project is a deeply moving depiction of a town forced to face its loss of innocence.
The writers conducted over 200 interviews and spent over a year and a half developing the play. The collage of stories in The Laramie Project is stunningly effective in its efforts to dramatize various issues surrounding the murder and the town's vision of itself. As homosexuality continues to roil the American pysche, perhaps Laramie's struggle is emblematic of America's national drama. Is America a land of individuals who live and let live, or are certain lifestyles beyond a community's moral code?
Artistic Staff
Director: Robert Chapel Scenic Designer: Gary Decker Costume Designer: Meghann O'Malley Powell Lighting Designer: Kendall Smith Sound Designer: Henry Reynolds Vocal Coach: Annette Masson Stage Manager: Christina M. Hagan
Cast
Amanda Gronich, Member of the Tectonic Theater Project: Kirsten Mara Benjamin Stephen Belber, Member of the Tectonic Theater Project: Jeffrey Blim Philip Dubois, Jon Peacock, Stephen Mead Johnson, Phil LaBrie, Governor Jim Geringer, Murdock Cooper, Revered Fred Phelps, Cal Rerucha, Dennis Shepard: Adam Caplan Jedadiah Schultz, Baptist Minister, Matt Mickelson, Dr. Cantway, Newsperson #2, Gil Engen, Harry Woods, Kerry Drake, Bailiff, Aaron McKinney: Patrick Chu Eileen Engen, Marge Murray, Newsperson #1, Sherry Johnson, Lucy Thompson: Karenanna Creps April Silva, Trish Steger, Catherine Connolly, Zubaida Ula, Sherry Aanenson, Mormon Home Teacher to Russell Henderson: Kyla Embrey Rebecca Hilliker, Reporter, Waitress, Minister's Wife, Kristin Price, Reggie Fluty, Judge, Newsperson #3: Erin Farrell Moisés Kaufman, Member of the Tectonic Theater Project: Eric Kahn Gale Zackie Salmon, Alison Mears, Romaine Patterson, Aaron Kreifels, Tiffany Edwards, Jen: Sari Goldberg Leigh Fondakowski, Member of the Tectonic Theater Project: Kimberly Harberg Sgt. Hing, Jonas Slonaker, Father Roger Schmit, Shadow, Rulon Stacey, Rob Debree, Shannon, Priest at the Funeral: Edmund Alyn Jones Andy Paris, Member of the Tectonic Theater Project: Daniel Kane Barbara Pitts, Member of the Tectonic Theater Project: Ali Kresch Greg Pierotti, Member of the Tectonic Theater Project: Eric Schinzer Doc O'Connor, Doug Laws, Matt Galloway, Anonymous Friend of Aaron McKinney's, Jeffrey Lockwood, Bill McKinney, Conrad Miller, Andrew Gomez, Russell Henderson, Foreperson: James Wolk
Sponsors
The 125th Anniversary season is made possible in part by a generous gift from Will and Jeanne Caldwell.
The School of Music acknowledges the generosity of McKinley Associates, Inc. whose support has helped make this production possible.
Resources
[accordion title="Author's Note"] The Laramie Project was written through a unique collaboration by Tectonic Theater Project. During the year-and-a-half development of the play, members of the company and I traveled to Laramie, Wyoming, six times to conduct interviews with the people of the town. We transcribed and edited the interviews, then conducted several workshops in which the members of the company presented material and acted as dramaturgs in the creation of the play. As the volume of material grew with each additional trip to Laramie, a small writers' group from within the company began to work closely with me to further organize and edit the material, conduct additional research in Laramie, and collaborate on the writing of the play. This group was led by Leigh Fondakowski as Head Writer, with Stephen Belber and Greg Pierotti as Associate Writers. As we got closer to the play's first production in Denver, the actors, including Stephen Belber and Greg Pierotti, turned their focus to performance, while Leigh Fondakowski continued to work with me on drafts of the play, as did Stephen Wangh, who by then had joined us an Associate Writer and "bench coach." — Moisés Kaufman [/accordion]  
Media
Program
Photos
[cycloneslider id="05-06-laramie-project"]