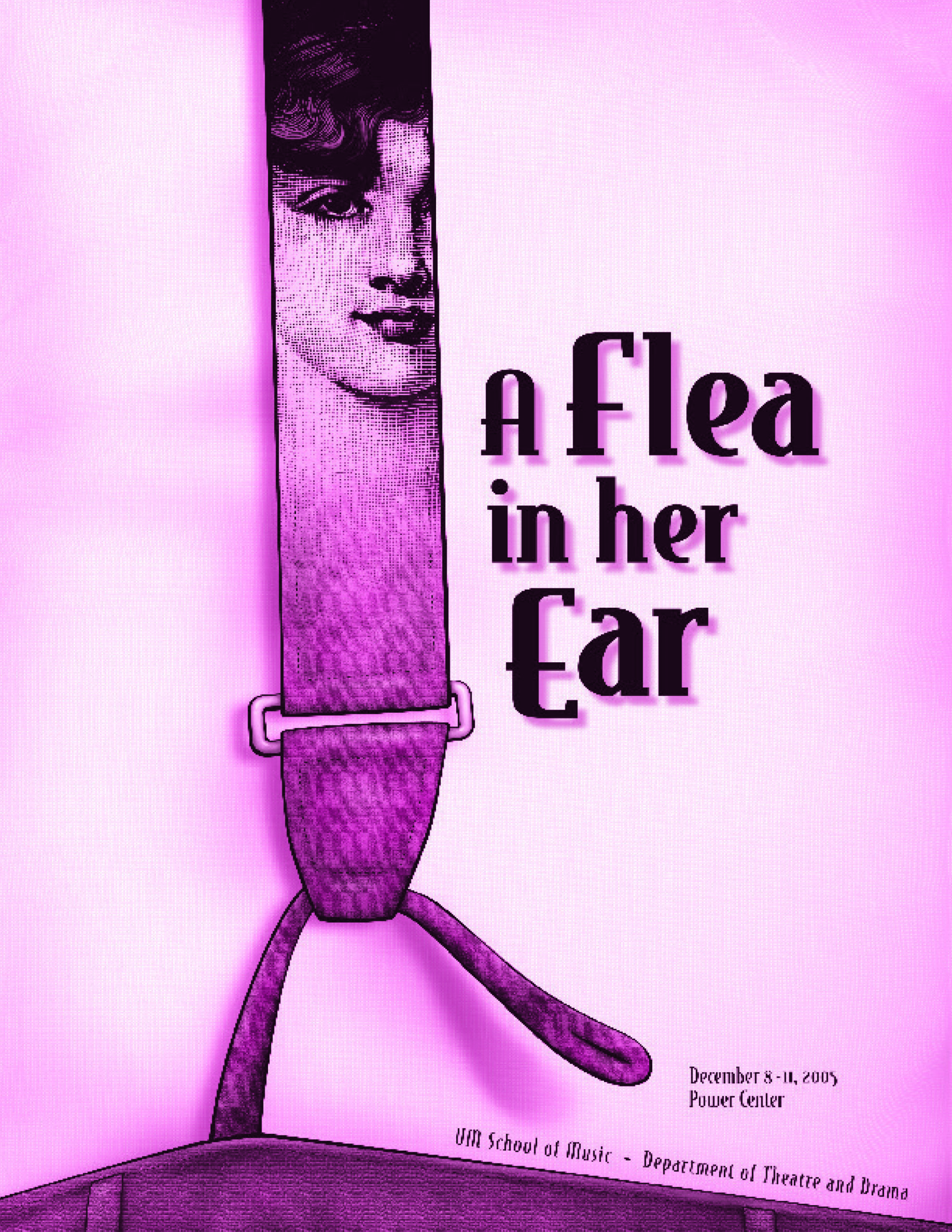 A Flea in Her Ear
By Georges Feydeau
Translated by Barnett Shaw
Department of Theatre & Drama
December 8-11, 2005 • Power Center

If Viagra had existed in the early 1900s, comedy would not have been the same! Raymonde mistakenly determines that her husband Victor is having an affair due to their recent lack of amorous activity and because she intercepted a pair of his suspenders in the mail. To prove her suspicions, Raymonde writes an anonymous letter to her husband requesting a romantic rendezvous at a disreputable hotel. Victor misinterprets the letter and sends his friend Tournel, a notorious womanizer, in his place. Hilarity ensues at the hotel where mistaken identities and revolving beds lead to more confusion and marital mayhem.
Georges Feydeau is the unequivocal master of the French bedroom farce. Written in 1907 at the height of the Belle Epoque, A Flea in Her Ear is one of his greatest works, a light, amusing, and skillfully constructed comedy. This production is directed by John Neville-Andrews, whose last round with French Farce, Don't Dress for Dinner, was the hit of the season. Played with breathtaking speed, A Flea in Her Ear is a witty series of misunderstandings, clandestine assignations, and misplaced jealousies that culminate in an evening of unparalleled fun.
Artistic Staff
Director: John Neville-Andrews
Scenic Designer: Rob Murphy
Costume Designer: Taran Muller
Lighting Designer: Janine L. Woods
Wig and Makeup Designer: Dawn Rivard
Vocal Coach: Annette Masson
Stage Manager: Stephen Siercks
Cast
At Chandel's House
Victor-Emmanuel Chandel: Daniel Strauss
Yvonne Chandel, his wife: Cara Akselrad
Camille, Victor-Emmanuel's nephew: Chris Allen
Romain Tournel, a lover: De'Lon Grant
Doctor Finache: David Abed
Don Carlos Homénidès de Histangua: John Jarboe
Lucienne, Don Carlos' wife: Chelsea O'Connor
Étienne, the manservant: Matthew Smith
Antoinette, his wife, the cook: Kate Garfield
At the Le Chaton Mignon Hotel
Ferraillon, the hotel manager: Kevin Kuczek
Poche, a drunken porter: Daniel Strauss
Rugby, an English guest: Brian Holden
Baptistin, Ferraillon's old relative: Patrick Rourke
Olympe, Ferraillon's wife: Rebecca Schwartzstein
Eugénie, a maid: Elizabeth Engle
Sponsors
The 125th Anniversary season is made possible in part by a generous gift from Will and Jeanne Caldwell.
The School of Music acknowledges the generosity of McKinley Associates, Inc. whose support has helped make this production possible.
Media
Program
Photos
[cycloneslider id="05-06-flea-in-her-ear"]