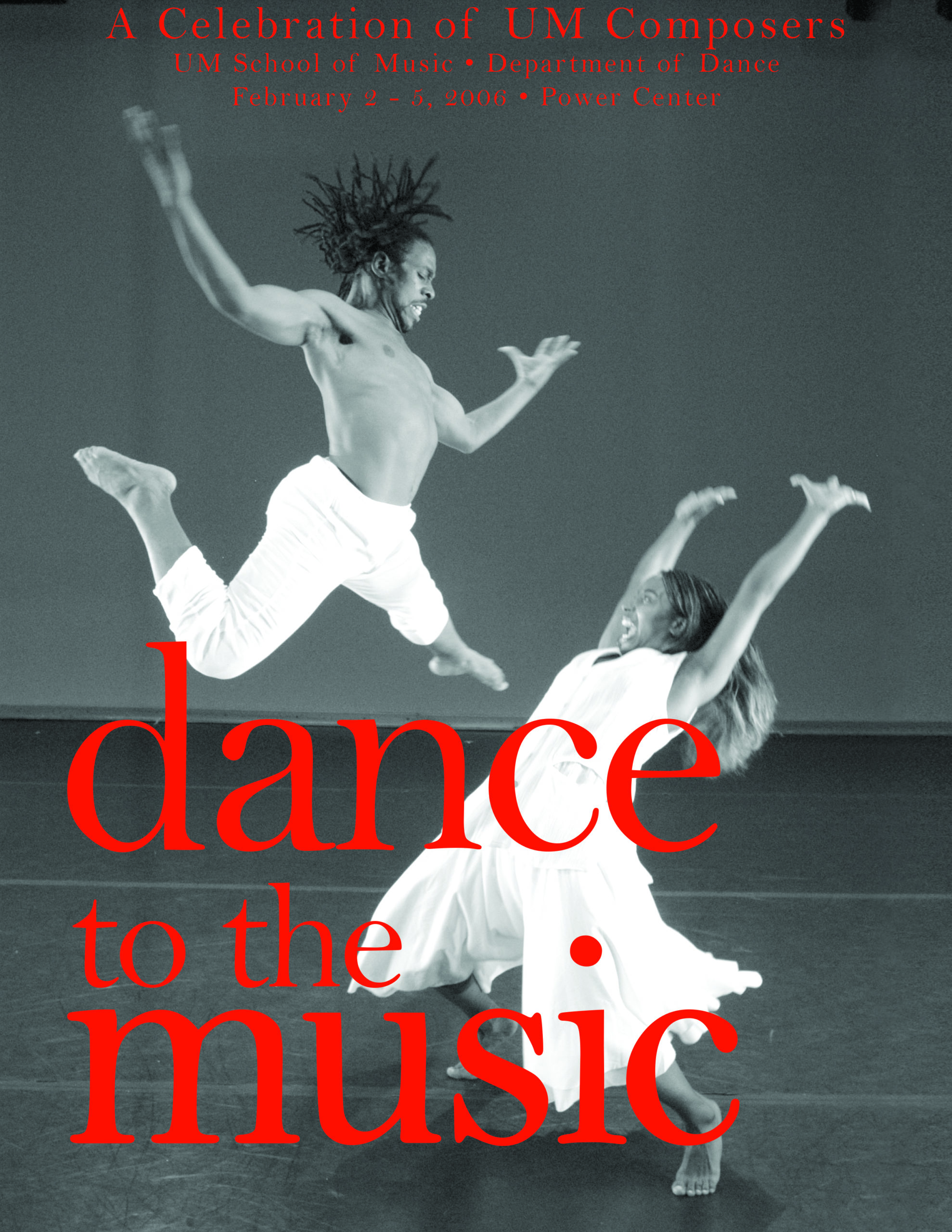 Dance to the Music: A Celebration of U-M Composers
Choreography by guest artists Doug Varone and Matthew Rose and faculty Gay Delanghe, Jessica Fogel, Missy Beck Matjias, and Peter Sparling
Department of Dance
February 2-5, 2006 • Power Center

The University Dance Company celebrates the 125th Anniversary of the School of Music by collaborating with School of Music composers to create Dance to the Music, an evening of dance set to past and present School of Music compositions. Highlighting the concert is a work by New York choreographer Doug Varone. Varone's work utilizes his experience in choreographing for musical theatre, opera, and film to create engrossing works of modern dance that capture the nuances of human interaction. Gay Delanghe, in her final year at UM, restages excerpts from two of her previous works, "Motor Tango/Tangle" with music by George Wilson and "Viewing the Colossal Athena's at the Parthenon" with music by William Albright. Set to a work by Evan Chambers, Peter Sparling's dance is inspired by poetic epitaphs  ranging from tragic to jubilant, as found on New England gravestones. Alum Matthew Rose returns to set a dance to "Graceful Ghost" by William Bolcom. Jessica Fogel and Missy Beck-Matjias will create works to round out the program.
Artistic Staff
Artistic Director: Bill De Young
Scenic Designer: Vincent Mountain
Costume Designer: John Woodland
Lighting Designers: Alan Billings, Mary Cole
Music Coordination: Christian Matjias
Stage Manager: Jamie Burke

Repertoire & Performers
[accordion title="Identified Flying Objects/1-800-COSMOS*"]
Choreography by Jessica Fogel
Music: "Flying" from "UFO" (1999) by Michael Daugherty
Video by Russ Kuhner
Dancers: Rodney Brown, Stephanie Calandro, Krisilyn Tony Frazier, Jennifer Harge, Christie Lynn Jenuwine, Julie Leppelmeier, Taryn Akemi Look, Jordan Newmark, Alexander Springer, Samantha Stone, Erika Stowall, Kristina Tate, Jenny Thomas, Jenna Lane Walters, Jarel Waters, Alison Woerner
Understudy: Aidan Feldman
Choreographer's Notes: In dialogue with the shifting moods of the music, I played with a series of images not of UFO's but rather of IFOs — identifiable flying objects. Stars burst and particles fly, tempers fly, props fly in and out, clothes fly, time flies, and there is, up above the world so high, a tea tray in the sky, so of course there are cups and…saucers.
Composer's Notes: UFO was commissioned by the National Symphony Orchestra through a grant from the John and June Hechinger Commissioning Fund and written for Evelyn Glennie. The concerto is inspired by the unidentified flying objects that have become an obsession in American popular culture. In the third movement, "Flying," a mysterious melody, introduced by the vibraphone, is echoed kaleidoscopically like a halo of sound throughout the orchestra. Periodically this slow motion music accelerates into fugues flying at supersonic tempos. The solo percussionist gives a virtuoso performance on vibraphone, marktree, and cymbals that hover and shimmer in the air like flying saucers.
[/accordion][accordion title="How the Dark Water Flowed"]
Choreography by Missy Beck Matjias
Music: "Hommage à Arthur Honegger" (1951) and "Six Piano Pieces" (1951) by Leslie Bassett
Pianist: Christian Matjias
Rehearsal Assistant: Carolina Pahde
Dancers: Cristina Calvar, Megan DeShong, Aidan Feldman, Katlyn Kraus, Trina Mannino, Lara Martin, Stephanie Overton, Kimberly Sable, Elizabeth Schweiger, Marly Spieser-Schneider, Kathleen Wright, Abigail Zeitvogel, Rachel Zonca
[/accordion][accordion title="Motor Tango/Tangle"]
Choreography by Gay Delanghe (1981)
Music: "Cancatenations for 12 Instruments" (1969) by George Balch Wilson
Drum Line composed and performed by Michael Gould
Costumes after the original by Barbara Mostaghim
Dancers: Helen Bates, Melissa Bloch, Daytona Frey, Shannyn Hart, Nicolle C. Jamieson, Sarah Pelc, Jessica Sachs, Shauna L. Steele
Choreographer's Notes: "Motor Tango/Tangle" was originally a solo (1978) for a television project and expanded to a duet (1979) for Dance Uptown/NYC and then an octet (1981) for the University Dance Company. The solo TV project demanded that the dance stay in one place, thus the spacing characteristic of the work. The dance has always been lengthened by adding a trap drum to the beginning and ending of Wilson's score.
Composer's Notes: "Concatenations for 12 Instruments" was composed in 1969 for the Contemporary Directions series.
[/accordion][accordion title="Burying Ground"]
Choreography by Peter Sparling
Music: "The Old Burying Ground" (2002) by Evan Chambers
Musicians: Evan Chambers (vocals), Midori Koga (piano), Erik Santos (piano & vocals)
I. "Oh Say Grim Death" — Preacher: Jeremiah Crank (Thurs. & Sat.); Joseph Roth (Fri. & Sun.)
II. "A Bar So Pure" — Elderess: Leah Ives (Thurs. & Sat.), Alexandra Burley (Fri. & Sun.)
Her Attendants: Sheila Klein, Carolina Pahde
III. "Oh Drop On My Grave" — Matthew Farmer
IV. "Thy Peaceful Reign" — Company
Dancers: Kristen Berger, Alexandra Burley, Jeremiah Crank, Amanda Dye, Matthew Farmer, Jennifer Gerhart, Jenna Giorgio, Leah Ives, He Jin Jang, Roche Janken, Elissa Karstu, Sheila Klein, Lindsay Kline, Lizzie Leopold, Carolina Pahde, Jordan Risdon, Joseph Roth, Kristen Sague
Choreographer's Notes: "Burying Ground" harkens back to a time in our country's cultural and social life when spirit and body were bound together in a more tenuous balance with ever-present death. Rituals of passing were a common event at the local meetinghouse, church and burying ground. Epitaphs engraved on tombstones were poems – often in the voice of the deceased – left for the living to ponder as they passed by. The ground of the word "burying ground" was perhaps more immediate and real to these New Englanders of the 1800s – with far fewer means of ascent away from that ground. Ascent meant something granted only to the spirit, or to the children of the Garden of Eden who endured "a world of toil and pain" before entering the Peaceful Reign.
Composer's Notes: "The Old Burying Ground" consists of settings of epitaphs on tombstones that I gathered in New Hampshire in 1998 and 2003. I've always been drawn to cemeteries – walking in them for many years, I've made a meditation of reflecting upon how lives appear and disappear in this world. Even the barest information provided on a gravestone provides an excellent opportunity to confront both the inevitability and the simple fact of death, which is one of the central truths of life on earth. The gravestones in New Hampshire seem to be particularly compelling, though, and often directly challenge the reader to engage with the sometimes frightening, sometimes more peaceful aspects of our mortality and the grief we leave behind when we die.
[/accordion][accordion title="Graceful Ghost"]
Choreography by Matthew Rose
Music: "Graceful Ghost" (1969) by William Bolcom
Performed by Matthew Rose and William Bolcom
[/accordion][accordion title="Seven Deadly Sins"]
Choreography by Gay Delanghe (1975/1980)
Music: "The Seven Deadly Sins" (1974) by William Albright
Costumes after the original by Barbara Mostaghim
Narration by Michelle Derr
Musicians: Contemporary Directions Ensemble Conducted by Andrew George
Jacqueline Arrington (Flute), Debbie Clark (Violin), Shawn Jaeger (Violin), Chris Fisher Lochhead (Viola), Theresa Martin (Clarinet), Chris Wild (Cello), Wei-Han Wu (Piano)
Dancers (in order of appearance): Natalie Griffith (Wrath), Katie L. Zeitvogel (Vanity), Maureen Kelley (Lechery), Kristin Lehnert (Gluttony), Anna Bratton (Sloth), Joyelle Fobbs (Envy), Dominique Melissinos (Greed)
Notes: School of Music composer William Albright is fondly remembered for his "tongue in cheek" and "fire and brimstone" musical scores especially for the organ. An accomplished organist and pianist, he had great fun with medieval writer William Dunbar's 1500 poem in which Satan calls forth each deadly sin in a dance. This restaging does not include the "Grande Gallop Finale."
[/accordion][accordion title="And Their Words to the Ends of the World"]
Choreography by Doug Varone (2001/2005)
Music: "Tehillim" (1981) by Steve Reich
Staged by Netta Yerushalmy
Rehearsal Direction by Robin Wilson assisted by Melissa Bloch
Dancers: Rodney Brown, Alexandra Burley, Jeremiah Crank, Matthew Farmer, Jennifer Gerhart, Shannyn Hart, Leah Ives, He Jin Jang, Christie Lynn Jenuwine, Julie Leppelmeier, Lizzie Leopold, Lara Martin, Alexander Springer, Samantha Stone, Erika Stowall, Jarel Waters, Katie Louise Zeitvogel
Understudies: Melissa Bloch, Aidan Feldman, Roche Janken, Carolina Pahde, Shauna L. Steele, Alison Woerner
Choreographer's Notes: This work was originally commissioned by NYU's Tisch School for the Arts in 1999, one of a series of three dances completed over the course of three years. "And Their Words to the Ends of the World" is the third and final dance of the series.The dance celebrates community: a gathering, where thoughts are shared and spoken. Each member of the community stands out as an individual within a woven tapestry and like episodes, the work unfolds a series of events that accumulate with power.
Composer's Notes: "Tehillim" is the original Hebrew word for "Psalms." Literally translated it means "praises," and it derives from the three letter Hebrew root 'hey, lamed, lamed' (hll) which is also the root of halleluyah. "Tehillim" is a setting of Psalms 19:2-5, 34:13-15, 18:26-27 and 150:4-6. The overall sound of "Tehillim" and in particular the intricately interlocking percussion writing which, together with the text, forms the basis of the entire work, marks this music as unique by introducing a basic musical element that one does not find in earlier Western practice including the music of this century.
[/accordion]
Sponsors
The 125th Anniversary season is made possible in part by a generous gift from Will and Jeanne Caldwell.
The School of Music acknowledges the generosity of McKinley Associates, Inc. whose support has helped make this production possible.
Resources
[accordion title="Composition at the University of Michigan"]
A Reminiscence
Yes, I was the first composer to earn a Michigan doctorate (1956). Fifty years ago. Being a junior member of the faculty at the time, and having received a masters degree here, I was the guinea pig for establishing the new requirements. (In those days the degree was written as a Latin abbreviation, A.mus.D,) I had already enrolled in the Ph.D program in musicology, anticipating that a doctorate would be available to composers and performers. Early requirements for those first composer DMA students were somewhat in flux, before they settled down to present patterns. For instance I took exams in two languages, gave a full trombone recital, provided a performing-scholarly edition of music for violins, trombones and continuo by Biaggio Marini, etc.
Now here we are, 50 years later, at the Celebration of the School of Music's 125 years. Such a celebration gives us a chance to reflect on countless successes and remember many friends from over the years. Twenty-five years ago, for the School of Music's Centennial (1980), another occasion for remembering, I was commissioned to write my Fourth String Quartet, premiered by the New World String Quartet on March 20, in Rackham Auditorium. There were other commissions. Ross Lee Finney's Still Are New Worlds was composed for the Choral Union and the Philadelphia Orchestra and received a stunning premiere. George Rochberg's Seventh Quartet, with baritone, was another wonderful score. University composers received many performances by faculty colleagues, the Stanley Quartet, our bands, orchestras, choirs and visiting artists. Many of those new works called for artists in related disciplines to work together.
In fact, working together (It's exciting!), the combining of talents, seemed to be more the norm than the exception. Even our graduation processions might appear to reflect such a mix, and composers have always been on hand. Shortly after I joined the faculty (early 50s), I provided the score for a UM film about the Locks of Sault Ste Marie. UM composer alum George Crumb's Echoes of Time and the River requests orchestra members to process (!) onto the stage. There is a welcome visual element in such music, and most composers count on it. Student composers have regularly worked with colleague writers, dancers, film makers. The former Inter-Arts Union, for at least a decade, presented concerts and events with such a mix. One of the pieces I remember was a work by Thomas Clark for himself, as composer-trombonist, and a female dancer. As the slide, and the trombonist, moved, the dancer responded, for a delightful duo. The Composition Department, as well as the Electronic Music Studio under Prof. George Wilson, presented decades of Contemporary Directions programs, electronic music events, projections, dancers, mimes, films and actors. The Once Festival provided several years of interactive concerts within the community, calling for participation from students, faculty and townspeople. (Recordings of the Once Festival programs have been released by Nonesuch.) Films made by members of the classes of Prof. Frank Beaver often required music by young composers. New scores for orchestras or bands occasionally called for narrator, percussion or other soloists, electronic sounds, amplification, visuals, or unusually effective seating arrangements. Improvisation, an essential ingredient in many dance works, has been welcomed by musicians as well. Between the 60s and 80s, composers often asked for improvisation, to some degree, in their scores. Such passages, perhaps unmetered or diagrammed, were especially welcomed by dancers and choreographers. The mix of music with these other arts has proven very effective, and composers, over the years, have been eager.
Ars longa, vita brevis.
Leslie Bassett, Albert A. Stanley Distinguished University Professor Emeritus of Music
[/accordion]
Media
Program