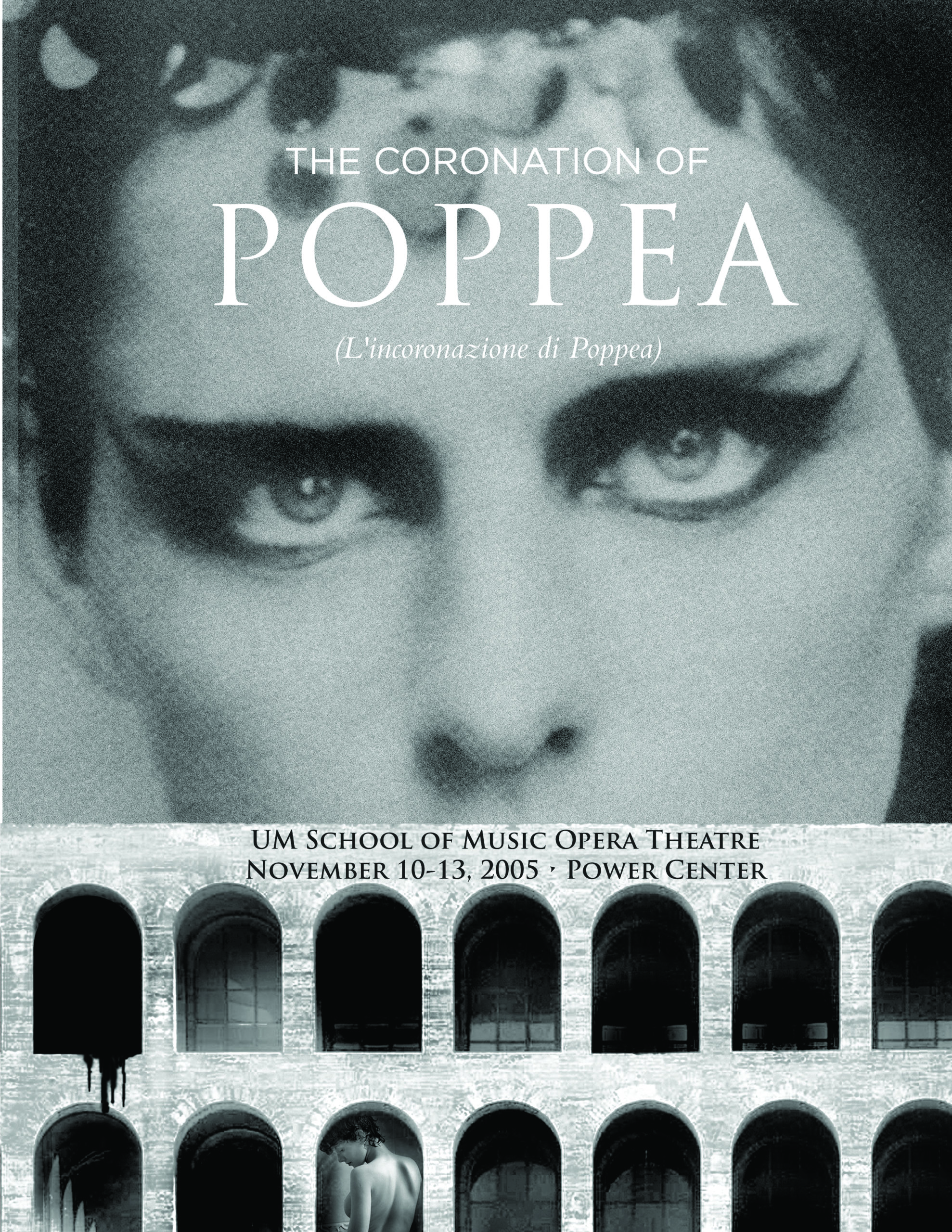 The Coronation of Poppea
Music attributed to Claudio Monteverdi and Francesco Sacrati
Libretto by Giovanni Francesco Busenello
University Opera Theatre
November 10-13, 2005 • Power Center
Poppea relates the historical account of a beautiful courtesan who schemes to become empress of Rome during Nero's reign. The plot mixes elements of selfishness, greed, and lust into a portrait of humanity's excess. Our bold new production directed by Joshua Major supports Monteverdi's music of expressive intensity in depicting vivid characters, even despicable ones.
Claudio Monteverdi was the most significant composer of opera during its formative years in the 17th century. Some of this genius's works are still in the repertoire today. His last opera, L'incoronazione di Poppea (1642), is considered to be Monteverdi's supreme masterpiece, a work that combines tragic and comic elements with deep character development. Poppea is also remarkable for the lyricism Monteverdi embeds within the recititives to interpret human nature and emotion. The opera features passionate laments and love arias including the sublimely beautiful final duet, "Pur ti miro." Rich in subtleties and tragic moments with a perfect balance between words and music, Poppea is an amazing acheivement of composition and characterization for a composer of seventy-four years.
Artistic Staff
Director: Joshua Major
Conductor: Timothy Cheek
Assistant Conductor: Robert Boardman
Scenic Designer: Vincent Mountain
Costume Designer: Christianne Myers
Lighting Designer: Judith M. Daitsman
Chorus Master: John Trotter
Musical Preparation: Jamison Livsey, Matthew Thompson
Wig Designer: Kathleen Kurz
Stage Manager: Joseph Schlenke
Cast (Thursday-Saturday/Friday-Sunday)
Fortuna: Rabihah M. Davis/Olivia Duval
Amore: Minnita Daniel-Cox/Anne Gross
Virtù: Lucretia Fleury/Yun-Ju Lai
Poppea: Hannah Williams/Lori Celeste Hicks
Nerone: David Trudgen/Shawn McDonald
Ottavia: Lorraine Yaros Sullivan/Marlene Fullerton
Ottone: Nathan Brian/David Wilson
Seneca: Kenneth Kellogg/Seth Mease Carico
Arnalta: Kirsten C. Kunkle/Elizabeth Mitchell
Drusilla: Rebecca Eaddy/Amanda Kingston
Littore: Jeremiah Butterfield
Liberto: Paul Scholten/Seth Gilman
Damigella/Pallade: Mary Bonhag/Kelly Bixby
Valletto: Jennifer Trombley/Reverie Mott Berger
Lucano/Primo Soldato: Brandon Snook/David Wilson
Secondo Soldato: Paul Scholten
Ensemble: Gabriele Fazio, Seth Gilman, Erin Ginger, Kelley Kimball, Scott Lindroth, Julianne McCaffray, Andrew McGuire, Andrew Munn, Amanda Opuszynski, Courtney Rowley, Kimberly Sizer, Nathan Taylor, Richard Walls
Sponsors
The 125th Anniversary season is made possible in part by a generous gift from Will and Jeanne Caldwell.
The School of Music acknowledges the generosity of McKinley Associates, Inc. whose support has helped make this production possible.
Media
Program
Photos
[cycloneslider id="05-06-coronation-of-poppea"]