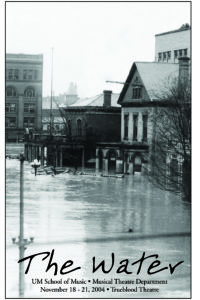 The Water
Music by Georgia Stitt
Lyrics by Jeff Hylton
Book by Jeff Hylton and Tim Werenko
Department of Musical Theatre
November 18-21, 2004 • Trueblood Theatre

The Water – a new musical about people at risk emotionally and physically when a river floods their town – shall receive its first full-scale production this fall by the Musical Theatre Department in order to help the creators determine if the piece is ready for a commercial production. Georgia Stitt, the respected composer and music director who is the production music coordinator for Once Upon a Mattress set to air on "The Wonderful World of Disney" this season, wrote the music with collaborators Jeff Hylton (lyricist and co-librettist) and Tim Werenko (co-librettist).
"It's a book musical," Stitt said. Set in 1997, it's a completely original story about a small Missouri town that survives a flood. It's fiction, but bookwriter Tim Werenko lived through a flood and drew quite a bit from his personal experiences. I write both folky music and groove-driven music," Stitt explains. "Some of it is very lyrical and some of it is more pop. I wouldn't call it 'rock,' but it's definitely a step outside the norms of traditional musical theatre. I grew up outside of Memphis as a classical pianist, so there are hints of the South in the music."
The Water was Stitt's idea. "I wanted to write about why people choose to live in places that are devastated by nature, and why people rebuild in those same places knowing they face the possibility of another disaster," she explained. "I wanted to write about the concept of community, particularly in middle-America. This town is situated on the banks of a river that is a tributary to the Mississippi River. It has flooded before, even within memory of some of the older people in town. The river is as much a character in the show as any of the actors, and the idea of 'water' – its presence or its absence – is almost always in the music."
Artistic Staff
Director: Brent Wagner
Music Director: Cynthia Kortman Westphal
Scenic Designer: Gary Decker
Costume Designer: Taran Muller
Lighting Designer: Andrew Fritsch
Stage Manager: Margo Brenner
Cast
Lenny: Danny Binstock
Sandy: Nicholas Ardell
Will: John Sloan III
Nicky: Nick Gaswirth
Harv: Brian Mazzaferri
Cecil: Odin Biron
Slim: Michael Mahoney
Rebecca: Stephanie Layton
Susan: Tessa Waldheger
Earline: Lorna McGee
Maddy: Erika Foss
Joan: Kristin Shields
Townspeople: Joel Bauer, Alexandra Brock, Mark Christine, Bethany Heinrich, Jennifer Lorae, Lauren Rosental, Patrice Seibel, Gregory Royce Pearl, Danny Wedel
Resources
[accordion title="Director's Notes"]
The Musical Theatre Department production of The Water is a premiere. In April, 2004, the show had a two-week workshop at Theatreworks in Palo Alto, CA.
Staging new works is becoming more and more necessary in a performance training program. After graduation, most Musical Theatre alums have the opportunity to participate in readings and workshops of new musicals. These help the writers, and often the producers, to understand whether the show is ready for commercial production. For new works, this is a valuable tool in the overall process – one which costs far less than the traditional out-of-town tryout. Almost every musical on Broadway today began in a small-scale workshop.
Most college graduates arriving in New York City have had very little experience with new musicals. Generally we learn a musical from recordings and sometimes videos, but of course, these don't exist with new works. The script and score are our only guides. Enormous demands are placed on actors in an untried musical. They must be prepared for ongoing changes, incorporate new ideas quickly, and collaborate on character development, often sharing observations with the writers. Actors can make lasting contributions to the development of a show.
Despite the large number of successful musicals, writing a new work remains a somewhat unscientific process. Countless elements must come together seamlessly in order for a show to 'work.' Despite the long rehearsal hours, no one knows exactly how the various parts really function until the arrival of an audience, when phase two of the learning process truly begins. Audience members become collective participants in the process, helping the director, actors, and writers to know what the next steps should be.
As we enter the 21st year of our Department, it's worth noting that our graduates are currently performing in numerous new musicals across the nation. Some of our alums have even gone on to write new works for the stage. We are extremely grateful to the writers of The Water for allowing us to join this important process by collaborating on their new musical here at the University.
[/accordion]
Media
Program
Photos
[cycloneslider id="04-05-water"]