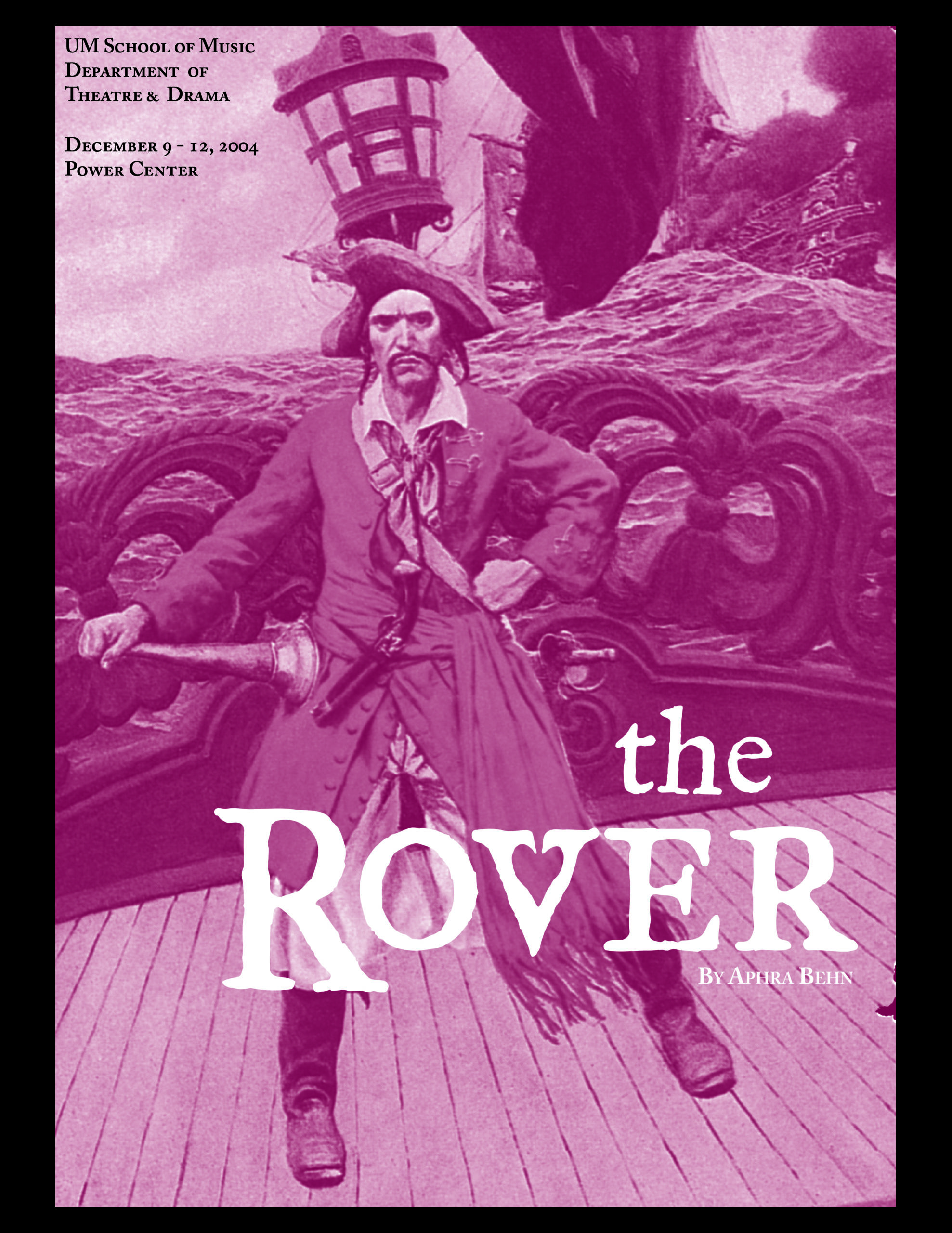 The Rover
By Aphra Behn
Adapted by John Barton
Department of Theatre & Drama
December 9-12, 2004 • Power Center

The Rover, by England's first woman playwright, Aphra Behn, is a comedy of sexual intrigue, mistaken identities, challenges to social norms, and a search for love, set in a 17th–century Spanish colony during Carnival. From its first lines, The Rover differs from other dramas of the time by focusing on women's issues versus male viewpoints. Today, Behn's work is heralded as "feminist," a strong commentary on women's roles in her society and how woman were viewed by men during the Restoration period. For us to understand the significance of her writing, it helps to know more about England of the late 1600s. In less than a generation, the monarchy had been dissolved; a king beheaded; a new government conceived, implemented and failed; and the monarchy re-established. Each event affected both the theatre and social norms of the country. Amazingly this tumultuous and repressive period would spark a new generation of dramatic and comedy writers including William Wycherley, George Farquhar, William Congreve, and Aphra Behn.
Artistic Staff
Director: Malcolm Tulip
Assistant Director: Esther Neff
Scenic Designer: Rob Murphy
Costume Designer: Jessica Hahn
Lighting Designer: Anup Aurora
Sound Designer: Henry Reynolds
Fight Choreographer: Erik Fredricksen
Assistant Fight Choreographer: Nathan Petts
Dialect Coach: Annette Masson
Wig Designer: Dawn Rivard
Dramaturg: Tammy Ram
Stage Manager: Erin A. Whipkey
Cast
Florinda: Kyla Embrey
Valeria: Joanna Fetter
Hellena: Anika Habermas-Scher
Don Pedro: Adam H. Caplan
Stephano: Robert Feldman
Callis: Malaika Nelson
Belvile: De'Lon Grant
Frederick: Chris Allen
Blunt: Justin Holmes
Willmore: J. Theo Klose
Philip: Nicholas Lang
Lucetta: Maureen Sebastian
Sancho: Nathan Petts
Angellica: Elizabeth Hoyt
Moretta: Kirsten Mara Benjamin
Sebastian: Rob Sulaver
Biskey: Patrick Chu
Don Antonio: Edmund Alyn Jones
Diego: Matthew Smith
Masquer/Courtesan: Mikala Bierma, Whitney Dibo, Kimberly Harberg, Courtney Harge, Cynthia London, Rebecca Whatley
Masquer/Soldier: Jeffrey Blim, Frank Maiorana
Masquer: David Abed, Nathan Ciccolo
Singer/Masquer: Dory Mead
Sponsors
The School of Music acknowledges the generosity of McKinley Associates, Inc. whose support has helped make this production possible.
Resources
[accordion title="About The Rover"]
Aphra Behn's plays challenged the norms of a changing society. The collapse of the Puritan commonwealth in 1660 led to King Charles II's return from exile in France. With the restoration of the British crown came the introduction of new and provocative ideas. In the theatre, female actresses made their debut onto the stage, and new, elaborate, expensive sets and costumes came into use. The infidelity of King Charles II made way for the emergence of a bawdier, coarser society, and plays about the exploits of love and lust gained popularity as they satisfied the salacious populace. However, Behn's works pushed beyond what was acceptable even in this libertine era. Behn became the first professional woman playwright in England, despite the disapproval of her male peers. In fact, she was one of the most prolific writers of her time, publishing seventeen plays. However, while Behn's writing was very much in line with the socially accepted lechery of the Restoration Era following Charles II's return to the throne, it was considered far more immoral because of the author's sex. Behn's works virtually disappeared for nearly 300 years because of their supposed immorality, only to be rediscovered in the late 20th century by an emerging feminist interest.
— Tammy Ram, dramaturg
[/accordion][accordion title="Director's Notes"]
The Rover or The Banished Cavaliers was Aphra Behn's most famous play and was first performed by the Duke's Company on March 24, 1677 at the Dorset Garden Theatre in London, England. At the time she was 37 years old, a more than mature age at this time, and, had already lived a full life and had five plays produced. Much of the play's material came from her mentor Thomas Killigrew's two-part, ten-act Thomaso or The Wanderer, a play written but never performed. She later wrote a sequel, The Second Half of the Rover, which was unsuccessful. (Not unlike many film sequels nowadays — The Rover II?) The Rover is often considered a Comedy of Intrigue although Willmore and Hellena's interaction can be seen more as a comedy of wit. Although the play was written and performed during the Restoration, the action of the comedy takes place prior to Charles II's return from "his travels."
In 1986 director John Barton (known for his TV series and book Playing Shakespeare) adapted The Rover for production by the Royal Shakespeare Company. His first change was to alter the structure from five acts to twenty-two scenes. 550 of Behn's lines were cut and 350 lines added, most from Killigrew's Thomaso, others written by Barton himself. The Carnival setting was moved from Naples to a Spanish Caribbean Island colony, Belvile changed into a black soldier of fortune and Valeria changed from a cousin to a sister, introduced in the first scene and given an increased role. The result was a more modern comedy with a more diverse cast.
The Rover is primarily about love versus loyalty and asks "is what is good for the goose good for the gander?" Each of the characters has, through different experiences, a different perspective on how to pursue love and what exactly 'love' is and in the end they have all come to a personal understanding of it. The questions of whether being loved means being owned, whether love is eternal or ephemeral, spiritual or physical, a pastime or a commitment are all raised. In these days when the foundation of marriage is being questioned The Rover's examination of marriage as a contract is particularly pertinent. Is a marriage contract between husband and wife worth more than the contract between prostitute and client? Is one morally superior to the other? Is marriage between man and woman superior to any other kind of loving partnership?
Many, many thanks for this production must go to those who work in our costume, scenery and props shops, who have worked more than hard to realize the visions of our designers. Every year they are bombarded with the demands of a season of Theatre, Dance, Opera and Musical Theatre! A production of this size and nature provides training opportunities for our acting, directing, and design and production students; this is only possible with the enormous contribution of our Faculty and Staff. Thank you on behalf of our students and myself.
— Malcolm Tulip
[/accordion]
Media
Program
Photos
[cycloneslider id="04-05-rover"]