Jazzin'
Choreography by guest artist Alexandra Beller and faculty Gay Delanghe, Bill DeYoung, Linda Goodrich, Sandra Torijano, and Robin Wilson
Musical Direction by Ellen Rowe
Department of Dance • U-M Jazz Ensemble
February 3-6, 2005 • Power Center

The University Dance Company and the Department of Jazz and Improvisation Studies join forces in February 2005 to present a visual and aural celebration of jazz in a concert titled "Jazzin'." Featuring musical jazz favorites along with new compositions played live by the UM Jazz Ensemble, choreography by Dance Department faculty, guest artists, and a re-creation of a dance by Bob Fosse, "Jazzin'" promises to be a collaboration not to miss.
Artistic Staff
Artistic Director: Bill De Young
Music Director/Conductor: Ellen Rowe
Scenic & Costume Designer: Jeff Bauer
Lighting Designer: Mary Cole
Music Coordination: Stephen Rush
Stage Manager: Nancy Uffner
Repertoire & Performers
[accordion title="I Love You"]
Music by Cole Porter
Arranged by Les Hooper
Musicians: U-M Jazz Ensemble
Soloist: Pat Seymour (Alto Sax)
Conductor's notes: "I Love You" is one of the many Cole Porter songs that has been adopted by jazz players as wonderful vehicles for improvisation. This particular arrangement is by Les Hooper, an outstanding jazz ensemble composer and arranger who has contributed many pieces to the University's Jazz Ensemble library over the years. The featured soloist on this shortened version of the work is Patrick Seymour, the lead alto saxophonist in the Jazz Ensemble for the last two years.
[/accordion][accordion title="Tap Solo"]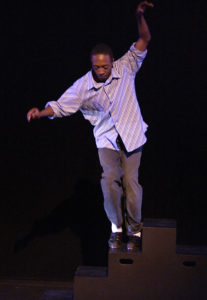 Choreography by Jarel Waters
Artistic Consultation by Linda Goodrich
Dancer: Jarel Waters
[/accordion][accordion title="Dancin' Fats"]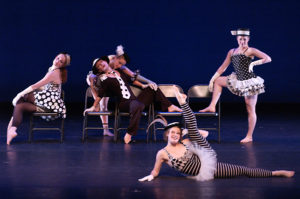 Choreography by Gay Delanghe
Rehearsal Direction by Jessica Fogel and Sandra Torijano DeYoung
Music: "Ain't Misbehavin'" by Harry Brooks, Andy Razaf and Thomas Walker; "I Can't Give You Anything But Love" by Jimmy McHugh and Dorothy Fields; and "Minor Drag" by Thomas "Fats" Waller
Musicians: U-M Jazz Ensemble
Dancers: Helen Bates, Halie Bojovic, Amanda Dye, Jennifer Harge, Elissa Karstu, Sheila Klein, Kristin Lehnert, Mariana Mack, Laura Neuckranz, Sarah Pelc, Jordan Risdon, Joseph Roth, Michelle Suk, Kristina Tate, Susannah Windell
Choreographer's Notes: As a part of the NYC dance scene in the 1970s, prominent choreographers like George Balanchine, Anna Sokolow, and Twyla Tharp, among many others, reached back into the wealth of early American Jazz music for accompaniment. "Dancin' Fats" is in the spirit of this approach in honoring the great man, Fats Waller, and the American 1930s. "Dancin Fats" debuted in 1984.
Conductor's Notes: "Dancin' Fats" celebrates the genius of composer/pianist Fats Waller (1904-1943). Fats was a student of the legendary stride pianist James P. Johnson and was not only an accomplished pianist and organist but also very proficient on bass and violin. He was also a prolific composer who wrote music for Broadway shows as well as his better known piano pieces. Billy Taylor, the acclaimed jazz pianist and educator, says in his book Jazz Piano, History and Development, "Although most of his recordings spotlight his sense of humor and his superb abilities as an entertainer, they also show a sensitive, inventive pianist who played with clarity and complete control of the piano." This is very much in evidence in the first piece of this set, "Ain't Misbehavin'" where we hear Waller himself at the piano utilizing his dazzling technique and sparkling wit as he improvises new themes over the existing chord structures of the song.
[/accordion][accordion title="Bella"]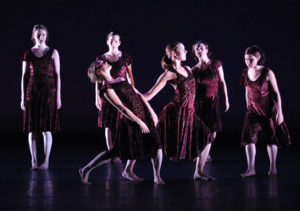 Choreography by Sandra Torijano DeYoung
Rehearsal Direction by Lou Fancher
Rehearsal Assistance by Sara Badger
Music: "Sevilla" and "Sum Fan Dango" by Roland Vazquez
Musicians: U-M Jazz Ensemble
Soloists: Matt Endahl (Piano), Michael Hiemstra (Tenor Sax), Roland Vazquez (Drums)
Dancers: Sara Badger, Julia Billings, Stephanie Calandro, He Jin Jang, Elissa Karstu, Dominique Melissinos, Erin Prober, Katie L. Zeitvogel
Choreographer's Notes: For the rare and intriguing beauty of each of the women dancers, the choreographer creates a special quality, movement and momentum that frames the strength and unique way of "being" that is "Bella" or beauty. The Roland Vazquez music based upon the various cultures and religions of Spain frames the work with sophistication and archetypal beauty.
Composer's Notes: "Sevilla" is a "dream piece"- drawing its basis from the time in medieval Spain (Andalusid caliphate, 9th C.), when there was much cultural & intellectual exchange between the Christian, Jewish, and Muslim communities. Imagine a government where the Grand Vizier of a Muslim Caliph was Jewish (i.e. Hasdai Ibn Shaprut). It is the composer's intent that "Sevilla" suggest a mythic place … or a mythic possibility – where today's cultural diversities and complexities co-exist in peace.
[/accordion][accordion title="Dance You Monster to My Soft Song"]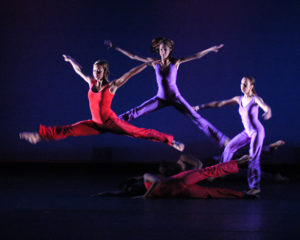 Choreography by Bill DeYoung
Music by Maria Schneider
Musicians: U-M Jazz Ensemble
Soloists: Matt Dievendorf (Guitar), Alex Noppe (Trumpet)
Dancers: Anna Bratton, Daytona Frey, Nicole C. Jamieson, Maureen Kelley, Lindsay Kline, Kristin Lehnert, Yael Lubarr, Laura Neuckranz, Jordan Risdon, Katherine Rothermel, Erika Stowall, Danielle Strauss, Emily Tubman, Jenna Lane Walters
Conductor's Notes: "Dance You Monster to My Soft Song" is from the pen of Maria Schneider, winner of a Grammy award for large ensemble writing. The feeling at the beginning is of impending doom, with the first release of tension occurring at the beginning of the guitar solo, played in this performance by Matt Dievendorf. The piece builds in intensity again during Alex Noppe's trumpet solo whereupon the monster once again is charmed by the power of the music and we hear the return of the first theme. Maria's graceful writing is influenced by one of her teachers and mentors, Gil Evans.
[/accordion][accordion title="Reasons for Moving"]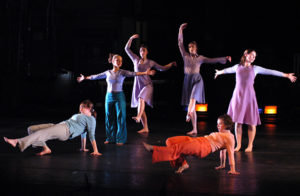 Choreography by Alexandra Beller
Rehearsal Direction by Judy Rice
Video Effects by Jen Seguin
Music by Daniel Bernard Roumain
Musicians: U-M Jazz Ensemble
Soloists: Adam Dickson (Trumpet), Matt Dievendorf (Guitar), Gabriel Doran (Turntable),
Z Marshall Ignas (Baritone Sax), Patrick Seymour (Alto Sax)
Dancers: Sara Badger, Shawn T Bible, Melissa Bloch, Alexandra Burley, Jeremiah Crank, Sarah Ash Evens, Jenna Giorgio, Natalie Griffith, Matthew Hakim, Leah Ives, He Jin Jang, Roche Janken, Emily Kahn, Megan Mertaugh, Molly M. Schneider, Alexander Springer, Shauna L. Steele, Samantha Stone, Heather Vaughan-Southard, Katherine Zeitvogel
Choreographer's Notes:
In a field, I am the absence of field./This is always the case./Wherever I am, I am what is missing./When I move I part the air, and always/the air moves in to fill the spaces/where my body has been/We all have reasons for moving./I move to keep things whole. — Mark Strand
Given the opportunity to work in one of my favorite sprawling spaces, I wanted to really take the challenge of investigating space as both a physical and metaphorical entity. I wondered: How does the body affect space and vice versa? What is the emotional context of space and how do both empty and full spaces affect our journey? When other people come into your space, does a relationship automatically develop? How do the past and future affect speed and distance? How can events triggered by one person affect the entire world? In light of recent global tragedies, I think that it is important to understand the enormous impact that we can have on one another even across extreme distances. Compassion, for example, can travel faster than the speed of light. I would like to thank the dancers for their tireless energy and enthusiasm in the creation of this work and Judy Rice for being such an immense help throughout the process.
Composer Notes: In composing the music for Reasons for Moving, I was given the opportunity to compose my first work for Jazz Band. I decided, rather than deal with the traditions of the notation (which include a certain flexibility), I would write-out as much of the score as I could and include many passages, indeed, entire sections, that were, or could be, improvised. I did this out of trust: the university has a long and splendid history of superb musicianship and I knew my notes (and the notes they would improvise) would be just right. Reasons for Moving was a true collaboration, and Alex, Stephen, Ellen, and Bill all contributed to the score — if not literally, then in their many thoughtful and helpful suggestions. What a joy!
[/accordion][accordion title="Rich Man's Frug"]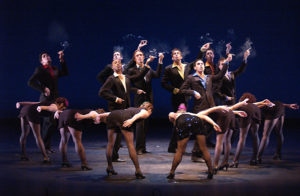 Choreography by Bob Fosse
Re-staged by Linda Goodrich
Asst. Re-staging by Heather Vaughan-Southard
Video Effects by Jen Seguin
Music by Cy Coleman
Musicians: U-M Jazz Ensemble
Dancers: Taryn Akemi Look (Ponytail Girl Thur/Sat), Natalie Griffith (Ponytail Girl Fri/Sun), Brian Spitulnik (Back-up Man), Jarel Waters (Back-up Man), Libby Allsberry, Kristen Berger, Thomas Berklund, Jeremiah Crank, Lauren DuCharme, Stacie Greskowiak, Shannyn Hart, Torrie M. Hoffmeyer, Leah Ives, Lizzie Leopold, Meghan Mertaugh, Amanda Christine Roundtree, Alexander Springer, Samantha Stone, Daniel Taylor, Heather Vaughan-Southard, Jacob Wilson, Michael Zahler
Re-stager's Notes: Bob Fosse is one of our most celebrated choreographers. He developed a signature style that is uniquely his own voice. Fosse, like no other choreographer was able to work in this style and at the same time serve the characters and plots of his musical stories. His use of isolated movement helped to define jazz and bring movement possibilities and attention to detail to a level never before accomplished. His sensual, yet often humorous style is completely his own. He brought sexuality to the stage, yet did it with a 'wink' so that it was palpable for audiences who weren't used to seeing such explicit content on stage. As a director/choreographer, Fosse had complete command of the shape and style of his storytelling. 'The Frug' was included in the recent Broadway production of Fosse that was a tribute to his greatest works.
[/accordion][accordion title="Blue Highways"]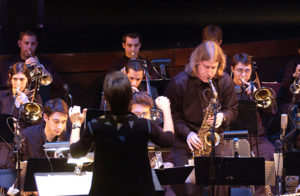 Music by Paul Ferguson
Musicians: U-M Jazz Ensemble
Conductor's Notes: "Blue Highways," by trombonist/composer Paul Ferguson was inspired by the book of the same title written by William Least Heat-Moon in the late 1970s. In a series of interviews and observations, the book details an extensive cross-country trip in the author's van in search of "the real America," in a manner suggesting a cross between Jack Kerouac and John Steinbeck. This excerpt of the piece features an ostinato bass line that supports a diverse set of harmonies that pay tribute to Duke Ellington and Thad Jones.
[/accordion][accordion title="Lovejoy Suite"]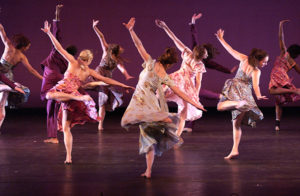 Choreography by Robin Wilson
Music: "Mahogany Hall Stomp" by Spencer Williams as played by Louis Armstrong and the Allstars; "Too Kee" from the "Togo Brava Suite" by Duke Ellington arranged by Andrew Homzy;
"Nighthawks Meditation" from the "Suite for Jazz Orchestra" by Edward Sarath; "Lovejoy" by Craig Harris
Musicians: U-M Jazz Ensemble
Soloist: Dan Puccio (Tenor Sax)
Dancers: Kristen Berger, Lauren DuCharme, Sarah Ash Evens, Krisilyn Frazier, Daytona Frey, Stacie Greskowiak, Roche Janken, Emily Kahn, Lizzie Leopold, Jordan Newmark, Kristin Pavelka, Joseph Roth, Jessica Sachs, Molly M. Schneider, Samantha Stone, Jennifer Thomas, Jarel Waters
Choreographer's Notes: A suite featuring the music of four jazz composers/performers, Louis Armstrong, Duke Ellington, Ed Sarath and Craig Harris, Lovejoy Suite celebrates jazz music and its love affair with dance. Both forms embrace spontaneity, improvisation, and innovation — be it on the dance floor, with band leaders like Chick Webb and Duke Ellington, or in later years, such as the "free jazz" period, with music by artists such as the Sun Ra Arkestra and Ornette Coleman.
Conductor's Notes: "Lovejoy Suite" encompasses the wide variety of musical terrain that the Jazz Department, led by flugelhornist and composer Ed Sarath, strives to consider in its pedagogical mission. Starting with the dixieland flavor of "Mahogany Hall Stomp" where the ensemble sections are created by the horn players all improvising around the melody at the same time and ending with a piece composed by Craig Harris, a member of the Sun Ra Arkestra, the musicians of the jazz ensemble travel through 75 years of jazz history.
[/accordion][accordion title="Four Women"]
Choreography by Vera Embree
Reconstruction by Cecile Keith Brown, Maria Mitchell, and Sharon Madison Polk
Music by Nina Simone
Dancers
Thursday: Jennifer Harge (Saffronia), Amanda Christine Roundtree (Aunt Sara), Shauna L. Steele (Sweetthang), Erika Stowall (Peaches)
Friday: Krisilyn Frazier (Peaches), Jennifer Harge (Aunt Sara), Shauna L. Steele (Saffronia), Erika Stowall (Sweetthang)
Saturday: Krisilyn Frazier (Aunt Sara), Amanda Christine Roundtree (Saffronia), Shauna L. Steele (Sweetthang), Erika Stowall (Peaches)
Sunday: Krisilyn Frazier (Peaches), Jennifer Harge (Aunt Sara), Shauna L. Steele (Saffronia), Erika Stowall (Sweetthang)
Program Notes: "Four Women" to the music of Nina Simone is a series of portraits of four African American women created by the late Professor Emeritus Vera Embree in the late 1970s. Re-stagers Cecile Keith Brown and Maria Mitchell were members of the Trotter House Dancers, a black dance group organized by Prof. Embree that often performed the work throughout Ann Arbor and Detroit.
[/accordion][accordion title="Suite Latin Jazz"]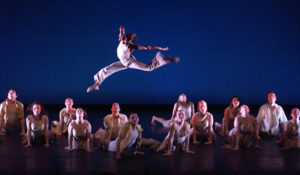 Choreography by Sandra Torijano DeYoung
Rehearsal Direction by Lou Fancher
Rehearsal Assistance by Heather Vaughan-Southard
Video Effects by Jen Seguin
Music: "Compadre Pedro Juan" by Los Hicsos, "Una Palabra" by Carlos Varela, "Norma la de Guadalajara" by Perez Prado, "Perfidia" by Alberto Dominguez
Poems: "Versos Simples" by Jose Marti, "Day-O" by Irving Burgie and William Attaway, "Proposiciones" by Pablo Milanes, "Sing, Sing Sing" by Louis Prima arranged by Moises Paiewonsky
Musicians: U-M Jazz Ensemble
Soloists on "Sing, Sing, Sing": Adam Dickson (Trumpet), Moises Paiewonsky (Trombone)
Dancers: Libby Allsberry, Shawn T Bible, Melissa Bloch, Alexandra Burley, Jeremiah Crank, Jenna Giorgio, Natalie Griffith, Matthew Hakim, Jennifer Harge, Christie Jenuwine, Julie Leppelmeier, Taryn Akemi Look, Jennifer Mullarkey, Alexander Springer, Shauna L. Steele, Heather Vaughan-Southard, Jarel Waters
Choreographer's Notes: I come from one of the principal countries for the exportation of bananas, Costa Rica. Historically, the people of the Limon region on the Caribbean coast of Costa Rica have been exploited and marginalized on many occasions by multinational companies. Most of the music in the piece comes from writers against slavery, such as Cuban poet Jose Marti who fought for the independence of Cuba; as well as composers such as Pablo Milanes, Perez Prado, who were inspired and composed Latin Jazz to honor the poems of Marti. One feels the immediacy and lively spirit of their music, full of passion — all are examples of the necessities of the disenfranchised African and Latin reaching for freedom. That's how the jazz was born. I wanted to represent the richness, vibrancy, poetry and "sabor" or flavor to honor the depth of these individuals taking flight from their struggle.
Conductor's Notes: "Suite Latin Jazz" explores many different styles of Latin Jazz. The music for these selections was picked by Sandra and gives the jazz ensemble a chance to be exposed to the rich variety of latin grooves. The percussionists in the band, Olman Piedra, Chad Hochberg and Dan Piccolo provide the pulse (or heartbeat) for the music and all of us owe thanks to Roland Vazquez for helping us learn to connect our heartbeats with our instruments. Our lead trombonist Moises Paiewonsky has done a masterful arrangement of "Sing, Sing, Sing" to close the show and will be featured, along with lead trumpeter Adam Dickson in a solo.
[/accordion]
Sponsors
The School of Music acknowledges the generosity of McKinley Associates, Inc. whose support has helped make this production possible.
Resources
[accordion title="A Tribute to Vera Embree, 1921 – 2004″]
"The only gift is a portion of thyself " — Emerson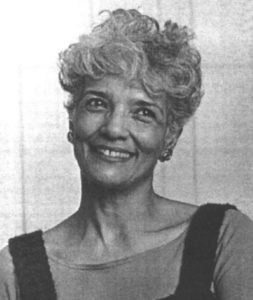 Vera Berenice Lewis Embree, was born July 12,1921, in Muskogee, OK, the second child of the late Luella Alice Cox and John Davis Lewis, Sr. and departed this life on July 28, 2004 at Cedars – Sinai Medical Center after a long and courageous battle with cancer.
Vera grew up in Raleigh, NC and received her primary education at the Palmer Institute for Young Women. She graduated with a Bachelor of Science degree in Physical Education and English from Hampton Institute in Hampton, Virginia where she was a four-year ember of the Hampton Institute Creative Dance Group.
Vera had intensive study of modern and primitive dancing under numerous dance masters and their exponents, most notably Jose Limon and Alvin Ailey. She began her professional career in the public schools of Maryland, Indiana and Michigan, and, in addition, directed health education programs for the YWCA. From 1958-1967 Vera taught dance at Central High School and the Lucy Thurman branch of the YWCA in Detroit, MI. During this same period, Vera founded and directed the Contemporary Dance Company of Detroit which included subsequently internationally acclaimed choreographers/directors Rod Rogers, Ronald Pratt and Garth Fagan. During this period, Vera's diverse talents as writer, choreographer, director and producer were epitomized in the documentary film "The Odd Breed."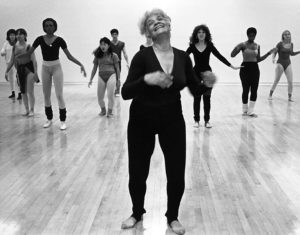 In 1968, Vera joined the University of Michigan Dance Faculty where, in addition to her dedicated teaching in the areas of modern dance, African dance, dance history, methods of teaching and supervision of student teachers, she choreographed numerous major works for the University of Michigan Dance Department's annual concerts. In 1975, Vera was featured in the Detroit Public Library Calendar, published in tribute to Black Leaders of Detroit, and her images was included on a painted mural in the Detroit Public Library. Since the Spring of 1976, the Detroit Public schools Scholar-Athlete Award has been given in Vera's name. Vera was an Artist-in-residence at Marygrove College, Detroit, in the summer of 1978. In 1982, Vera was named Michigan Dance Teacher of the Year in Higher Education by Michigan Dance Professionals. From 1982-1983, Vera served as Interim Chair of the University of Michigan Dance Department.
On February 7, 1984, Michigan State Senators Vaughn, O'Brien, Kelly, Holmes and Faxon offered, and the legislature passed, Senate Concurrent Resolution No. 576 Honoring Professor Vera Embree with a "unanimous accolade of tribute and praise for her outstanding contribution to the betterment of the art of dance with the Great Lakes State," and proclaimed her " a Michigan citizen most deserving of our recognition." In 1986, Vera was honored by the Concerned Citizens for the Arts in Michigan with the Governor's Michigan Artist's Award, which is awarded annually to an "Artist who has consistently made an impact on their artistic discipline." That same year Vera retired from the University of Michigan as Professor Emeritus of Dance. On February 9, 1991, Judith Jamison & Friends honored Vera with a Benefit Fundraiser Dinner and Part at the Alice Simsar Gallery and Penthouse on North Main, Ann Arbor, MI. Festivities preceded a concert at the Power Center for the Performing Arts with proceeds from the gala event providing the seed money for the University of Michigan Vera Embree Dance Scholarship.
Following her retirement, Vera resided in Los Angeles as a private citizen enjoying well deserved time with her son Melvyn Charles Embree, her grandson Taylor Davis Zaven Embree, cousins, other family and friends. She leaves countless family members, students, colleagues, friends and admirers to mourn her passing. We honor Vera today through our presentation of her work "Four Women."
[/accordion][accordion title="Jazz & Dance"]
Jazz, or "African American classical music," was born in New Orleans out of the African American experience and musical traditions of the blues, spirituals, and the jaunty rhythms of the "second line" of New Orleans' funeral marches. These elements came together first as the jagged melodies and rhythms of ragtime music and the piano rolls of Scott Joplin and JellyRoll Morton. This exciting new musical form drew whites to Harlem as the Jazz Age began, as we danced the Charleston and "Ballin' the Jack," women got the right to vote, and we saw the end of the First World War.
Jazz 'danced' its way through the Depression and WWII with the swing music of Duke Ellington and Count Basie, tapping and lindyhopping all along the way. After the war years, we played it 'cool' with Charlie Parker, Dizzie Gillespie, and Dave Brubeck as bebop burst forth into the integrationist fifties. We did the mambo and cha-cha-cha as Afrocuban rhythms forever added a "latin beat" as they migrated to the US with Chano Pozo and others. We raised our fists as the Civil Rights movement began; sparking human rights movements across the world and the explosion called the "Sixties" came upon us. With this came radical changes in how we defined ourselves as a nation, the music we listened to, and how we saw dance, performance, and visual art. Jazz music was there, too, with such innovators as John Coltrane and Cecil Taylor pushing the boundaries of tonal exploration.
And through it all, dance has been by its side. First as the social and vernacular dance of African Americans or "jazz dance" and then, as it 'crossed over,' meshing with ballet, tap, and modern dance elements to be the fuel for Broadway choreographers such as Jerome Robbins, Katherine Dunham and Bob Fosse. An improvisational art form at its very core, jazz music has, like its cousins jazz and modern dance, always looked forward while keeping touch with its past and its mission to find one's own voice.
— Robin Wilson
[/accordion]
Media
Program