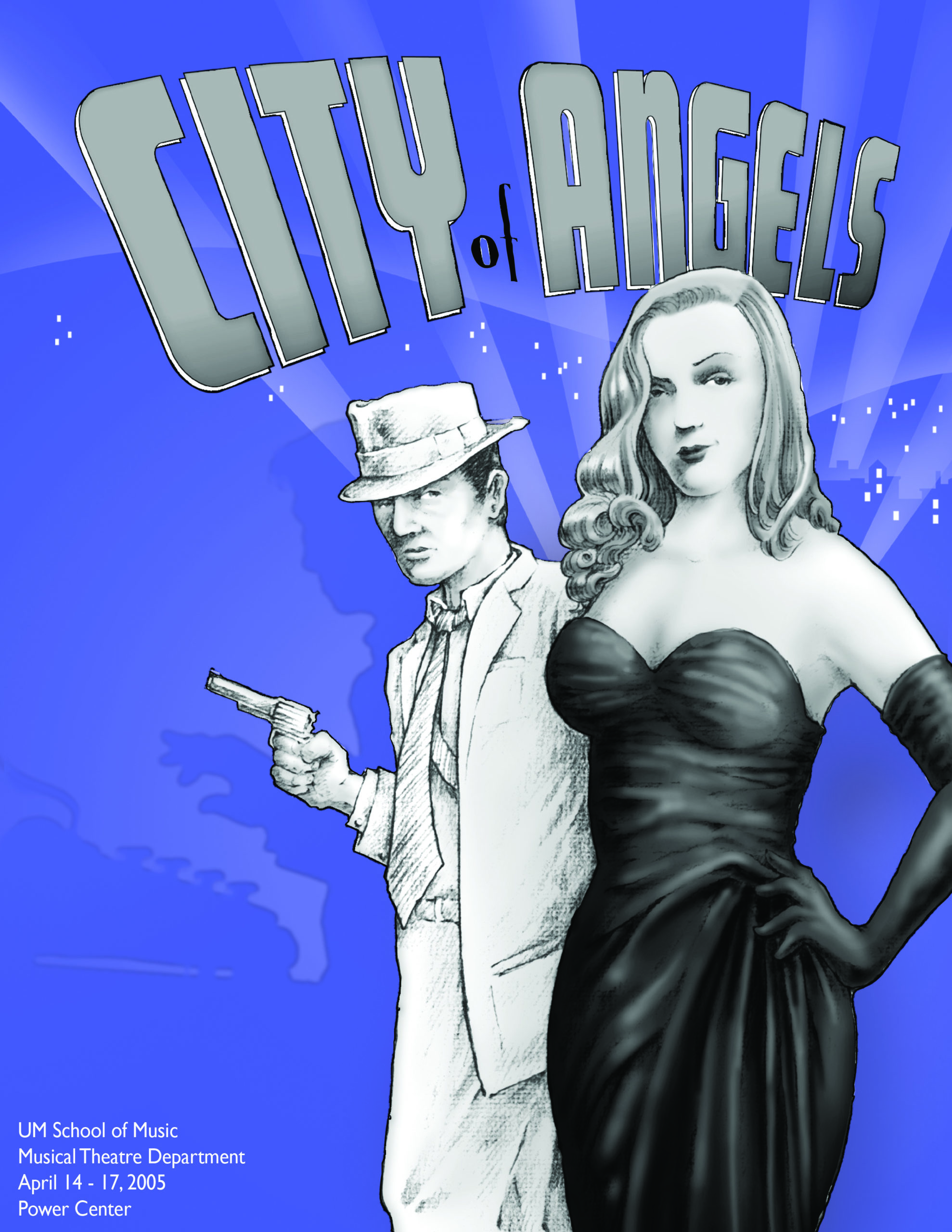 City of Angels
Music by Cy Coleman
Lyrics by David Zippel
Book by Larry Gelbart
Department of Musical Theatre
April 14-17, 2005 • Power Center

City of Angels follows Stine, a Hollywood scriptwriter and the movie he's writing, a double story that plays out in parallel stories on stage. One portrays the battle of Stine, a mild-mannered writer struggling to prevent his screenplay-in-progress from being mutilated by a tyrannical producer, Buddy Fiddler. The other depicts the unfolding of the screenplay itself, in which Stine's alter ego, the detective Stone, sidles through a Hollywood netherworld of vicious thugs and femmes fatales. The juxtaposition of real life and "reel-life" occurs on a number of levels as Stine weaves the people around him into his characters on the big screen. As such, while different actors play Stine and Stone, almost every other actor in the musical portrays someone in both the real life and the "reel-life." The two stories are, in effect, happening simultaneously.
Sets and costumes help keep the two worlds separate. Stone's world is stylistically set in film noir with tones of black, grey and white. A style of American film that was popular in the late 1940s, film noir has a distinct visual signature – stark lighting, dark and gloomy appearances, and deep shadows. In contrast to the stark film noir setting of the film, Stine's world is set in Technicolor.
"City of Angels" won six Tony awards in 1989 including best musical, score, and book. Composer Cy Coleman ("Sweet Charity," "Barnum") drew on his jazz background to create the first full-blown jazz score for the Broadway stage. Coleman's score is paired with some of the best double-talk and witty dialogue ever to hit the stage. The musical features a book by Larry Gelbart of M*A*S*H fame and lyrics by David Zippel.
Artistic Staff
Director/Choreographer: Mark Madama
Music Director: Cynthia Kortman Westphal
Scenic Designer: Bruce Brockman
Costume Designer: Jessica Hahn
Lighting Designer: Mark Allen Berg
Sound Designer: Roger Arnett
Wig and Makeup Designer: Dawn Rivard
Stage Manager: Erin A. Whipkey
Cast
Hollywood Cast
Stine: Michael Zahler
Buddy Fidler: Alex Brumel
Shoe Shiner: Michael Mahoney
Gabby: Lorna McGee
Barber: Odin Lund Biron
Donna: Tessa Waldheger
Masseuse: Anne Horak
Jimmy Powers: Brian Mazzaferri
The Angel City 4: Alex Michaels, Kendal Sparks, Stephanie Layton, Alexandra Brock
Engineer: Michael Mahoney
Carla Haywood: Janine DiVita
Del Dacosta: Felipe Gonzalez
Pancho Vargas: Brian Spitulnik
Werner Kriegler: Wesley Alfvin
Gerald Pierce: Danny Binstock
Avril Raines: Jenni Barber
Gene: Mark Christine
Cinematographer: Justin Paul
Stand-In: Liz Filios
Hairdresser: Cortney Wolfson
Sound Man: Odin Lund Biron
Studio Cops: David Hull, Amos Wolff
Nephew: Felipe Gonzalez
Clapper Boy: Benj Pasek
Movie Cast
Stone: Josh Rouah
Orderlies: Mark Christine, Felipe Gonzalez
Oolie: Tessa Waldheger
Alaura Kingsley: Janine DiVita
Big Six: Amos Wolff
Sonny: David Hull
Jimmy Powers: Brian Mazzaferri
The Angel City 4: Alex Michaels, Kendal Sparks, Stephanie Layton, Alexandra Brock
Munoz: Brian Spitulnik
Officer Pasco: Mark Christine
Bobbi: Lorna McGee
Irwin S. Irving: Alex Brumel
Peter Kingsley: Danny Binstock
Margaret: Liz Filios
Luther Kingsley: Wesley Alfvin
Dr. Mandril: Odin Lund Biron
Mallory Kingsley: Jenni Barber
Mahoney: Felipe Gonzalez
Coroner: Justin Paul
Commissioner Gaines: Michael Mahoney
Madame: Anne Horak
Bootsie: Cortney Wolfson
Girl: Liz Filios
Sponsors
The School of Music acknowledges the generosity of McKinley Associates, Inc. whose support has helped make this production possible.
Media
Program