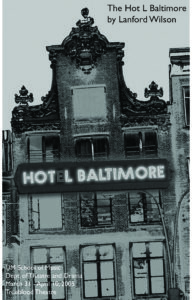 The Hot L Baltimore
By Lanford Wilson
Department of Theatre & Drama
March 31-April 10, 2005 • Trueblood Theatre

Lanford Wilson co-founded the Circle Repertory Company in 1972 and wrote "The Hot L Baltimore" specifically for its new acting ensemble. Wilson sought to craft a work that would give voice to his mourning for the increasing disappearance of the nation's railroads. In Wilson's introduction to the play, the author states that he laments not only the fading of the romantic icon of the railway system, but also America's "vanishing architecture." The imminent destruction of the once-glorious Hotel Baltimore, and the decline of the railroads that were once the life-blood of the neighborhood, are the physical embodiments of Wilson's distress over the vanishing of a more idyllic time.
Opening in February 1973, "The Hot L Baltimore" was the first major success for Wilson and the Circle Repertory Company. Winner of the New York Drama Circle award, an Obie, the John Gassner Playwriting award, and the Outer Circle Critics award, the play successfully transferred to Broadway, enjoying a three-year run. The play was sold to ABC and adapted as a situation comedy that ran for one season in 1975.
"The Hot L Baltimore" is set in the lobby of a dilapidated old hotel, from which the "e" in the hotel sign is missing. As the action unfolds, the residents of the hotel, ranging from young to old, from the defiant to the resigned, meet in the lobby to talk and interact with each other during the course of one day. As they contemplate the loss of their home and the makeshift family that has developed, the residents and staff of the hotel ponder more than the loss of a place to live, but the loss of history itself. These series of conversations create a mosaic in which each character, and the sum total of what they are – or wish they were – become a poignant, powerful call to America to recover its lost values and to restore itself.
Artistic Staff
Director: Andrea Frye
Scenic Designer: Vincent Mountain
Costume Designer: Taran Muller
Lighting Designer: Andrew Fritsch
Sound Designer: Ashley Turner
Vocal Coach: Annette Masson
Stage Manager: Jamie Burke
Cast
Bill: Edmund Alyn Jones
Girl: Rachael Soglin
Paul: David Abed
Jackie: Jen Freidel
Jamie: Eric Schinzer
Mr. Katz: Kevin Kuczek
Mr. Morse: Eric Kahn Gale
April: Sari Goldberg
Suzy: Rebecca Schwartzstein
Millie: Kyla Embrey
Mrs. Oxenham: Karenanna Creps
Mrs. Bellotti: Anika Solveig
John/Taxi Driver/Pizza Delivery Boy: Nicholas Lang
Sponsors
The residency of Andrea Frye is provided, in part, through the generous contribution of Nancy and Philip Binkow.
The School of Music acknowledges the generosity of McKinley Associates, Inc. whose support has helped make this production possible.
Media
Program