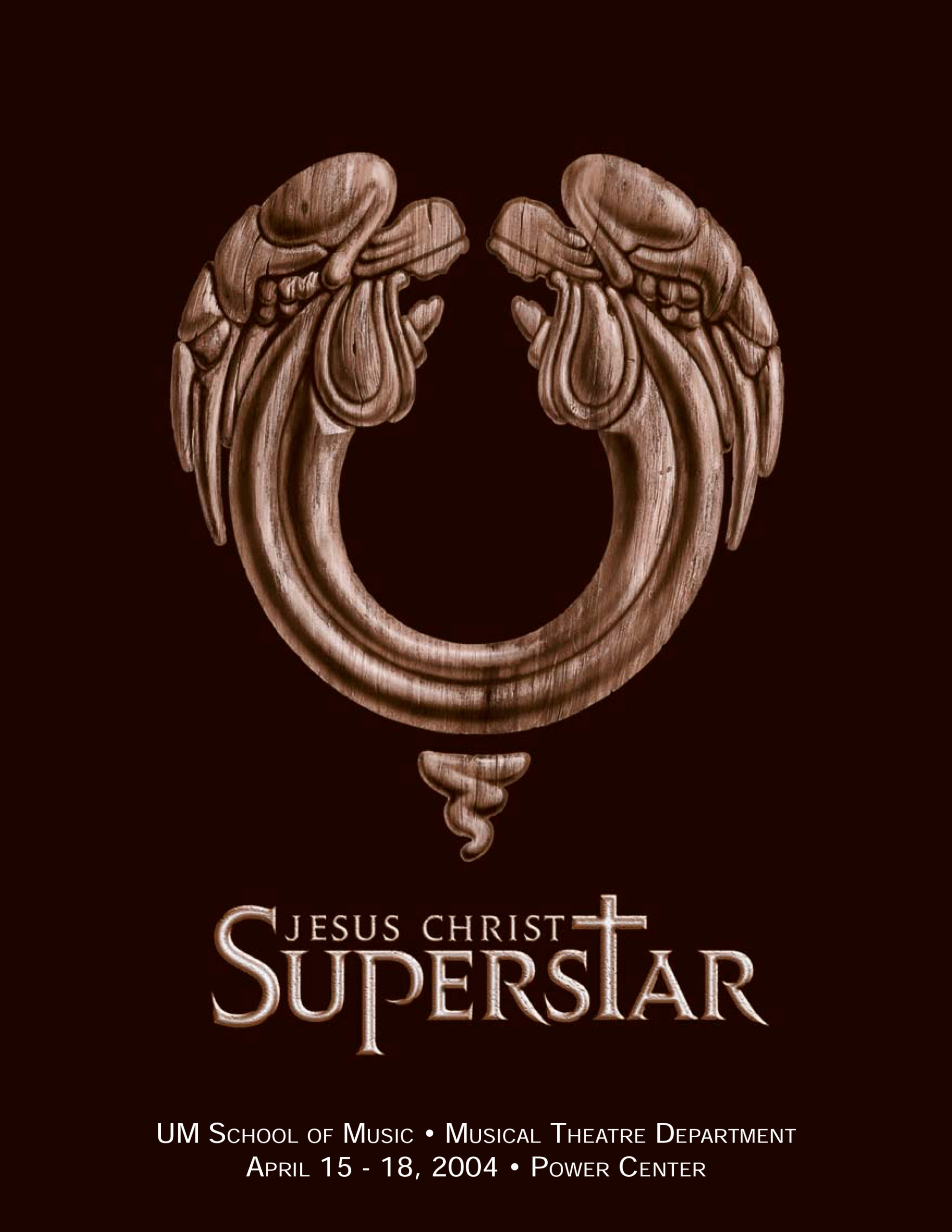 Jesus Christ Superstar
Music by Andrew Lloyd Webber
Lyrics by Tim Rice
Department of Musical Theatre
April 15-18, 2004 • Power Center

Jesus Christ Superstar tells the story of the last seven days in the life of Jesus of Nazareth. The tale begins with Jesus' entry into Jerusalem and the unrest caused by his preaching and popularity. As Jesus' radical teachings are evermore embraced by the populace, one of his disciples, Judas, increasingly questions the enlightened motives of this new prophet, resulting in betrayal. A powerful, emotional tale of men and women driven to their fate by forces beyond their control, Christ's final days are dramatized with emotional intensity, thought-provoking edge and explosive theatricality.
Webber's score for "Jesus Christ Superstar" features a number of well-known hits, including "Heaven On Their Minds," "I Don't Know How To Love Him," "Hosanna," and the title song, "Superstar." Mixing a broad range of rhythmic forms, including Webber's fondness for unusual time signatures, the music is both haunting and eminently hummable. Rice's libretto is startlingly contemporary and presents a Jesus who seems more human than divine.
Artistic Staff
Director/Choreographer: Linda Goodrich
Musical Director/Conductor: Ben Whiteley
Assistant Musical Director: Kevin J. Bylsma
Assistant Choreographer: John MacInnis
Scenic Designer: Vincent Mountain
Costume Designer: George Bacon
Lighting Designer: David Neville
Sound Designer: Jim Lillie
Wig Designer: Dawn Rivard
Dance Captain: Garrett Miller
Stage Manager: Alix Malloy
Cast
Jesus: Brian Hissong
Judas: Kevin Hale
Mary Magdelene: Michelle Ricci
Peter: Nicholas Ardell
Simon: Felipe González
Pilate: Mark P. Whitten
Claudia Procula, Pilate's wife: Chelsea Krombach
Soul Trio/Priestesses: Helené Dyke, Kate Loprest, Alexis Sims
Herod: Jumanne Langston
Annas: Nick Gaswirth
Caiaphas: John Sloan III
Apostles
John: Andrew A. Arrington
James the Less: Joel Bauer
Bartholomew: Jameson Cooper
Phillip: Dave Hull
James: Justin Keyes
Thomas: Brian Mazzaferri
Matthew: Gregory Royce Pearl
Thaddeus: Kendal Sparks
Andrew: Eli Zoller
Soldiers: Thomas Berklund, Nick Blaemire, Ryan Foy, Daniel Taylor
Herod's Den: Thomas Berklund, Justin Keyes, Erin McGrath, Mara Newbery, Keewa Nurullah, Daniel Taylor
Ensemble: Andrew A. Arrington, Jennifer Barber, Whitney Bashor, Cathryn Basile, Joel Bauer, Thomas Berklund, Nick Blaemire, Mark Christine (swing), Jameson Cooper, Elizabeth Filios, Ryan Foy, Bethany Heinrich, Dave Hull, Justin Keyes, Chelsea Krombach, Jennifer Lorae, Brian Mazzaferri, Erin McGrath, Mara Newbery, Keewa Nurullah, Gregory Royce Pearl, Patrice Seibel, Kendal Sparks, Daniel Taylor, Paige Wheat, Cortney Wolfson, Eli Zoller
Sponsors
The School of Music acknowledges the generosity of McKinley Associates, Inc. whose support has helped make this production possible.
Resources
[accordion title="From the Director"]
Jesus Christ Superstar – the last seven days in the life of Jesus of Nazareth. How does one begin to examine and bring to the stage "the greatest story ever told"? Directors are frequently asked, "What is your approach; your concept?" The potential exists with this piece to color and twist what is there on the page, to comment on current events or to serve a particular agenda. I have tried to find the very purest look into this controversial history and to be reverent both to the creators, Tim Rice and Andrew Lloyd Webber, and ultimately to the gospel of John from which most of this story is derived. In effect, my approach has been to try not to layer any kind of 'concept' onto a story that has been subject to so many translations and interpretations throughout time.
In casting the show, I needed to create more opportunities for the women in our department. Traditionally "Pilate's Dream" is sung by Pilate. In the gospels, it is actually Pilate's wife, Claudia Procula, who has the dream of Pilate being blamed for the death of Jesus, and warns him not to become involved. There is a 'soul trio' that is written as backup singers for Judas, whose roles I have expanded to serve as a narrative throughline. This trio of women play Judas' temptresses, the priests, harlots, and the soul singers. In the gospels the female disciples were very loyal followers of Christ and actually were instrumental in financing his ministry. Our Superstar will honor the important roles that these women played in history.
Thank you to my cast, crew, and creative team for such loving collaboration and a special thanks to the voice faculty for their contribution.
— Linda Goodrich
[/accordion]
Media
Program