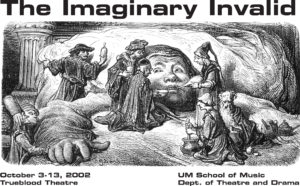 The Imaginary Invalid
By Molière
Translated by John Wood
Department of Theatre & Drama
October 3-13, 2002 • Trueblood Theatre

A brilliant and satirical look at the medical profession, The Imaginary Invalid offers social commentary that is as timely today as it was when the play premiered nearly 330 years ago. As Argan (the "invalid")'s financial circumstances collapse under the weight of excessive medical bills, made by his own fears and by the unscrupulous behavior of his two physicians, he conceives the idea of marrying his daughter off to one of his doctors in return for a lifetime of free medical treatments. The idea meets opposition, though, when it becomes clear that the young lady's affections lie elsewhere. Soon the entire household is involved in an elaborate, uproarious plot to save true love.
Known for his plays Tartuffe and The Misanthrope, Molière transformed French comedy by perfecting a comic method that he developed while working as an actor. The Imaginary Invalid, perfectly represents the playwright's "comédie-ballet" style, recognized for its skillful patterning of dialogue designed to enhance the typically intense physical presentation of the play. Molière is equally well known for his satiric commentary on society and for exploring eternal human foibles and obsessions. Regrettably, the play was Molière's last. During the fourth performance Molière, who was ironically playing the hypochondriac Argan, was seized with a genuine coughing fit and died later that night.
Artistic Staff
Director: Malcolm Tulip
Scenic Designer: Caleb Levengood
Costume Designer: Jessica Hahn
Lighting Designer: Brooke Sinclair
Sound Designer/Dramaturg: Clark Johnson
Stage Manager: Kelly K. Irwin
Cast
Argan: David Jones
Toinette: Jennifer Freidel
Angélique: Joanna Fetter
Béline: Christina Reynolds
Mr. de Bonnefoy: Aubrey Levy
Cléante: Edmund Alyn Jones
Mr. Diafoirus: Josh Lefkowitz
Thomas Diafoirus: Sean Ward
Louison: Lauren Roberts
Béralde: Jason Smith
Mr. Fleurant: Phillipe Boileau
Mr. Purgon: Dan Granke
Resources
[accordion title="Director's Notes"]
Since announcing The Imaginary Invalid, I have heard many comments which revealed an expectation of a commedia dell'arte experience. Considering Molière's background, experience, and works, this is understandable. However, although the commedia structure and archetypes are here, and although outside of Argan's room the rest of the city is celebrating Carnival, I chose this play not as vehicle to explore commedia but to provide an opportunity for the actors to discover through this text a different period; to create believable characters and discover how they play within this comedy. They must be real people first. If we do our work diligently and pay close attention to the demands of the play then the rhythms and characters of the commedia tradition should emerge.
Of course Argan is Pantalone via Géronte, Cléante and Angélique are the lovers via Lucinde and Valére. Toinette is Colombina via Smeraldina and Martine, (or perhaps she is partly a female Sganarelle). But Argan is also Molière, Béline is his wife Armande, the charlatans, Purgon and Fleurant, are doctors such as Patin, who thought nothing of bleeding a three month-old child twice for a head cold or prescribing for Louis XIII 212 enemas and 215 purgatives in one year!
There will be no King Louis or courtiers in the Trueblood audience so I have taken the liberty of removing (like the surgeon who removes the patient's healthy yet potentially bothersome tonsils) the interludes, which must have entertained Molière's patrons so ticklishly, yet would prove disastrously difficult for us to mount in such a small time. We cannot afford monkeys, archers and/or flocks of shepherds and shepherdesses. This is my omission not the estimable translator's, Mr. John Wood, to whom we are anonymously grateful. In absentia. Not having met or corresponded with him. Should you need or require any precedence for this action from an authority more recognized (and quite rightly so) than myself, please refer to the adaptation by Miles Malleson.
And so, it is with magnus pleasuribus and multitudintissimae gratuitae that I invite you to enjoy our Imaginary Invalid.
– Malcolm Tulip, September 12, 2002
[/accordion]
Media
Program
Photos
[cycloneslider id="02-03-imaginary-invalid"]