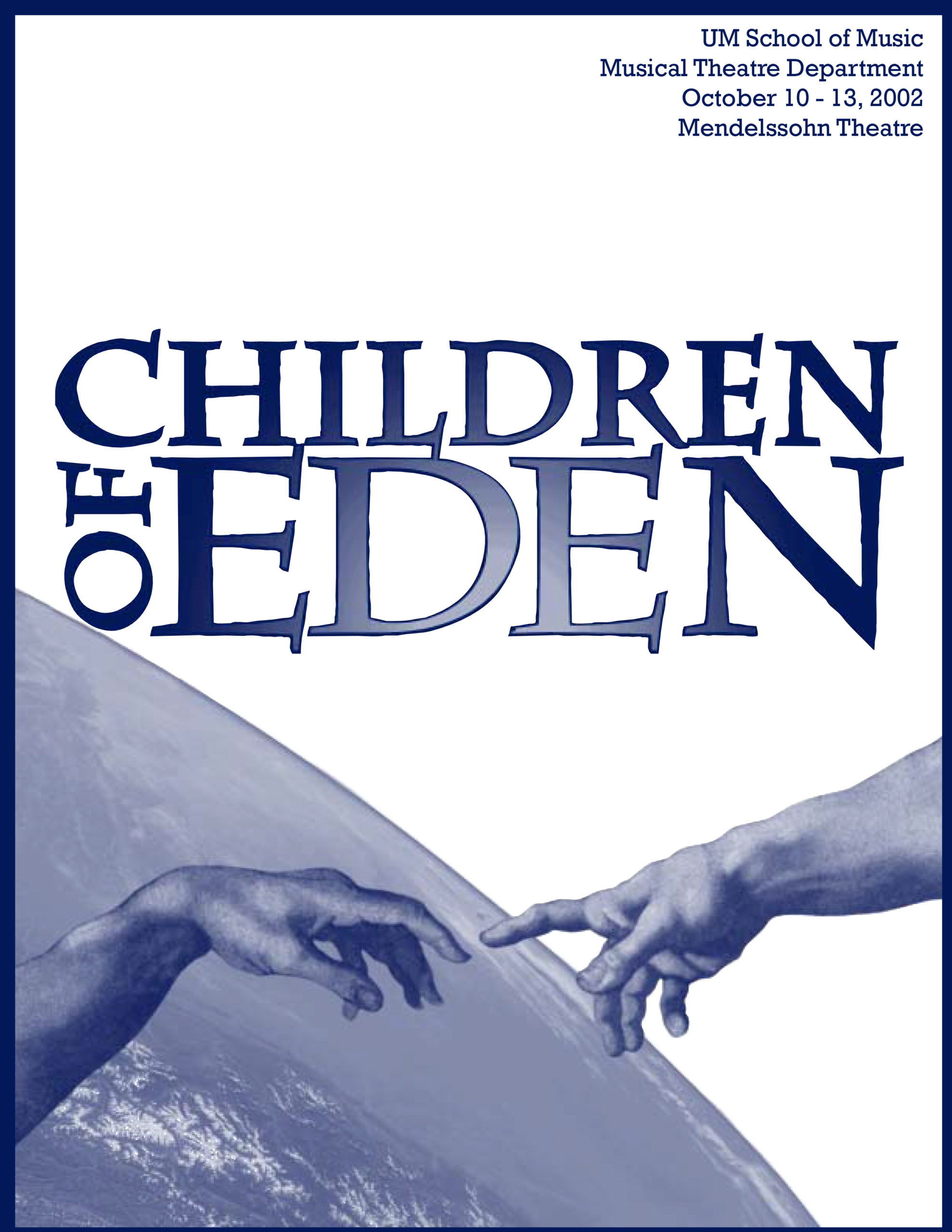 Children of Eden
Music and Lyrics by Stephen Schwartz
Book by John Caird
Department of Musical Theatre
October 10-13, 2002 • Lydia Mendelssohn Theatre

Known for his musicals Godspell and Pippin and for the Academy Award-winning songs he wrote for the animated features Pocahontas and The Prince of Egypt, Stephen Schwartz once again turns to the Old Testament as his subject matter for Children of Eden. In two acts the musical tells the stories of Adam and Eve, and Noah and the flood. Using a wide variety of musical styles, the show addresses the inter-generational conflicts and patterns that are passed so easily from parent to child. "It's about second chances," says Schwartz. Indeed, the musical is a compelling story of love, rage, guilt, and their consequences, as well as the need to begin again. The show is appropriate for the entire family.
Children of Eden is now one of the top 20 musicals licensed by Music Theatre International, something almost unheard of for a show that never played on Broadway. The musical originally premiered in London in January of 1991. Regrettably, the debut coincided with the start of Gulf War. Subsequent fears of international travel led to a bleak tourism season in London and one of the worst slumps in West End theatre attendance in history. The musical was unable to survive. Schwartz then brought the show to the states, rewriting it constantly for the numerous small theatre productions that were done over the next several years. His work watching, tweaking and tuning the piece made it leaner and more focused. Still, the show never did play on Broadway, although it did receive a high profile production in 1998 at New Jersey's Paper Mill Playhouse. Schwartz boasts "Now it's a much better show."
Artistic Staff
Director: Mark Madama
Musical Director: Karl Shymanovitz
Choreographer: Beth Dukleth
Scenic Designer: Shana McKay Burns
Costume Designer: George Bacon
Lighting Designer: David Neville
Wig Designer: Guy Beck
Stage Manager: Alix Malloy
Cast
Father: Brian Hissong
Adam: Evan Bryant
Eve: Megan Reinking
Snake: David Baum, Lori Brooke Cohan, Kevin Hale, Lauren Molina, Tara Siesener
Young Cain: Spencer MacDonald
Young Abel: Joseph Sammour
Cain: Jesse Nager
Abel: Paul Wyatt
Seth: Justin Keyes
Noah: Jeremy Leiner
Mama Noah: Monique French
Japheth: Chris Peluso
Ham: Greg Bibens
Shem: Justin Stoney
Aphra: Lauren Hooper
Aysha: Leslie Frankel
Yonah: Toni Trucks
Storytellers: David Baum, Tommy Berklund, Lori Brooke Cohan, Kevin Hale, Chelsea Krombach, Lauren Molina, Keewa Nurullah, Meghan Randolph, Michelle Ricci, Tara Siesener, Alexis Sims, Gene Swingle, Danny Taylor
Children: Christina Heilmann, Lacey Marsh, Casey MacDonald, Spencer MacDonald, Joseph Sammour, Olivia Songer, Garrett Weng, Tyler Weng
Sponsors
Children of Eden is sponsored in part by a grant from the University of Michigan Credit Union.
The School of Music acknowledges the generosity of McKinley Associates, Inc. whose support has helped make this production possible.
Media
Program