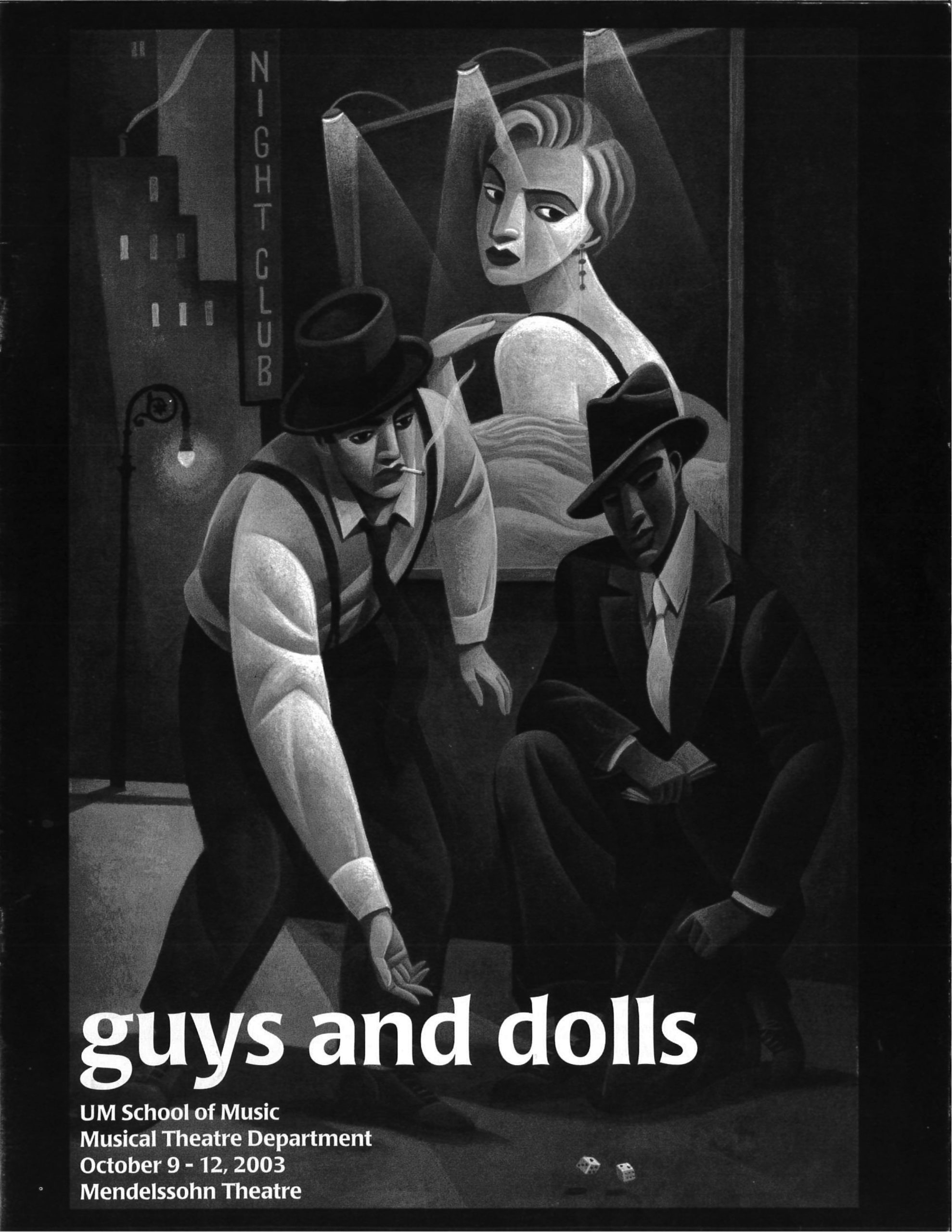 Guys and Dolls
Music and Lyrics by Frank Loesser
Book by Jo Swerling and Abe Burrows
Department of Musical Theatre
October 9-12, 2003 • Lydia Mendelssohn Theatre

Based on the Broadway stories of Damon Runyon, Guys and Dolls tells the tale of Nathan Detroit, the organizer of the oldest established permanent floating crap game in New York, who bets fellow gambler Sky Masterson that he can't make the next girl he sees fall in love with him. That "next girl" is Miss Sarah Brown, a pure-at-heart Salvation Army-type reformer. Meanwhile, Nathan is having trouble with his own girlfriend, Adelaide, who after 14 years of dating is ready for marriage. Guys and Dolls is a cornerstone of the musical comedy stage that continues to delight audiences over 50 years after its Broadway premiere. Featuring the songs "Luck be a Lady" and "Sit Down You're Rockin' the Boat," this musical is the perfect balance of story, dance, music, and romance.
Written by composer/lyricist Frank Loesser, with a book by Jo Swerling and Abe Burrows, Guys and Dolls won a Best Musical Tony for the original 1951 production, and a second Tony for Best Revival for the 1995 production starring Faith Prince and Nathan Lane. The musical also received international attention thanks to the 1955 MGM motion picture adaptation featuring Marlon Brando, Jean Simmons and Frank Sinatra.
Artistic Staff
Director: Mark Madama
Musical Director/Conductor: Kevin J. Bylsma
Choreographer: John MacInnis
Scenic Designer: J. Branson
Costume Designer: Jessica Hahn
Lighting Designer: Christian M. DeAngelis
Sound Designer: Mark Gordon
Wig Designer: Dawn Rivard
Stage Manager: Kelly K. Irwin
Cast
Nicely-Nicely Johnson: Nick Gaswirth
Benny Southstreet: Scott Gordon
Rusty Charlie: Brian Hissong
Sarah Brown: Cathryn Basile
Arvide Abernathy: Alex Michaels
Agatha: Shannon McShane
Calvin: Michael Mahoney
Martha: Emily Albrink
Harry the Horse: Kevin Hale
Lt. Brannigan: John Sloan III
Nathan Detroit: Paul Wyatt
Gamblers: David Baum, Nick Blaemire, Justin Keyes, Greg Pearl, Chris Peluso, Brian Spitulnik, Michael Zahler
Angie the Ox: Brian Spitulnik
Miss Adelaide: Jenni Barber
Sky Masterson: Garrett Miller
Joey Biltmore: Michael Zahler
Mimi: Jessica Lukasik
General Matilda B. Cartwright: Stephanie Layton
Big Jule: Jumanne Langston
Master of Ceremonies: David Baum
Hot Box Girls: Anne Horak, Jessica Lukasik, Keewa Nurullah, Lauren Rosental
Runyonland Girls: Alexis Sims, Tessa Waldheger
Havana Patrons: David Baum, Nick Blaemire, Anne Horak, Justin Keyes, Jessica Lukasik, Keewa Nurullah, Chris Peluso, Lauren Rosental, Alexis Sims, Brian Spitulnik, Tessa Waldheger, Michael Zahler
Sponsors
The School of Music acknowledges the generosity of McKinley Associates, Inc. whose support has helped make this production possible.
Media
Program
Photos
[cycloneslider id="03-04-guys-and-dolls"]