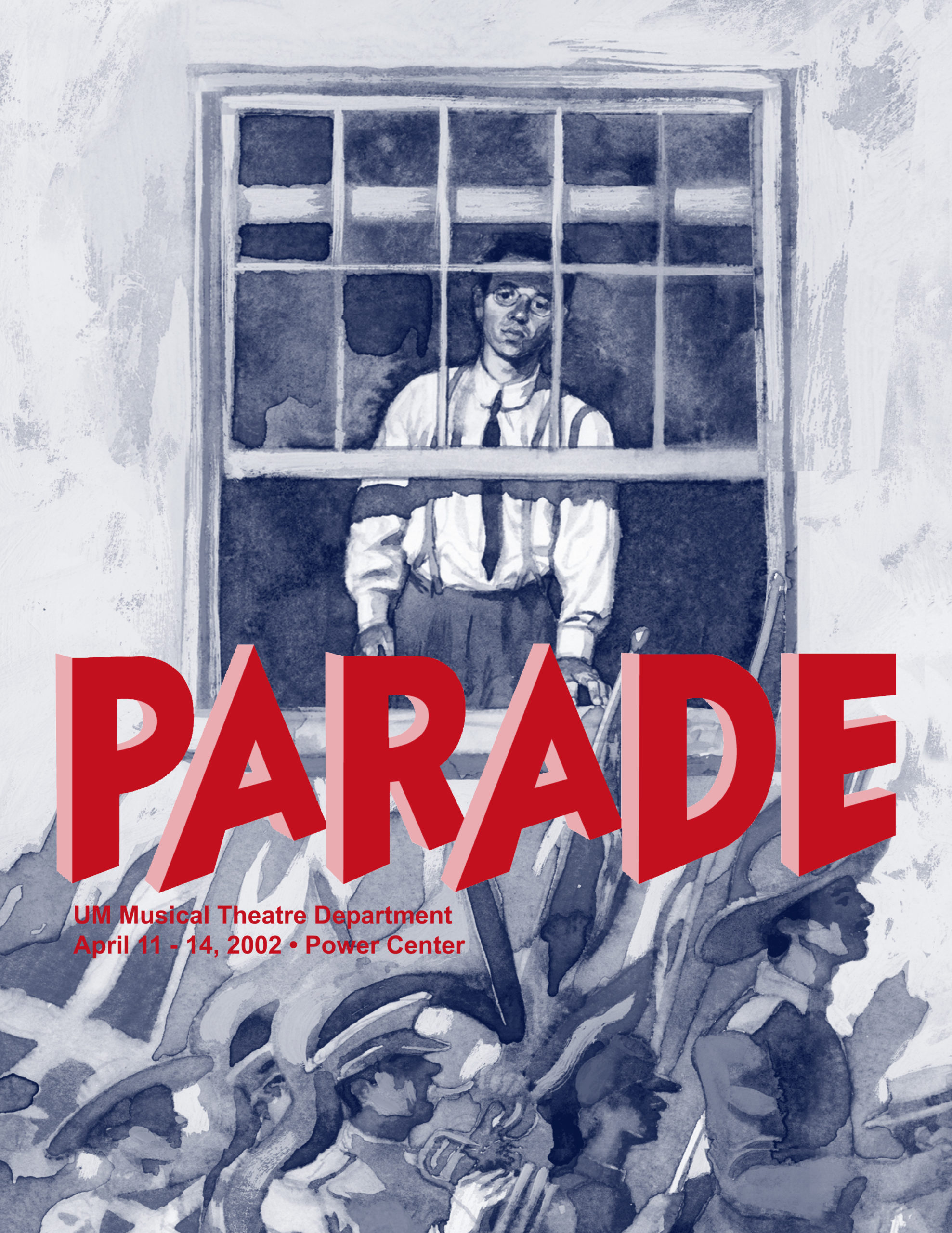 Parade
Book by Alfred Uhry
Music and Lyrics by Jason Robert Brown
Originally Directed and Co-Conceived by Harold Prince
Department of Musical Theatre
April 11-14, 2002 • Power Center

The tragic, true story of the trial and lynching of a man wrongly accused of murder is brought to emotional and theatrical life by acclaimed playwright Alfred Uhry (Driving Miss Daisy) and Jason Robert Brown, one of Broadway's most promising young composers (Songs For A New World).
In 1913, Leo Frank, a Brooklyn-born Jew living in Georgia, is put on trial for the murder of 13-year-old Mary Phagan, a factory worker under his employ. Already guilty in the eyes of everyone around him, a sensationalist publisher and a janitor's false testimony seal Leo's fate. His only defenders are a governor with a conscience, and, eventually, his assimilated Southern wife who finds the strength and love to become his greatest champion.
Daring, innovative and bold, Parade won well-earned Tony Awards for Best Book and Best Score in 1999. Its subject matter offers a moral lesson about the dangers of prejudice and ignorance that should not be forgotten.
Artistic Staff
Director: Brent Wagner
Musical Director/Conductor: Valerie Gebert
Scenic Designer: Vincent Mountain
Costume Designer: George Bacon
Lighting Designer: Mark Allen Berg
Sound Designer: Roger Arnett
Choreographer: Celia Keenan-Bolger
Wig Designer: Guy Beck
Stage Manager: Kelly Kathryn Irwin
Cast
Young Soldier: Brian Hissong
Aide: Evan Bryant
Assistant: Leslie Frankel
Old Soldier: James Leija
Lucille Frank: Meghan Randolph
Leo Frank: Stanley Bahorek
Hugh Dorsey: Nick Gabriel
Governor John Slaton: David Reiser
Sally Slaton: Allison Foss
Frankie Epps: Justin Urso
Mary Phagan: Jennifer Barber
Iola Stover: Lauren Molina
Jim Conley: Jesse Nager
J. N. Starnes: Doug Boes
Officer Ivey: David Roth
Newt Lee: Jumanne Langston
Prison Guard: Jeremy Leiner
Mrs. Phagan: Megan Reinking
Lizzie Phagan: Dana Kraft
Floyd MacDaniel: Garrett Miller
Britt Craig: Nathan Younger
Tom Watson: Nich Kauffman
Angela: Lauren Hooper
Riley: Kevin Hale
Luther Rosser: Mark Whitten
Fiddlin' John: Brian Hissong
Judge Roan: Sean Clifford
Nurse: Elizabeth Filios
Monteen: Shannon McShane
Essie: Whitney Bashor
Mr. Peavy: Chris Peluso
Rookie Cop: Greg Bibens
Ensemble: Nicholas Ardell, David Baum, Greg Bibens, Evan Bryant, Sean Clifford, Marisa Dickmeyer, Kellie Drinkhahn, Elizabeth Filios, Allison Foss, Leslie Frankel, Kevin Hale, Lauren Hooper, Scott Gordon, Justin Keyes, Dana Kraft, James Leija, Jeremy Leiner, Garrett Miller, Chris Peluso, Justin Stoney, Gene Swingle, Paul Wyatt
Sponsors
The School of Music acknowledges the generosity of McKinley Associates, Inc. whose support has helped make this production possible.
Media
Program