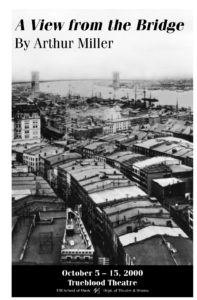 A View From the Bridge
By Arthur Miller
Department of Theatre & Drama
October 5-15, 2000 • Trueblood Theatre

The University of Michigan's Department of Theatre & Drama will open its season with a spellbinding American drama by one of U-M's most famous alumni when it presents Arthur Miller's A View from the Bridge.
The drama centers on obsession and betrayal. Brooklyn longshoreman Eddie Carbone lives in a tight-knit hardworking Italian neighborhood near the waterfront with his wife Beatrice and niece Catherine. Catherine's emerging independence and womanhood have begun to bother Eddie; he isn't ready to give up his position as the main man in her life. Into this already tense situation enter two of Beatrice's cousins, Marco and Rodolpho, illegal immigrants from the old country. When Catherine falls in love with Rodolpho, Eddie tries everything he can to dissuade her. Driven by an obsession he can neither understand nor acknowledge, Eddie finally reports Marco and Rodolpho to the immigration authorities in a desperate attempt to restore his family. His betrayal has far-reaching effects in the community, leading to tragic circumstances.
Artistic Staff
Director: Darryl V. Jones
Scenic Designer: Daniel A. Rutz
Costume Designer: Neal Somers
Lighting Designer: Rob Murphy
Fight Choreographer: Erik Fredricksen
Dramaturg: Cara Gabriel
Assistant Director: Clark Johnson
Stage Manager: Heather Bryant
Cast
Louis: Ethan B. Kogan
Mike: David Jones
Mr. Alfieri: Matthew H. Urban
Eddie: Quinn Strassel
Catherine: Lauren Spodarek
Beatrice: Jennifer Lima
Tony/First Immigration Officer: Robert Weiner
Marco: Boyd White III
Rodolpho: Joseph A. Hendrix
Second Immigration Officer/Mr. Lipari: Jonathan Rosen
Mrs. Lipari: Alyssa Sorresso
Neighbors: Rachel Easley, Kellie Matteson
Confirmation Girls: Nora Bonner, Veronica Guitar, Elizabeth Lennox
Priest/"Submarine": Jason Smith
"Submarine": Clark Johnson
Resources
[accordion title="Director's Notes"]
The music and sound that you hear in this production are all Italian-American or Sicilian. However, it might sound African to some.
The first time I directed A View from the Bridge, Arthur Miller gave me permission to change the community from Italian-American to Dominican-American. My research to discover the origins of the people in the Dominican Republic centered on understanding who these people were at their core. Where had they come from, what did they believe, and most importantly, where did their passions lie? My quest at that time led me back to Africa and the religious beliefs, rituals, and blood rites that came to the Caribbean with the arrival of African slaves.
As I prepared to direct the traditional Italian-American storyline, I asked myself the same question – who are these people at their core? Ironically, as the answer to this question revealed itself, an undeniable cultural connection between Sicily and Africa became apparent. From Greek, Roman, and Egyptian invasions and through trade of both slaves and commercial goods, the island of Sicily became a melting pot of European and North African peoples. As a result, much of the music, religion, and customs of the Italians can be traced back to African roots. This is particularly true of the Sicilians.
As Eddie Carbone blindly propels himself on a path of vengeance, all that is American fails him. Eddie sinks deeper into an abyss of obsession where a call for justice and Old World passions arise. Blood for blood. The music and sound follow him on this journey.
[/accordion]
Media
Program