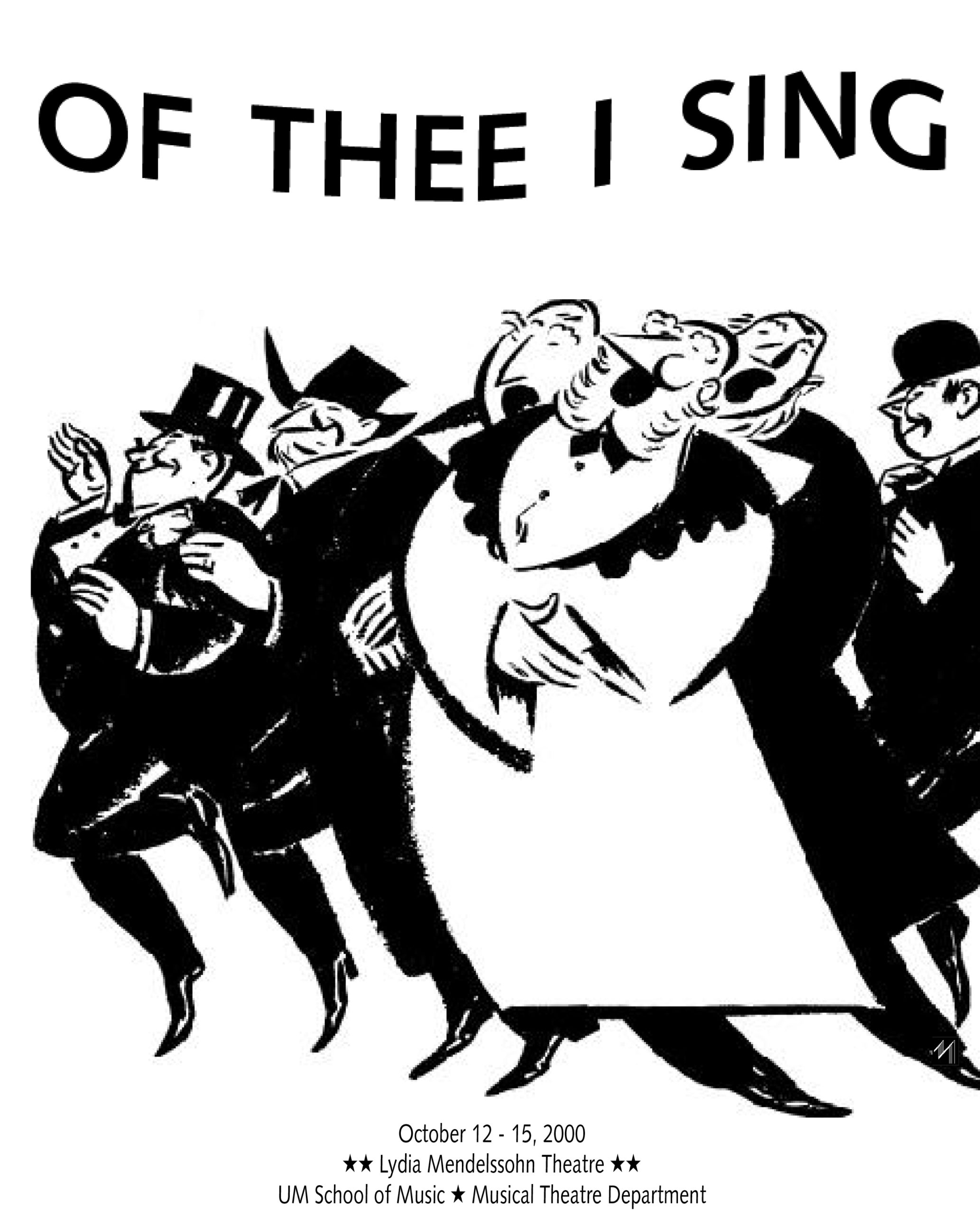 Of Thee I Sing
Music by George Gershwin
Lyrics by Ira Gershwin
Book by George S. Kaufman & Morrie Ryskind
Department of Musical Theatre
October 12-15, 2000 • Lydia Mendelssohn Theatre

Proving that political intrigue is timeless, the University of Michigan Musical Theatre Department presents Of Thee I Sing, one of the brightest, most nimble spoofs ever written about American politics. Filled with catchy Jazz-Age tunes by George and Ira Gershwin, sprightly show-stopping dances, and a madcap story about corruption in the Halls of Power, the 1931 Broadway run won the first Pulitzer Prize for Drama ever awarded to a musical and played for 441 performances, a record at that time.
In contrast to most musicals of the 1930s, Of Thee I Sing spawned few popular hits, since the integration of book with music was so complete – a feat rarely matched in musical theatre until the 1950s. Three songs from the show did achieve widespread popularity and are staples of jazz singers to this day: "Love is Sweeping the Country," "Who Cares," and the title song.
The musical is built around an almost absurd – but mostly believable – plot offering humorous insights into the political arena. Presidential candidate John P. Wintergreen and his running mate Alexander Throttlebottom are nominated by a bunch of old boys scheming in a back room, win the presidency by sham political issues, then find themselves assailed from all sides. During the campaign, Wintergreen's advisers had staged a beauty contest, promising that the winner would marry the candidate if he were elected. The lucky contestant is Diana Devereaux, who comes to claim her prize when Wintergreen is elected. The new president, however, has fallen in love with one of the contest organizers, Mary Turner, thereby setting the stage for a nasty scandal, possible impeachment, and an international conflict with France. A surprising outcome results when the Supreme Court is asked to arbitrate.
Artistic Staff
Director: Brent Wagner
Musical Director/Conductor: Grant Wenaus
Scenic Designer: Gary Decker
Costume Designer: George Bacon
Lighting Designer: Aaron Sporer
Sound Designer: Roger Arnett
Wig Designer: Guy Beck
Choreographer: Lisa Catrett-Belrose
Choreographer for "Love is Sweeping the Country": Linda Goodrich
Stage Manager: Kelly K. Irwin
Cast
Louis Lippman: Robert Rokicki
Francis X. Gilhooley: Ryan Powell
Maid: Piper LaGrelius
Matthew Arnold Fulton: Alexander C. Gemignani
Senator Robert E. Lyons: Maclain Looper
Senator Carver Crockett Jones: Adam Fry
Alexander Throttlebottom: Logan Lipton
John P. Wintergreen: Paul Schaefer
Sam Jenkins: Ryan Binder
Diana Devereaux: Christy Faerber
Mary Turner: Natalie Ross
Miss Emily Benson: Tiffany Helland
Madison Square Garden Announcer: James Borders
The Chief Justice of the Supreme Court: Drew Niles
The French Ambassador: Mike Mosallam
Campaign Singer: Stan Bahorek
Tour Guides: Jennifer Begg, Leslie Henstock
The Senator from Massachusetts: Eleanore Gutwein
Ensemble: Stan Bahorek, Jennifer Begg, Cian Coey, Eleanore Gutwein, Leslie Henstock, Patrice Karavas, Piper LaGrelius, James Leija, Kristen Mahon, Peter Maris, Chip Mezo, Drew Niles, Adrienne Pisoni, David Roth, Darryl Semira
Sponsors
The School of Music acknowledges the generosity of McKinley Associates, Inc. whose support has helped make this production possible.
Media
Program