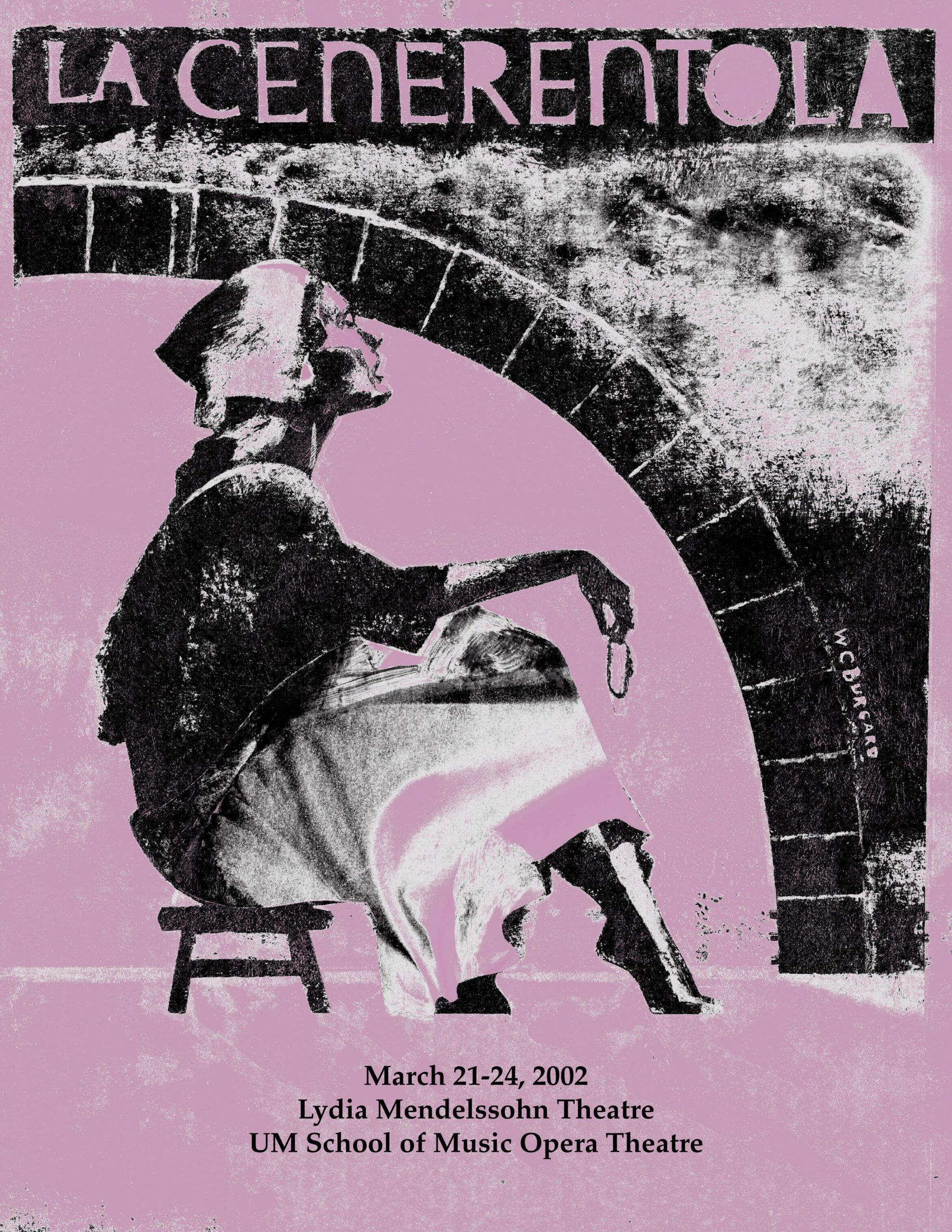 La Cenerentola
Music by Gioachino Rossini
Libretto by Jacopo Ferretti
University Opera Theatre • University Philharmonia Orchestra
March 21-24, 2002 • Lydia Mendelssohn Theatre
Composed in 24 days, Rossini premiered his adaptation of Charles Perrault's classic fairy tale Cinderella in Rome, 1817. Written with lyricist Jacopo Ferretti, the opera is based on Charles-Guillaume Étienne's libretto for "Cendrillon," an operatic treatment of Cinderella by Nicholas Isouard that was popular in Paris around 1810. La Cenerentola therefore differs from the Grimm- or Disney-popularized versions of the story. There is no fairy godmother, no pumpkin-coach, and no glass slipper – it is a bracelet which guides the Prince to his love after the ball. Another difference is that Cenerentola has a stepfather – the impoverished Don Magnifico, Baron of Montefiascone – in place of the traditional stepmother. However, the two appalling stepsisters remain, as do the harsh and severe conditions under which the Cinderella character lives. And, of course, the story ends with a happily ever after.
Rossini is known for the unsurpassed brilliance of his comic invention and both the melodiousness and floridity of his vocal writing. La Cenerentola is no exception to these rules, in fact it emphasizes them. Written for coloratura contralto, the title role is incredibly difficult. Although attempts have been made to arrange the music for soprano, the opera generally has to wait until a low voice with phenomenal agility comes along. When it does, the ensemble numbers, for which Rossini is known, are ethereal.
Artistic Staff
Director: Nicolette Molnár
Conductor: Martin Katz
Assistant Conductor: Andrew George
Scenic Designer: Sarah Lambert
Costume Designer: Rachel Laritz
Lighting Designer: Rob Murphy
Choreographer: Michael Woodberry-Means
Wig Designer: Guy Beck
Italian Diction: Timothy Cheek
Chorus Master: Brandon Brack
Musical Preparation: Luiz Ballestero, Shannon McGinnis
Stage Manager: Heather Bryant
Cast (Thursday-Saturday/Friday-Sunday)
Clorinda: Alissa Rowe/Deborah Selig
Tisbe: Emily Wood Toronto/Elise Quagliata
Cenerentola: Pei Yi Wang/Aviva Ezring
Alidoro: Theodore Sipes/Aaron Kandel
Don Magnifico: Darnell Ishmel/Christopher Temporelli
Don Ramiro: Nathan Northrup/Michael Gallant
Dandini: Michael Turnblom/David Dillard
Chorus: Stephan Bobalick, Adam Bonarek, Brandon Brack, Eiki Isomura, Dan Knaggs, Jeff Landau, Adrian Leskiw, John McLaughlin, Devin Provenzano, Ian Trevethan, Gregory Wakefield
Dancers: Josh Farahnik, Jon Frederick, Josh Sutton
Sponsors
The School of Music, Theatre & Dance acknowledges the generosity of McKinley Associates, Inc. whose support has helped make this production possible.
Resources
[accordion title="Synopsis"]
Act I
Europe; late nineteenth century. In the run-down mansion of Don Magnifico, his two daughters Clorinda and Tisbe admire their own talents and beauty while Angelina, his stepdaughter who serves as the family maid and is therefore called Cenerentola (Cinderella), sings to herself about a king who chose his wife because of her kindness. Cenerentola's only friends and companions are a group of chimney sweeps; magical spirits visible only to her.
A beggar appears and the stepsisters send him away, but Cenerentola offers him bread and coffee. Just as the stepsisters set upon her for disobeying them, two men arrive to announce that Prince Ramiro will soon pay a visit: he is looking for the most beautiful girl in the land to be his bride. The sisters order Cenerentola to help them get ready.
Magnifico, awakened by the arguing Tisbe and Clorinda, comes to investigate and scolds the girls for interrupting his extraordinary dream of a donkey that sprouted wings. When he learns of the prince's visit, he exhorts the girls to save the troubled family fortunes by capturing the young man's fancy.
All retire to their rooms, and Prince Ramiro – disguised as his own valet – arrives alone, so as to see the women of the household without their knowing who he is. Cenerentola is startled by the handsome stranger, and each admires the other. Asked who she is, Cenerentola gives a flustered explanation about her mother's death and her own servile position, then excuses herself to respond to her stepsisters' call.
When Magnifico enters, Ramiro announces the prince's arrival. Magnifico fetches Clorinda and Tisbe, and they greet Dandini – the prince's valet who is disguised as the prince himself. The sisters fawn over Dandini, who invites them to the palace. Don Magnifico also prepares to leave, arguing with Cenerentola, who does not want to be left behind. Ramiro notes how badly she is treated. His tutor, the philosopher, Alidoro, appears and reads from a census list, asking for the third daughter of the household. Magnifico denies she is still alive.
Cenerentola is left in tears as everyone leaves. The beggar returns to tell her that she is to accompany him to the palace. Casting off his rags, he reveals himself to be Alidoro and assures the girl that heaven will reward her purity of heart.
Dandini, still posing as the prince, escorts the two sisters into the royal country house and offers Magnifico a tour of the wine cellar, hoping to get him drunk. Dandini manages to disentangle himself from the sisters and escape their excessive attentions.
Dandini reports to the prince with his negative opinion of the two sisters. This confuses Ramiro, who has heard Alidoro speak well of one of Magnifico's daughters. Clorinda and Tisbe rejoin Dandini and when he offers Ramiro as a husband for one of them, they turn their noses up in disgust at a mere valet. Alidoro announces the arrival of an unknown, veiled lady. Ramiro recognizes something in her voice. When she lifts her veil, he and Dandini, as well as the sisters, are struck by the familiarity of her appearance. Their confusion is shared by Magnifico, who comes to announce supper and notices the newcomer's resemblance to Cenerentola. All feel they are in a dream, but on the verge of being awakened by some shocking explosion.
Act II
In a room of the palace, Magnifico stews over this new threat to his daughters' chances with the prince. Ramiro, on the other hand, is captivated by the unknown woman, not least because of her resemblance to the girl he met that morning. He conceals himself as Dandini arrives in amorous pursuit of the exquisitely attired Cenerentola. She politely declines his advances, saying she is in love with someone else – his valet. At this the delighted Ramiro steps forth. To test his sincerity, she gives him (still believing him to be the valet) one of a pair of matching bracelets, saying that if he cares for her, he will find her and discover who she is. Then if he still desires her, she will be his. She leaves and Ramiro, with Alidoro's encouragement, prepares for the search.
Once again the prince's valet, Dandini, faces Magnifico, who still believes he is the prince and asks that he finally decide which of his two daughters he wishes to marry. Dandini confesses he is a valet. When Magnifico turns indignant, Dandini orders him out of the palace.
Using his magical powers, Alidoro conjures up a storm to aid in his plan of bringing Ramiro and Cenerentola together. At Magnifico's house, Cenerentola, once more in rags, tends the fire and sings her ballad. Magnifico and the sisters return, all in a vile mood, and order Cenerentola out of their sight. Dandini appears at the door, saying the prince's carriage has overturned outside. Cenerentola, bringing a chair for the prince, realizes that Ramiro is actually the prince; he in turn recognizes her bracelet. Confusion reigns as Magnifico and his daughters smart from their defeat; angered by such meanness, Ramiro threatens them, but Cenerentola asks him to show mercy. Her family still against her, Cenerentola leaves with the prince, while Alidoro gives thanks to heaven for this happy outcome.
In the throne room of Ramiro's palace, Magnifico begs forgiveness from the newly created princess, but she asks only to be acknowledged at last as his daughter. Secure in her happiness, she asks the prince to forgive Magnifico and the two stepsisters; born to misfortune, she has seen her fortunes change. Chastened, her father and stepsisters embrace her as she declares that her days of sitting by the fire are over.
[/accordion]
Media
Program