Each summer, the University of Michigan hosts 250 driven and talented high school students for the MPulse Summer Performing Arts Institutes—intensive training in their chosen field with School of Music, Theatre & Dance (SMTD) faculty members. The program is now accepting applications at smtd.umich.edu/mpulse for summer 2019, the program's 14th year.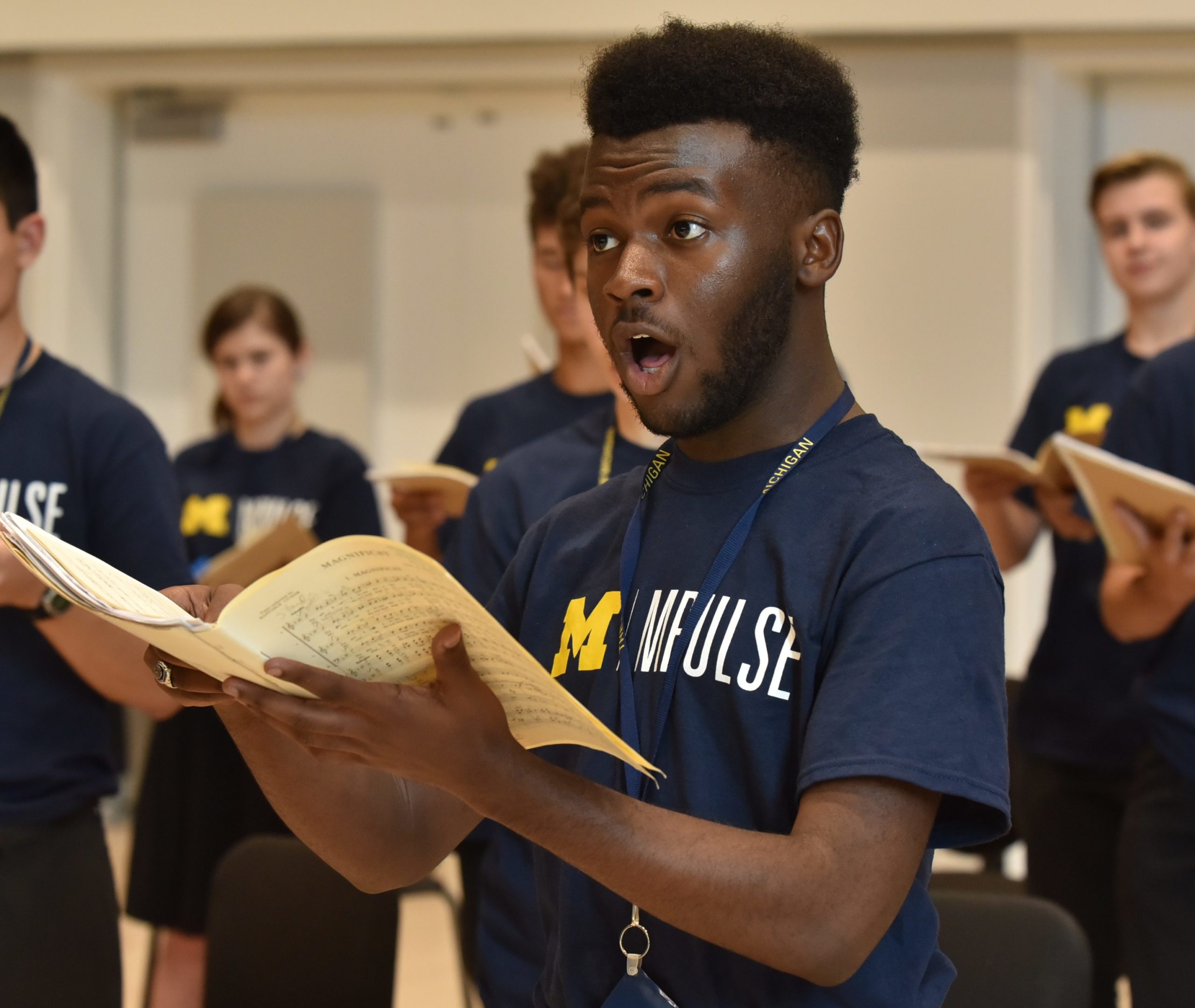 The application deadline for the majority of the institutes is February 1, 2019. The exceptions are Center Stage Strings (deadline: January 18, 2019) and the Musical Theatre Workshop (deadline: January 14, 2019). Each institute takes place over one to four weeks between June and early August, and tuition starts at $1,575 with merit- and need-based scholarships available. A non-refundable $75 application fee is due at time of application and all audition materials (video files, required documents, head shots, etc.) are submitted online.
While providing training by some of the nation's most esteemed performing arts pedagogues, who are also active and renowned performers, MPulse also offers a preview of college life: students study directly with SMTD faculty, live in the U-M dorms, benefit from the myriad resources a major university can offer, and experience life on campus and in Ann Arbor.
"MPulse gives students the advanced training they need to be better equipped for an undergraduate performance degree at U-M, or any conservatory in the United States and abroad," said Professor Eugene Rogers, faculty director of the MPulse Vocal Arts Institute and SMTD's director of choral activities. Faculty members often utilize their MPulse Institute as a direct recruitment tool, and many past participants have later attended SMTD to continue working with their new mentors.
Additionally, the MPulse team is proud that these summer institutes function as a way for students in Michigan's underserved communities to experience SMTD. The staff forms partnerships with school districts and performing arts organizations across the state to promote the summer institutes, offering live auditions to remove a potential access barrier for low-income students. Application fees are also waived for applicants from these communities, and tuition scholarships are available for those in need.
MPulse Institutes range from small and instrument-specific to large and multi-faceted. The smaller programs consist of 8-12 students undertaking intensive study with a single SMTD faculty member, and in 2019 are available for clarinet, double bass, flute, harp, saxophone, and trumpet. The larger programs, which host up to 60 participants studying with multiple faculty members, include dance, jazz, musical theatre, strings, theatre & drama, and vocal arts. Every institute includes time for group performance, private practice, workshops on theory and technique, and movement classes to train the complete artist.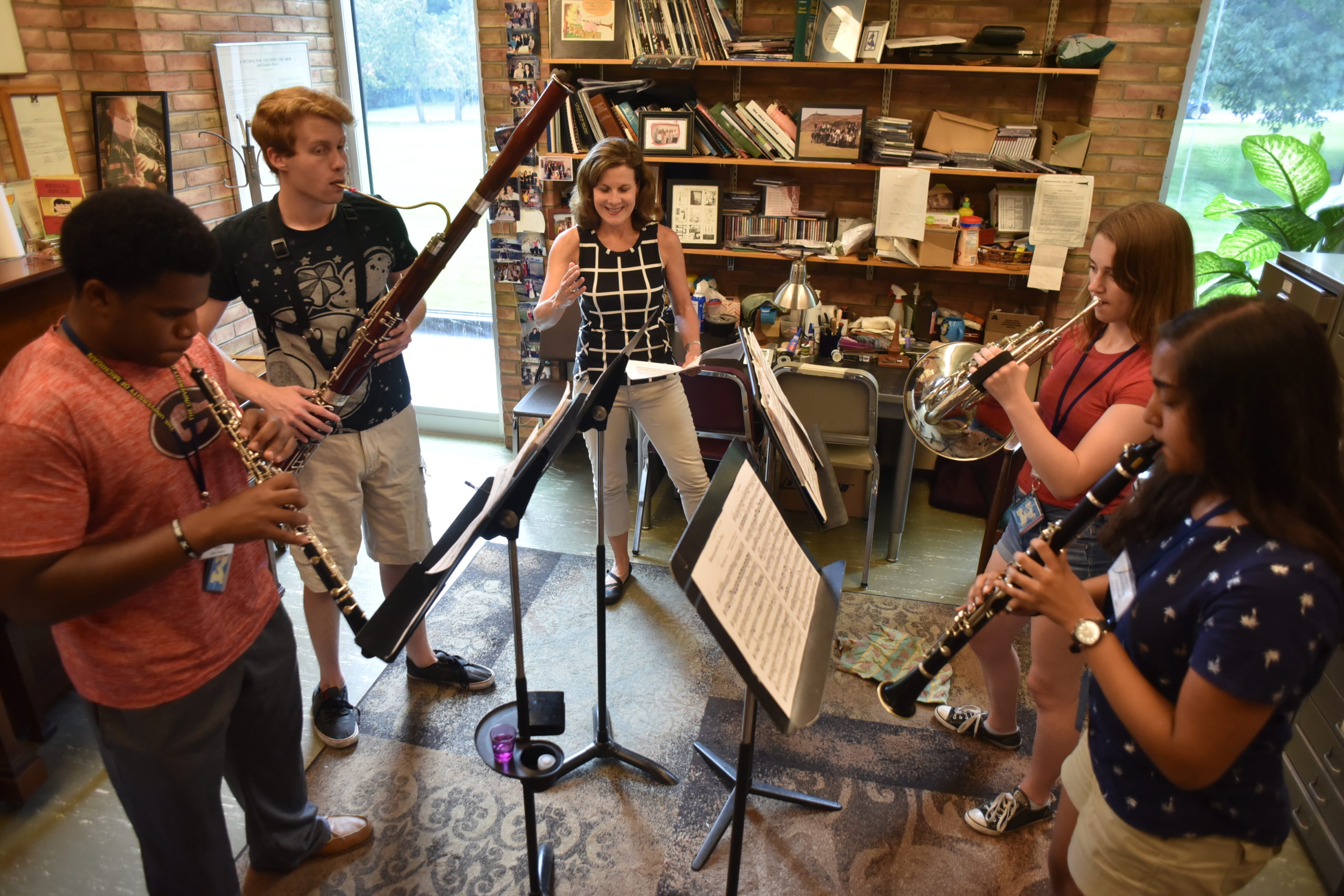 Students from concurrent institutes interact in the residence and dining halls and during social activities. "For many participants, the highlight of the summer is getting to spend time with colleagues who have the same passion they have," said Emily Lamoreaux, manager of SMTD's Youth & Adult Programs. Adding to participants' taste of life as an SMTD student are activities like tours of North and Central Campuses in Ann Arbor, performances and recitals in SMTD venues, and outreach concerts in the local community. Many of these activities are led by current U-M students, who serve as counselors and live in the dorms with institute participants.
More than half of MPulse participants in a given year are rising seniors, and an additional 20% are rising juniors. Most other participants have just completed 9th or 12th grade. A third of 2018 MPulse attendees were Michigan residents, and the remaining two-thirds of students hailed from 34 different states and four countries outside of the United States.
Every MPulse institute has a competitive audition process, with acceptance rates as low as 15 percent for the popular Musical Theatre Workshop. The application process is meant to mirror what students will experience when they apply for college—components include a digital audition, personal statement, and recommendation letter(s). Many applicants are intimidated by the process, but Lamoreaux says they shouldn't be. "We just want to hear the students perform their best," she emphasized. Interested students and their parents should read the MPulse website carefully to ensure they meet the application requirements for their chosen institute.
The impact of MPulse is best summed up by one of its former participants:
What an amazing experience! The advanced classes we took have rejuvenated my love for learning, and the collaborations with some of the most talented high schoolers from around the country have done the same for my love of the arts. Going into this program, I was unsure of the college audition process and its enormity. But having attended MPulse, I know what I must do to prepare for and conquer the wild year ahead of me. I am so excited! I will forever be grateful for the opportunity to work with the gifted faculty from University of Michigan. Thank you for all you have done for me.
– Riley Dun, MPulse Musical Theatre Workshop, Newport Beach, CA.