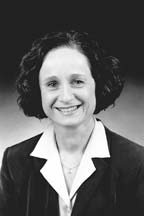 Marie McCarthy, professor of music education and director of research at the School of Music, Theatre & Dance, has been awarded honorary lifetime membership in the International Society of Music Education (ISME), the premier international organization for music education, which is affiliated with the International Music Council and UNESCO.
Reserved for a small representation of individuals in music education, honorary life membership in ISME recognizes the recipient's distinguished contribution to international music education.
Marie McCarthy has been involved with ISME since 1986, when she joined the Society as an international graduate student at the University of Michigan. She founded the International Journal of Music Education in the ISME Library, which led to writing for Information and becoming a member. McCarthy has attended and presented at every biennial ISME conference, beginning in 1992 in Seoul, S. Korea.
In the early 1990s, McCarthy became fascinated with the history of internationalism in music education, leading to the publication of two articles in the International Journal of Music Education: "The Birth of Internationalism in Music Education, 1899-1938," published in 1993, and "Canticle to Hope: Widening Horizons in International Music Education, 1939-1953," published in 1995. As a result of these articles, McCarthy was invited to write a history of ISME on the occasion of its 50th anniversary.
A former public-school teacher in her native Ireland, McCarthy is a general music specialist who has taught courses on music in the elementary and secondary school, learning theories for the music teacher, music cultures in the classroom, research methods in music education, and music teacher education. Prior to joining the faculty at U-M, she taught at the University of Maryland from 1990 to 2006. She has received numerous awards, including a Fulbright Scholarship and an Outstanding Dissertation Award from the Council for Research in Music Education. She received both her master's and PhD in music education at U-M, and her BA and HDE from University College in Dublin, Ireland.
In announcing her honorary lifetime membership, ISME stated: "Marie McCarthy has made a most valuable and lasting contribution to ISME by preserving its history and maintaining an historical record of the Society since its formation to the present time. At one time appointed as the official ISME historian, Marie can be relied on to assist the Society in so many different ways. She has been a dedicated and loyal member, who we believe should be recognized for the extensive and longstanding work she has done for ISME."