The University of Michigan Horn Studio continues a decades-long tradition of excellence that has produced many outstanding professional performers and teachers. Horn students at the SMTD are part of a welcoming, supportive studio environment that focuses on positive musical growth while prioritizing individual interests and goals. Through lessons, studio class, and ensemble playing, studio members gain experience with a large body of musical literature, past and present. Topics ranging from natural horn to contemporary music to jazz can be explored to expand a student's experience.
Adam Unsworth, Professor of Horn
Bryan Kennedy, Lecturer of Horn
Weekly Lessons
Each lesson is graded based on preparation and evidence of one week's growth in the practice room, with the expectation of 2 to 3 hours of daily practice. Material for lessons is chosen to suit each student's needs and current performance level. The basics of horn playing are addressed in each lesson through etude study. All students acquire a comprehensive knowledge of the standard solo and orchestral excerpt literature, with plenty of time left to explore additional horn repertoire based on the student's interests. Horn students enrolled in lessons must participate in a major, conducted ensemble, such as the U-M Symphony Orchestra or Symphony Band, unless waived for approved reasons.
Lesson books covered by undergraduates:
Schantl – Grand Theoretical Method
Concone – Lyrical Studies (Sawyer ed.)
Kopprasch – 60 Etudes
Maxime Alphonse – Method Books 2-5
Kling – 40 Studies
Bach – Cello Suites (Hoss ed.)
Gallay – Preludes, 12 Etudes for 2nd Horn
Weekly Studio Class
Studio class meets every Monday afternoon and is our opportunity as a horn community to come together and help each other develop as musicians. Most studio classes are performance based, with all students required to perform twice per semester as a soloist and participate in a screened mock audition. Constructive comments from horn colleagues and professors are provided after each performance. Ensemble playing, scales and technical study, and group projects are also part of the studio class experience. Performance techniques and professional etiquette are addressed throughout the year, and we are frequently joined by visiting guest artists. Guests for the 2022-2023 year are:
Sarah Willis and Johannes Lamotke – Berlin Philharmonic
Karl Pituch – Principal Horn, Detroit Symphony
Adedeji Ogunfolu – 2nd Horn, Pacific Symphony – UM class of 2013
Haley Hoops – 2nd Horn, Dallas Symphony – UM class of 1996
James Naigus – University of Georgia – UM class of 2009
LGBTubens – Wagner Tuba Quintet
Jazz Horn Class
In this class horn students get an introduction to the world of jazz and beginning improvisation. The history of horn in the jazz idiom is presented along with recordings of jazz horn artists who since the 1930s have contributed to this growing body of work. Two or three standard jazz tunes are studied during the semester, with a focus on aural rather than visual recall and understanding. Learning to swing, a valuable skill and style that horn players often encounter in orchestra pops repertoire, is emphasized. This class is offered weekly during the Winter semester. It is not required and serves as a supplement to Horn Studio Class for interested students.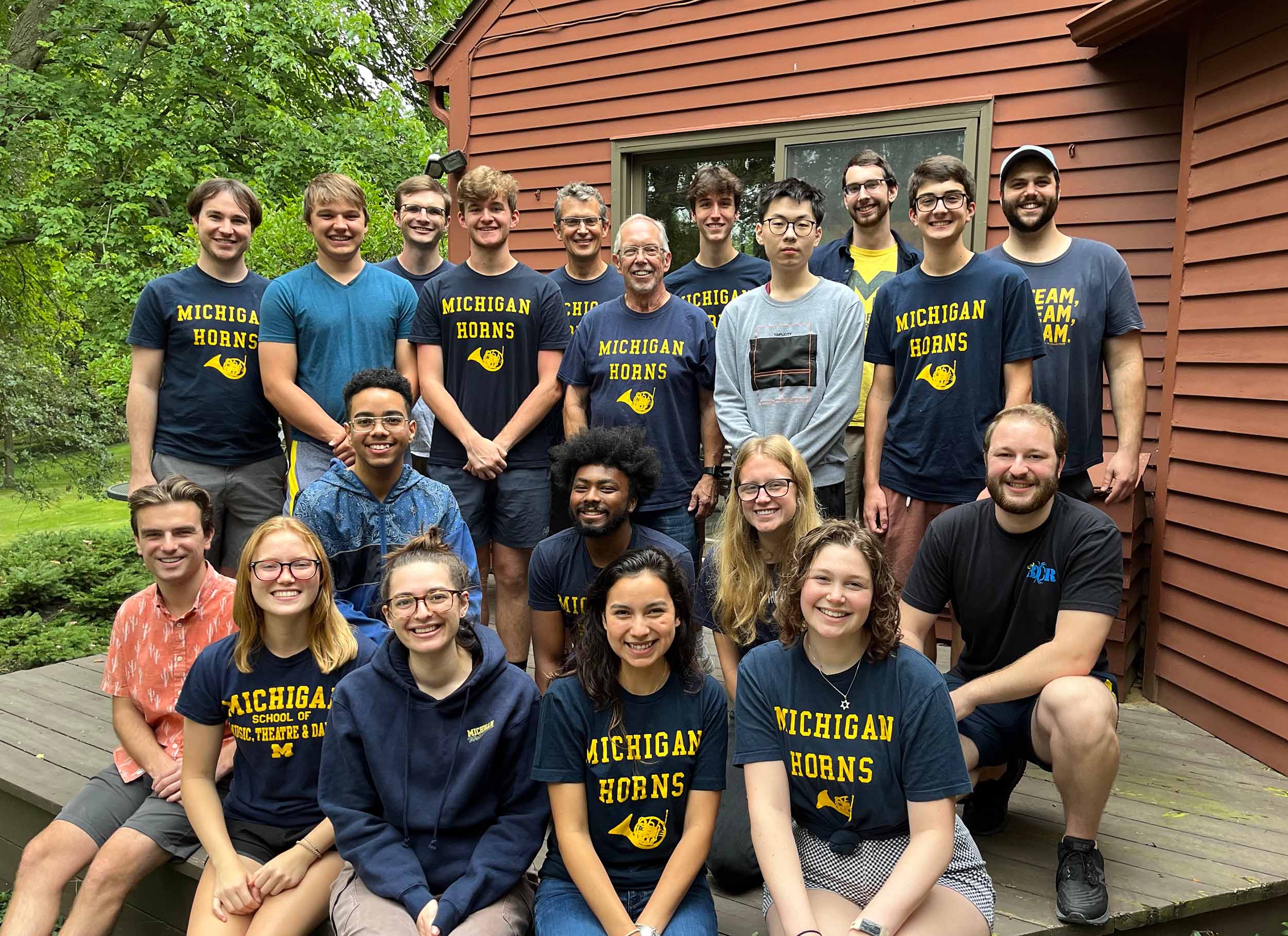 Do all students get to study with you?
All horn majors study primarily with Professor Unsworth and receive three to four lessons per semester with Professor Kennedy. The lesson schedule and rotation between professors is set up at the start of each semester.
How often do lessons occur, and what is the duration?
Lessons occur weekly and are 50-60 minutes in length.
What material is covered in lessons?
Lessons typically start with a check in about the student's week of practice. This is followed by 15-30 minutes of etude study that may include duets and intonation exercises. Assigned solo works and orchestral excerpts are then covered. This general lesson plan is fluid and altered depending on the preparation and performance demands of each student.
What opportunities exist for chamber music?
Horn students are always in demand and have many opportunities to participate in brass, woodwind, and mixed chamber music. In a typical semester there are members of the horn studio playing in horn quartets, brass quintets, woodwind quintets, horn-violin-piano trios, and other mixed instrument groups coordinated by our Chamber Music Department. Groups that are registered for credit receive eight coachings per semester by a faculty member. Freshmen participate in a weekly seminar guided by the horn graduate student instructor which can count for chamber music credit.
Performance Opportunities
From large ensembles in celebrated concert halls to chamber groups in intimate recital spaces, performance opportunities across all disciplines abound, with nearly 900 student performances each academic year. Whether your focus is on early, classical, or contemporary music, whether your passion is for jazz, electronic, or world music, there is an ensemble—or in many cases, multiple ensembles—to suit your interests.