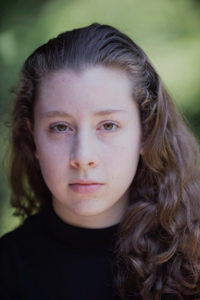 Hannah Marcus graduated with a Bachelor of Fine Arts in Dance and a minor in Performing Arts Management & Entrepreneurship. She enjoys collaborating across disciplines to create work that explores how physicality can be supported and deconstructed by visual design, theatricality, sound, and language."
Academic and career accomplishments
Performed works by Rosie Herrera, Shannon Gillen, Ohad Naharin, Russell Lepley, Shay Kuebler, and Meredith Monk
Choreographed for SMTD's Collage Concert, the U-M Museum of Art, and multiple events in the Betty Pease Studio Theater
Studied abroad at the London Contemporary Dance School with Raymond Chai, Chisato Ohno, Baptiste Bourgougnon, Kate Price, and Rick Nodine
Worked with Laro Chien at Jacob's Pillow Dance Festival for the inaugural Ann & Weston Hicks Choreography Fellows Program
Served as vice president of the Dance Student Assembly
Participated in dance programs in Chicago; San Francisco; Durham, North Carolina; Columbus, Ohio; Randolph, New Jersey; and her hometown of Oak Park, Illinois
Reflections
"I came to Michigan thinking I would produce an evening-length work by my junior year and establish an interdisciplinary company by my senior year. I didn't do either of those, but boy did I gain a lot.
The highlight of my time at SMTD was the countless creative processes I was involved with. Whether they culminated in performances at the Duderstadt Video Studio, UMMA, the North Campus Research Complex, Hill Auditorium, Power Center, or the Betty Pease Studio Theater, each informed how I make my own work and engage with other people's. Seeing mind-boggling performances from University Musical Society and SMTD departments on those same stages made me feel connected to the fabric of the arts community in Ann Arbor. I still laugh thinking about what it was like as a freshman to perform a duet of mine in the Collage Concert. My collaborator and I came on after one of the orchestras, where we were simultaneously plowed over and jolted by a high-energy piece that took place directly next to us before we had to dance.
Engaging in my own projects outside my degree requirements have been the most fulfilling. I've always valued the practice of making even if it's for nothing at all, so I initiated many collaborations with musicians and other dancers in an effort to keep generating material. Finding Sofia Carbonara—who became my friend, roommate, and artistic collaborator—was significant to my last two years of college. She taught me how to deeply engage with performance and creation in a way I didn't know I could do. We created myriad pieces for percussion and dance and also produced a triple bill in our Kerrytown basement.
Much of what I've gained from the Department of Dance stemmed from my commitment to following my interests, taking chances, and getting involved. I feel prepared to seek out opportunities, mentorships, and collaborations after school because I've already been exercising these facets at Michigan. My department gave me the space to dig into my curiosities within the dance field, and I'm grateful that my values solidified because of it. To my dance faculty who exposed me to all that exists and all that should exist, I hope to funnel your knowledge back out some day. To my fellow Department of Dance undergrads, I encourage you to show up for yourself and those around you. I still can't believe I barely had to try that hard to convince Mary Cole to let me perform twice on roller blades in Studio A. Who knew it could be so easy? All I had to do was dream it and then ask.
The School of Music, Theatre & Dance provided me with the resources to craft my college experience the way I wanted it. And even when I sometimes felt these weren't enough, I learned how to seek out the tools and opportunities I needed to thrive. SMTD also taught me the importance of finding a creative community—to make with, share, and learn from. It took me some time before I found this and recognized my value within it, but I came to understand how significant it would be in defining my time in college. People who know me know that I am not one to be "school spirited." But it seems appropriate now to say GO BLUE. It is an honor and privilege to be receiving this award!"
Hannah has been selfless in her dedication to improving the climate in the Department of Dance and consistently has given valuable hours to the department, to her peers, and to her own education and creative growth. — Prof. Christian Matijas-Mecca