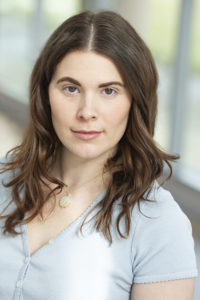 Mallory Avnet completed a Bachelor of Fine Arts degree in Acting this spring. She would like to thank all the wonderful professors who challenged and cared for her during her time at SMTD, as well as her beloved classmates for their constant support, and her family, who raised her with so much love and joy.
Academic and career accomplishments
Studied Greek theatre in the remote Grecian Mountains
Trained in the classics at the London Academy of Music & Dramatic Art in their summer Shakespeare Intensive program
Played lead roles in SMTD productions of Merry Wives of Windsor (Mistress Margaret Page), You For Me For You (Liz), Twelfth Night (Viola), and Yerma (Yerma)
Played ensemble role in SMTD production of The Grapes of Wrath (December 2019)
Reflections
"I knew that I wanted to attend the University of Michigan when I came here for the first time to audition for the School of Music, Theatre & Dance. That morning, I had woken up so nervous and unsure. I was about halfway through my college auditions and I hadn't felt like I had made a connection yet. I was anxious that I had yet to have my 'aha!' moment. When I walked into the Walgreen Drama Center for the first time, that changed. Immediately I thought, "I have to go here." The students at Michigan seemed genuinely excited to be there. They spoke of the challenging training and lifetime rewards that the theatre program was offering them. When I got my acceptance letter, I sent my response pretty much then and there. It was the best decision I've made in my life thus far.
During my time at Michigan I have made friends and connections that will last a lifetime. My time at SMTD has led me to places I would have never imagined. I studied ancient Greek theatre in the secluded Grecian mountains. Last summer I spent abroad in London studying Shakespeare at the London Academy of Music and Drama. Despite the lengths I traveled, no matter where I was, I never failed to meet someone who had a connection to the University of Michigan. Even in the eight-person village I was living in during my time in Greece, there were fellow Wolverines. The alumni network is truly unparalleled.
I am so grateful for my four years here, despite my senior year being cut short by the COVID-19 pandemic. I fell in love with Ann Arbor and its people, I performed in shows that pushed me further as an actress, I learned from professors whose knowledge will stay with me for the rest of my career. Every day since I entered the Walgreen, I learned something new. To receive the Earl V. Moore Award is truly an honor. I feel changed by my time here at the University of Michigan in ways that I never would have imagined. I feel confident entering post-college life with the skills and mindset that SMTD has instilled in me. I am unbelievably proud to be a Wolverine. Wherever I go, I will always Go Blue."
Mallory is a stellar human being as well as a gifted young actress. When she is cast in a play, it does not matter the size of the role: she brings everything to the rehearsal space and the stage. As a team player she is outstanding, with a true generosity and fearless curiosity. She is a gem and a sparkling asset to the theatre.— Prof. Gillian Eaton