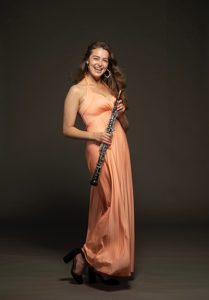 Jillian Kouzel completed a double master's degree in Oboe and Chamber Music at U-M as a graduate student instructor under the direction of Nancy Ambrose King. She will continue her academic career at Michigan as a DMA student in Fall 2020. Kouzel aspires to cultivate a lasting career as a professor, orchestral musician, and chamber music oboist.
Academic and career accomplishments
Competed in the final round of the SMTD Graduate Division Concerto Competition in Winter 2020
Performed Beethoven's Octet with the University of Michigan Symphony Band under the direction of Professor Michael Haithcock in Winter 2020
Participated in Oboe Band for Professor Nancy Ambrose King's Harold Haugh Teaching Award in Fall 2018
Completed her master's solo recital in Fall 2019
Hired for her first professional orchestra job with the Lima Symphony Orchestra (Lima, OH)
Participated in the Sarasota Music Festival in Summer 2019
Selected as the principal oboe for the New York String Orchestra Seminar in 2018 and 2019. Kouzel performed four sold-out concerts with the orchestra at Carnegie Hall
Reflections
"Throughout the duration of my studies at the University of Michigan, I was consistently blown away by the talent, support, and curiosity amongst my peers and educators. I quickly became inspired and equipped with tools necessary to become the best version of myself, not only as an oboist but as a person too. This university thrives on the ability to offer students unparalleled opportunities through mentorship with world-class faculty, a diverse curriculum, and community engagement. I owe most of my growth to my professor and mentor, Dr. Nancy Ambrose King. She embodies what I believe every musician and performer needs in order to have a fulfilling career in this field: positivity, outstanding work ethic, and a healthy work/life balance. I'm thankful for her utmost trust in me, and I'm so honored to continue studying with her as a doctoral student.
My learning went far beyond the classroom, as I was persistently challenged to push myself further than what I believed was possible as a performer. I learned how to trust myself under immense pressure, setting aside fear and ego for the sake of serving both the music and audience. One of my most notable highlights included performing the Beethoven Octet in E-flat Major, op. 103 under the direction of Michael Haithcock with the University of Michigan Symphony Band in Hill Auditorium. For an oboist, this piece requires immense concentration and attention to detail (not to mention a near-perfect reed!), as we are essentially the leading voice throughout the duration of the work. I thank the leadership, professionalism, and confidence that Professor Haithcock instills into every member of the ensemble to create the highest form of artistry.
Amongst the diversity the School of Music, Theatre & Dance builds into the foundation of their curriculum, I had the opportunity to engage with guest teaching artists from around the world and in a variety of disciplines within the arts. Notable master class performances included: Allan Vogel (LA Chamber Orchestra), Dwight Perry (Cincinnati Symphony Orchestra), and Katherine Needleman (Baltimore Symphony Orchestra). Additionally, I enrolled in an arts leadership and entrepreneurial seminar instructed by former dean and Sphinx Organization founder Aaron Dworkin. Designed to provide access to the greatest leaders from the fields of performing arts, arts administration, arts leadership, and philanthropy, this course enabled us to take part in multifaceted, in-depth conversations with weekly speakers. During each class, I was ignited with inspiration from these incredible role models who are successful in their individual fields. This class sparked particular enthusiasm for potential ideas and motivations I would like to carry out as an artist, in addition to music making.
Another memorable highlight of mine included participating in the SMTD annual Collage Concert, both with the Symphony Band and as a soloist. Every act within the creation of this signature event involves captivating performances across a wide range of performing arts disciplines. While it is an honor to share the stage with my incredibly talented peers, I was most inspired by the unbelievable support and love from the University of Michigan community and the 3,000-plus individuals in attendance. I am so thankful to graduate as an alumna of this fine institution, and I hope to one day be in attendance for this concert supporting the School of Music, Theatre & Dance. "
Jillian is an exceptional player, one of the very best I have encountered in 42 years of teaching. She is innately musical. She prepares with professional diligence. She makes everything sing. She enriches every situation in which she is involved. In short, Jillian is the model for the type of elite artistic excellence we hope to attract and develop within our School. – Prof. Michael Haithcock