By Julie Smith Yolles
Michael McElroy was SMTD's latest Broadway Artist in Residence, thanks to the Benard L. Maas Foundation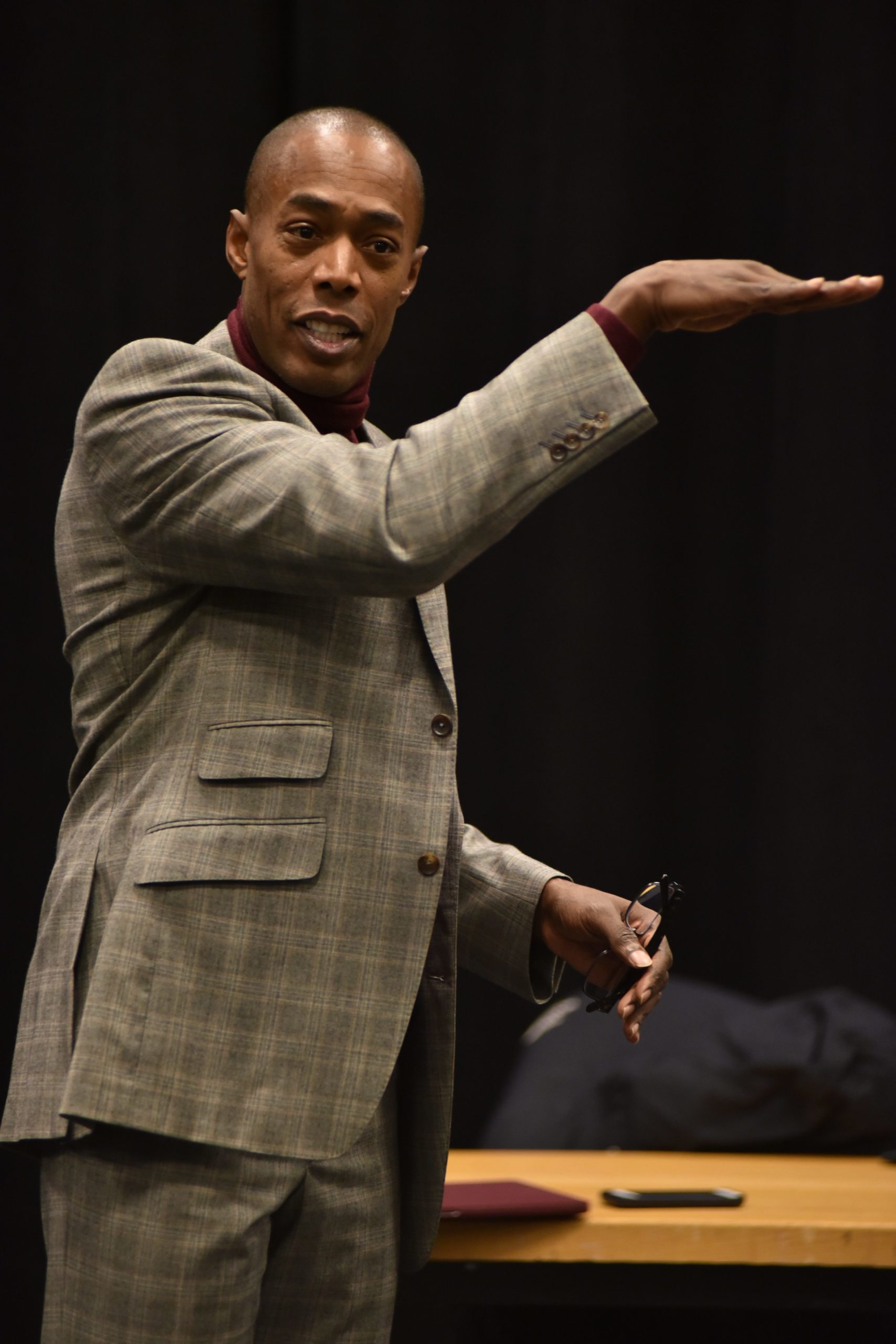 When Vincent Cardinal was a student teacher at Shaker Heights High School in Ohio, he cast 10th-grader Michael McElroy in Runaways by Elizabeth Swados.
That was back in 1981. "Michael had the musical line that opened the show. At first, he was very tentative and quiet. In fact, I considered giving the line to someone else," recalls Cardinal, now SMTD's Arthur and Martha Hearron Endowed Professor of Musical Theatre and chair of the department. "Michael's cousin, who was also in the show, suggested that I tell Michael to sing like he sings in church. So I did. That voice – as resonant, full, and moving as it is today – came out of that skinny little kid. He's been singing like he's in church ever since."
Thirty-eight years after that first theatrical encounter, Cardinal and McElroy would come together again at SMTD thanks to a musical theatre residency grant by the Benard L. Maas Foundation.
"The Benard L. Maas Foundation has made possible some of the most meaningful educational experiences for our musical theatre students during my time with the University of Michigan," said Cardinal. "The significant impact of these projects reaches beyond our student population to the greater community. Maas Foundation President Matt Engelbert has the ability to see our programmatic and curricular needs and help us meet them. These gifts are truly game-changers for the Department."
The Maas Foundation gift was first awarded in 2013, when Brent Wagner was chair. That year, the gift supported an on-campus workshop of the musical Bedknobs and Broomsticks, bringing in the show's composer, lyricist, and director for a multi-day residency. In 2017, it sponsored the world premiere production of the musical One Hit Wonder, supporting a residency by director and alum Hunter Foster and a partnership with Broadway's Araca Media. This year, in addition to McElroy's, the Foundation supported a residency by director-choreographer Tiffany Rachelle Stewart, who directed Passing Strange. Over the years, the gift has also helped fund the Color Cabaret (a student-produced revue celebrating the contributions of people of color in musical theatre history), several master classes, and the purchase of cameras for the "Acting for the Camera" course.
"The goal of the Benard L. Maas Foundation gift was always to provide opportunities for the students to engage with leaders and the best of Broadway—directors, choreographers, casting agents, and composers— by providing the funds to bring these people to Ann Arbor," said Engelbert. "The residencies are the top priority of the gift—greater than workshopping new shows, although that plays a major role in fulfilling the objective of the gift. Working closely with first Brent [Wagner] and now Vince [Cardinal], the yearly gift grew from $25,000 to  $35,000 to $50,000 to $70,000 to allow for student experiences unrivaled by other programs."
It was Cardinal who first introduced Engelbert to McElroy in New York a few years ago, suggesting that the Maas Foundation bring McElroy to Ann Arbor for the one-month musical theatre residency. Ultimately, that residency would culminate in a capstone "Broadway Our Way" concert featuring 40 musical theatre students for two performances in February. The timing was perfect since McElroy had just started a one-year sabbatical from New York University's Tisch School of the Arts in September 2018.
"If you had asked me 10 years ago if I wanted to be a teacher, I wouldn't have considered it. But my life has been moving toward this place," said McElroy, whose accolades include Tony and Drama Desk nominations for Big River and a Grammy nomination for Greater Joy: A Gospel Christmas. The latter features Broadway Inspirational Voices (BIV), a multiracial gospel choir comprising Broadway performers including U-M alumni Gavin Creel, Jesse Nager, Robert Hartwell, and Chelsea Packard, who is now assistant professor of musical theatre at SMTD. McElroy founded the nonprofit BIV 25 years ago and still serves as its musical director and vocal arranger.
In addition to the many SMTD alumni in BIV, McElroy has enjoyed other connections to U-M: He starred as Tom Collins in Rent on Broadway and on tour, which was co-produced by LSA grad Jeffrey Seller.
When McElroy became head of vocal performance at Tisch NYU in 2010, he left the rigorous eight-performance workweek of Broadway behind. Six years later, he became the associate chair of the Department of Drama at Tisch and created the "Broadway Our Way" concert series for BIV, in which he directs and arranges Broadway songs by combining gospel, rhythm and blues, and pop influences with the American form of musical theatre.
"My goal during my sabbatical was to spend 90 percent of my time writing – but the universe had a different plan for me," he laughed.
McElroy spent the first seven weeks of his sabbatical teaching at the University of Melbourne in Australia. Next, he taught the music and created the arrangements for Pulitzer and Tony Award-winner Michael Cristofer's new play, Man in the Ring, which was performed at the Huntington Theatre in Boston. From there, McElroy headed to Miami – where he serves as a Theater National Selection panelist and master class instructor for the YoungArts Foundation – for National YoungArts Week, where he was named YoungArts Winner in Theater in 1985.
"For me, it's all about balance. Every opportunity I've had on this sabbatical is a gift that has helped me be a better human being and a better artist," said McElroy. "My belief has always been that art has the power to unite us, musically and emotionally, so we aren't so fractured."
Leaving Miami for Ann Arbor, McElroy arrived just in time for Michigan's polar vortex and the loss of two of the 23 rehearsals due to snow days, bringing new urgency and dedication to the old adage of "the show must go on."
The "Broadway Our Way" concert that McElroy created for SMTD featured 13 songs to which he added his musical flair and finesse. He also created three new arrangements for songs from Hamilton, Aladdin, and Finding Neverland that had their world premiere by musical theatre students on the Stamps Auditorium stage.
"I am continually amazed by Michael's ability to reach people in the most positive of ways," said Engelbert. "And I love that he brings his Broadway friends and their incredible talents into this process of supporting so many in need." (The Maas Foundation is also a generous supporter of McElroy's Broadway Inspirational Voices volunteer performances for both Ronald McDonald House and Covenant House of New York).
In bringing McElroy to Ann Arbor, Cardinal was continuing a history in which his students have benefited from the Broadway veteran's experience. In 2003, when Cardinal was chairman of Theatre Arts and artistic director of the Jerry Herman Ring Theatre at the University of Miami, he brought McElroy in to direct an all-undergraduate production of Violet by Tony Award-winning composer Jeanine Tesori. She had written the role of Flick for McElroy, which he originated off-Broadway when Violet premiered in 1997, earning him a much-deserved Drama Desk nomination.
In the fall of 2017, University Productions and the Department of Musical Theatre produced Violet. With the generous support of the Maas Foundation, McElroy came to campus, saw the final performance of Violet, and met with the cast to discuss the musical and his own Violet journey. The next day, he offered a master class for the entire Department.
"Michael is a leader on Broadway in so many respects – as a performer, as an advocate, and as an educator," said Engelbert. "Initially discussing this opportunity with Vince, we both knew that he would bring his talent, wisdom, kindness, and energy to the program. I am not certain we realized just how indelibly he would impact the students' collective lives. Meeting with them following the final performance of the 'Broadway Our Way' concert, I realized that this opportunity was perhaps the most meaningful musical theatre experience they have ever had."
Julie Smith Yolles is an Ann Arbor-based freelance writer.