This Saturday, as people flock to Ann Arbor for homecoming weekend and its many festivities, one visitor will stand above the rest. Little Amal, a twelve-foot-tall puppet representing a young Syrian refugee, will come to Ann Arbor as part of The Walk, a journey that has taken her to 97 cities in 15 countries, and, since September 7, her Walk across America. A potent symbol of human rights, Amal represents children fleeing war and persecution the world over. Operated by a team of puppeteers, including one walking on stilts inside the puppet, Amal will appear at two events in Ann Arbor on September 23: an afternoon gathering on the south side of N. University at Thayer Street at 3 p.m., followed by a walk at 3:30 p.m.; and a gathering at the Ann Arbor Farmers Market in Kerrytown at 6:30 p.m., with a walk at 7 p.m.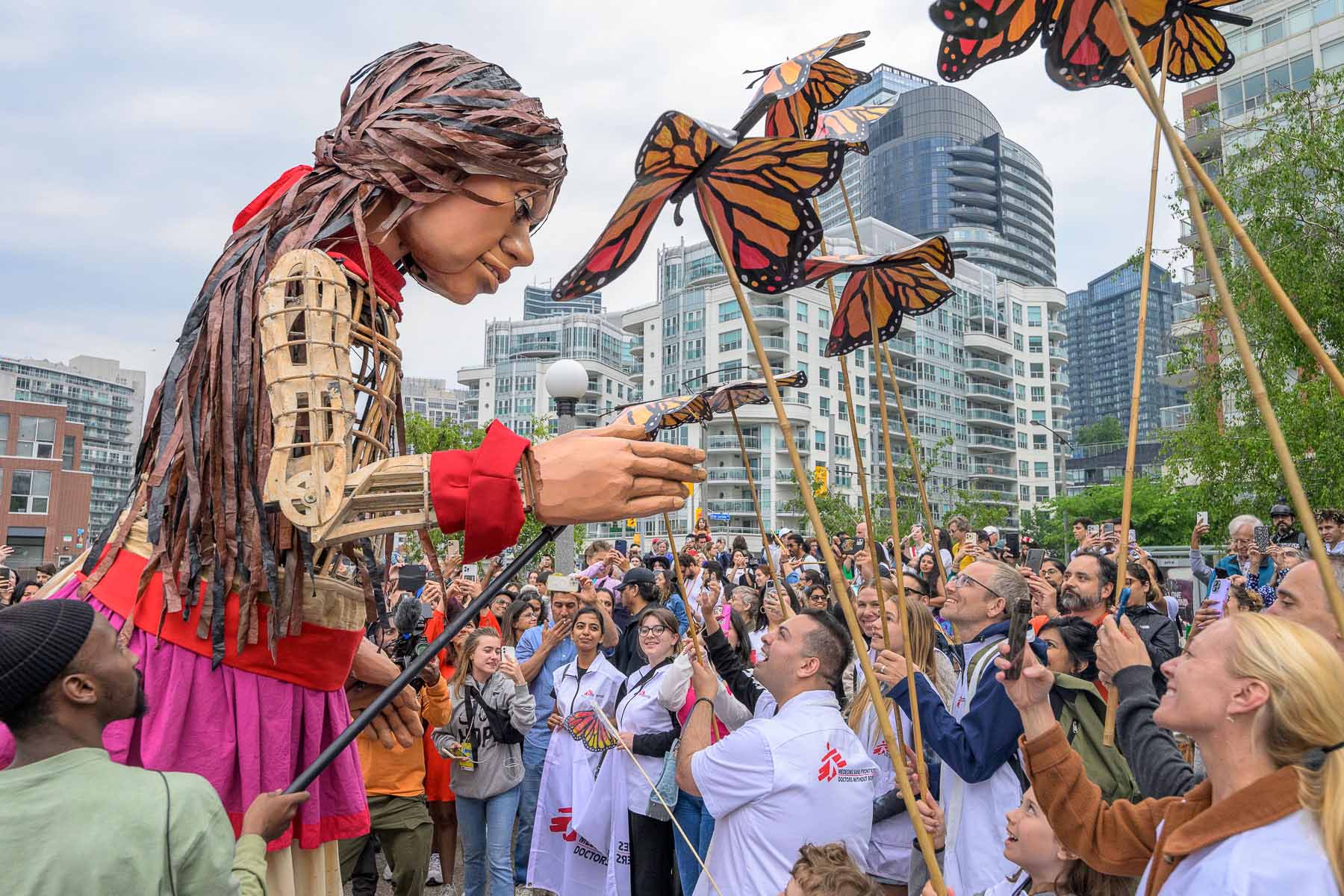 Little Amal, a 12-foot-tall puppet of a Syrian refugee child shown here at the Luminato Festival in Toronto, will arrive in Ann Arbor Sept. 23. (c) Luminato Festival, The Walk Productions. Photo credit: Taku Kumabe
Several members of the SMTD community are involved in Little Amal's visit. The afternoon walk through campus will be directed by student Tiara Partsch (BFA '24, theatre & drama/directing), who shared, "it's been an incredible project to work on, and I'm so happy I got to be part of this!" Music during the campus walk will be provided by the Collective String Quartet, a performance produced by DR's Laboratory, a student organization led by Donovan Rogers (BFA '24, theatre & drama). For that performance, Olivia Cook (BFA '25, jazz studies) is the music director, Cristina Benn (BFA '24, dance) is the choreographer, and Rogers is directing and performing. The U-M Gamelan Ensemble will also be performing during the campus walk. For the evening walk through downtown, choreography and direction will be provided by Krisilyn "Tony" Frazier, lecturer in the SMTD Department of Dance, with percussion by Ann Arbor musician and SMTD alum John Churchville (MM '15, music education). And the New York-based production team behind Little Amal's Walk across America, THE OFFICE performing arts + film, includes associate producer and SMTD alum Bruna D'Avila, who graduated in 2019.
Amal comes to Ann Arbor thanks to the Ann Arbor Summer Festival, the U-M Arts Initiative, the Ann Arbor District Library, and the University of Michigan Museum of Art (UMMA). Her visit is one of many special events taking place over the next few months as part of the Arts & Resistance theme semester, which is itself a collaboration between the Arts Initiative, UMMA, and the College of Literature, Science, and the Arts (LSA).
Assembling the Pieces of a Theme Semester
Theme semesters present a unique opportunity for the broader university community to explore a topic from many different angles, through varied events, involving students, faculty, and staff from across campus. Since the 1980s, U-M has devised dozens of theme semesters, focusing on the selected topics through coursework, lectures, art exhibits, music and theatre performances, workshops, and more. With every U-M unit invited to participate, Arts & Resistance will explore how the arts play a central role in shaping cultural and political narratives, as well as challenging and criticizing dominant regimes.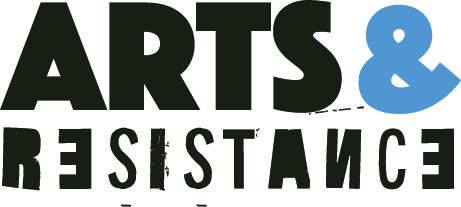 The idea for the Arts & Resistance theme semester grew out of two long-planned special events at UMMA: Hear Me Now: The Black Potters of Old Edgefield, South Carolina, is an exhibition of objects representing the work of African American potters, enslaved and free, in the decades surrounding the Civil War. And Cannupa Hanska Luger: You're Welcome, according to the UMMA website, is an exhibition that "examines the history of the land on which the University of Michigan sits – and its relationship to broader dialogues about land sovereignty, colonialism, memorialization, and the cultural perspectives of and implications for Indigenous communities."
From the plans for these two significant exhibitions, conversations grew among UMMA, the Arts Initiative, and LSA about developing a theme semester focused on the power of the arts to effect change. The topic of this theme semester, according to Mark Clague – SMTD professor of music, associate dean for collaborations and partnerships, and the newly named interim executive director of the Arts Initiative – aligns perfectly with the Arts Initiative's purpose. "A goal of the U-M Arts Initiative is to showcase the healing power of arts in our world, how aesthetic delight both celebrates our shared humanity and challenges us to live up to our ideals and aspirations as a community," Clague said.
The work of planning and executing the many events has drawn in a vast number of arts champions throughout the U-M realm. For James Leija, deputy director for public experience and learning at UMMA – and an alum of SMTD's Department of Musical Theatre – his work on the theme semester is a natural outgrowth of his entire career, dating back to his time as a student at U-M, when he became very involved in student government and as a leader in the LGBTQ student community. Leija's career in arts administration included 12 years at UMS, nine of which were spent as the vice president for education and community engagement, before he joined the staff at UMMA. From his own experience as a student immersed in the arts, as well as many years as an arts administrator, Leija understands the need many students have to use the arts as a means to achieve social impact, "to find ways to weave together their beloved artistic practice with their sense of ethics, or morality, or desire for what they want the world to be."
By Leija's estimation, the Arts & Resistance theme semester will include more than 100 related courses, more than 100 programs and events, and more than 100 visiting artists, and additional events are still being added to the calendar. In addition to the UMMA exhibitions, these events include several productions during UMS's upcoming season, a juried student art exhibition called Respond/​Resist/​Rethink, presented by the Stamps Gallery and the Arts Initiative, and a large-scale public mural project, which will be a collaboration between U-M students participating in the "Art in Public Spaces" course (taught by Mark Tucker, art director for the Lloyd Scholars for Writing and the Arts) and students at Dicken Elementary School in Ann Arbor.
SMTD's Participation in the Arts & Resistance Semester
The Arts & Resistance semester will also, of course, include a number of classes, events, and performances involving SMTD. Courses include "The Hula," taught by Amy Stillman, Arthur F. Thurnau Professor of Musicology & American Culture; "The Black Soviet: Black Culture, Music, and Politics in 20th Century Russia," taught by Piper Foulon, PhD candidate in historical musicology; "Music in Africa: Music and Resistance," taught by Charles Lwanga, assistant professor of musicology; and "Protest Music of the United States," taught by Henry Stoll, assistant professor of musicology.
Theme semester events and productions involving SMTD include last week's kickoff event, Community Sing: Songs of Resistance & Hope, a participatory community concert held on the Diag on September 14. Led by Eugene Rogers, associate professor of music and director of university choirs, Community Sing involved local choral groups, University Choirs, the Women's Glee Club, and the Men's Glee Club. And all who attended were invited to link arms and sing along in a joyful expression of unity.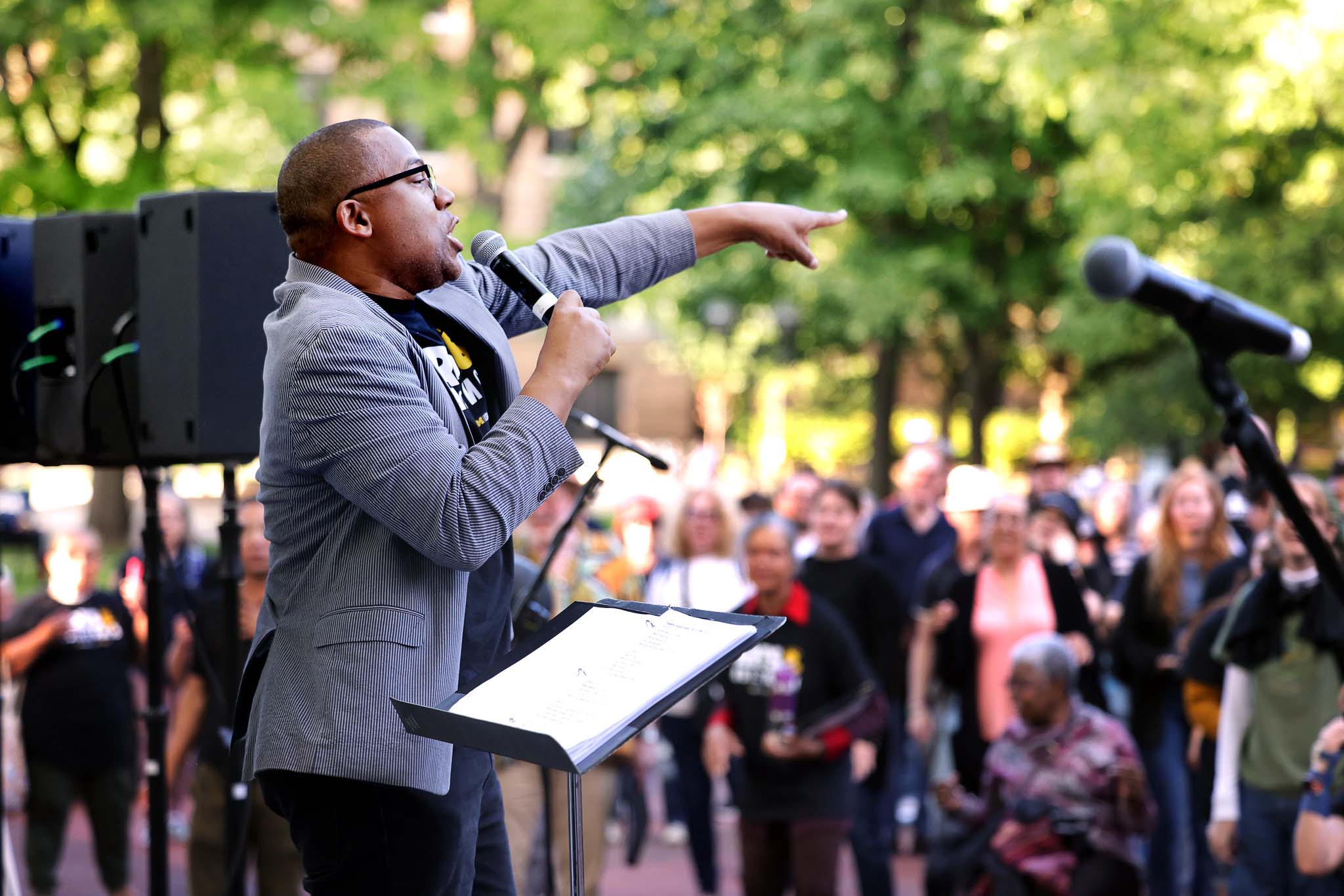 Professor Eugene Rogers at the Community Sing. Photo courtesy of Brenda Ahearn; University of Michigan, College of Engineering, Communications and Marketing
On Saturday, September 23, concluding a week-long residency on campus, playwright and actor Alex Alpharaoh will perform his award-winning, one-man play WET: A DACAmented Journey, the story of one man who spent his whole life in the United States as an undocumented American. Alpharaoh is hosted by José Casas, associate professor of theatre & drama; Hector Galván, of the Office of Academic and Multicultural Affairs; and the Prison Creative Arts Project. In late October, Stephen Rush, professor of music in the performing arts technology department, and the Digital Music Ensemble will present "Pond Music: The Underground Railroad Project," a site-specific sound installation on and in the pond behind the Earl V. Moore Building.
Starting with Punch Line, an early September dance and storytelling performance presented by Shannon Gillen, associate professor of dance, and her company Vim Vigor, the Department of Dance will present several performances as part of the theme semester. On November 3, students studying with Fangfei Miao, assistant professor of dance, will present a studio-based excerpt of Map, a work created by renowned choreographer Shen Wei. On November 4, the dance department will present Soul/Over/Encounter, featuring new and recent works by artists in residence Jay Peng Zhang and Terry Tsang King Fai as well as Amy Chavasse, professor of dance.
On a campus that is, during any given semester, humming with abundant art-making activity as well as impassioned efforts to challenge the status quo, the Arts & Resistance theme semester shines an especially bright spotlight on the combined power of the two. As Clague pointed out: "Having SMTD and indeed the whole campus join forces for the Arts & Resistance theme semester places art at the center of our social dialogue today, using the arts to convene the campus and thus grapple with our social blindspots, callousness, and prejudices. Like all the arts, music, theatre and dance can help us heal, restore, and grow." Similarly contemplating the intent of the Arts & Resistance semester, Leija noted, "We're all looking for ways to break through, to speak to each other, to be together, to find paths forward, and so this is really our thesis about the ways in which the arts could potentially lead to a better, brighter future."
For a complete listing of Arts & Resistance events, visit https://umma.umich.edu/exhibitions/2023/arts-resistance-fall-2023-theme-semester/events.