In July 2023, four SMTD piano students and two alumni traveled with Professor Christopher Harding, chair of piano, to attend the Sicily International Piano Festival and Competition. "I was enormously proud of each of them, all of whom brought honor to Michigan by being such outstanding people and musicians and pianists on the world stage," Harding said. "Our excellence is a matter of demonstrated fact in the minds of faculty and students from all over Europe and Asia, more so than ever, especially with Nhi taking the grand prize and winning five performances in Italy for the next season!"
Below, Nhi Luong (DMA '24) shares her recollections of the experience.
A trip to Europe, especially to the southern part of Italy, has always been my dream, and I could not believe that it came true a little bit earlier than I expected, thanks to the University of Michigan. When people think of Italy, they think of ancient Roman architecture, or Milan, the fashion capital of the world. I wasn't sure what to expect of Sicily, but I was excited to explore it for the first time, and it definitely did not disappoint us. Four piano students from SMTD, plus two alumni, had the most unforgettable experience at the Sicily International Piano Festival and Competition, which took place in Noto, Sicily.
We arrived at the airport in the early morning, and the weather had already started to heat up. I could still feel the strong winds blowing from the Mediterranean Sea. As we waited for the bus to take us from Catania to Noto, we got the chance to meet some faculty as well as other participants in the competition. The conversation kept on going until we had reached Noto, which is an hour away. The moment we got off the bus, we were blown away by Noto's magnificent architecture.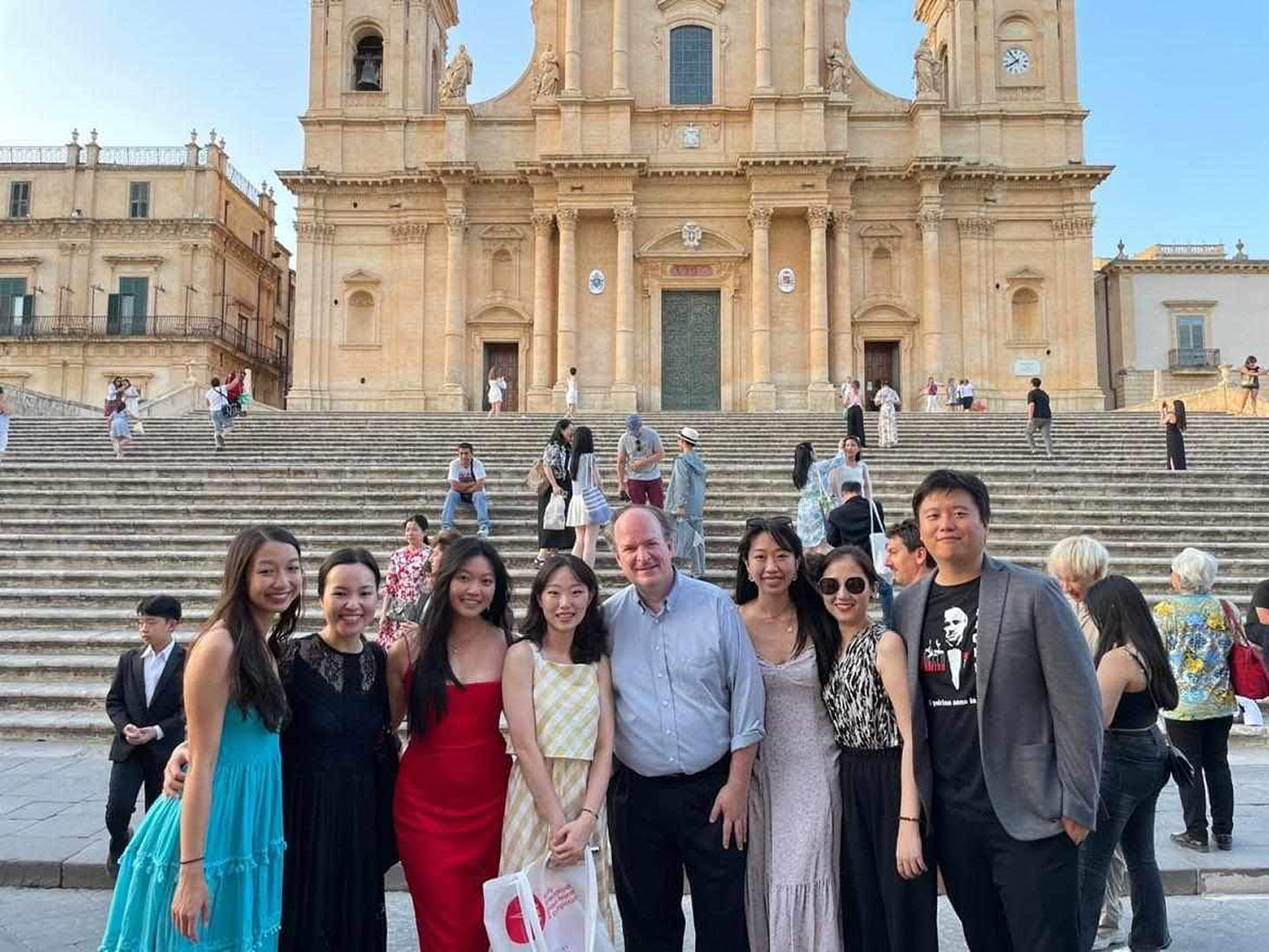 Nhi Luong (second from left) and Professor Christopher Harding (center right) in Sicily with SMTD students and alumni.
We learned that Noto is known as the pearl of Sicilian Baroque and is listed as a UNESCO World Heritage Site. We had our very first gelato while walking around the town, and we soon realized that Noto has even more tourists than local people. We had some fun interactions with the locals, when we spoke to them in English and they would try to answer in Italian. I learned many Italian words just on that first day.
Our day-to-day schedule was quite intense, with lessons and coachings from 8:30 a.m. until noon, then other activities in the afternoon such as participants' concerts or master classes, followed by a variety of piano and voice concerts in the evening. We also had wonderful opportunities to visit and play in various venues of Noto, including churches (Chiesa di Santa Chiara and Chiesa di San Carlo al Corso), a historical theatre (Teatro Tina di Lorenzo), and palaces (Palazzo Nicolaci di Villadorata and Palazzo Trigona di Cannicarao).
We had lots of chances to meet new people, gaining new perspectives on how we think of music, of composers, and of introducing music to audiences. The experience of performing in various concert settings as well as the competition helped me gain more confidence in sharing my music.
Besides the intense work that we put in every day during this trip, the festival surprised us with various activities, the highlights being a pasta-making class and a day trip to Siracusa. We learned how to make pasta from scratch, and the most satisfying part was eating it afterwards. The day trip to Siracusa was eye-opening. We walked past many historical places, as well as the wonderful Mediterranean Sea. Sometimes being away from the piano is a way for us to refresh ourselves and leave room for new ideas and new mindsets.
The competition was held on the last two days of the festival, and it gave me such valuable experience. I met many wonderful musicians during the competition. They shared their experiences with competitions, how to deal with anxiety, and how to overcome our fear as well as our own limitations.
One week in Noto almost felt too short, but every day was filled with activities and new creations. We thought we would be parting ways after the gala night at the conclusion of the competition, but things unexpectedly changed when the airport closed because of a huge fire. All of us were stuck outside of the airport, panicking and not sure what alternatives we had. Four of us – a pianist from Michigan (myself), a pianist from California, a singer from Canada, and a professor from Germany (now teaching in West Virginia) – were strangers at first, but we ended up being best friends and travel partners. We spent 15 hours together on a road trip, driving from Catania to Rome to take alternative flights. We got the chance to visit Napoli and had the best pizzas there. We also visited Vatican City in Rome at 3:00 in the morning, when everything seemed so quiet and overwhelmingly peaceful and beautiful.
I left Italy feeling thankful to everyone who has made this trip possible and unforgettable, from SMTD and Professor Harding, who supported me unconditionally, to the new people and wonderful musicians that I have met during the festival, to the old friends that I will meet again because of this trip, and to my SMTD friends who were my roommates and my biggest supporters: Hyerim Lee (DMA '24) and Jasmine Wong (DMA '24). I could not have asked for a better experience outside my US study in Michigan.