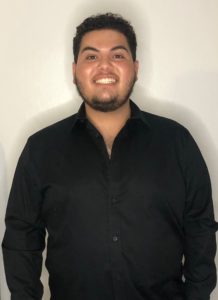 Javier Torres, a senior in violin performance, was named the 2021 Presser Undergraduate Scholar Award recipient by the Theodore Presser Foundation. Through the generosity of the Presser Foundation, this award is given annually to one SMTD undergraduate student for their musical and academic merit. Torres, who studies violin under Professor Danielle Belén, will be awarded a $4,000 cash prize to advance his musical studies.
"After a year of so much hard work, winning the 2021 Presser Scholar Award is such an honor and I am so thankful to all of my professors, especially Prof. Belén who has been such an inspiring and vibrant violin professor," said Torres. "Having won this award has given me strength to continue working hard on my academics, my violin playing, and keeping hope alive that we'll soon be able to get together and play for one another in person."
A native of Puerto Rico, Torres began his studies with Professor Belén after his first lesson with her at the 2019 Center Stage Strings Festival. He arrived at SMTD in January 2020 as a transfer student and like his fellow SMTD community members had to navigate a performing arts education amidst the COVID-19 pandemic.
"I would have loved to be in person this past year, but I feel that I was still able to connect with new classmates and friends and keep in touch with older friends I had made at U-M," said Torres. 
The Presser Award isn't the first accolade Torres has achieved since joining SMTD. In November 2020, Torres was awarded the Silver Prize at the Michigan Chapter of the American String Teachers Association. 
"I am so proud of Javier for his tremendous achievements and for winning this prestigious award," said Professor Belen. "Though he studied with me remotely from Puerto Rico during the pandemic, he was extremely productive. It takes a creative mind and strong intellect to grow through a somewhat restrictive virtual format, and I saw that in Javier as he deeply focused and grew in his artistic approach to the instrument." 
"Over the course of my studies I've made a lot of progress in my violin playing," said Torres. "For that, I'm very thankful to Prof. Belén for always trying to keep us on our toes and motivating us to always aspire for more in life."