By Claudia Capos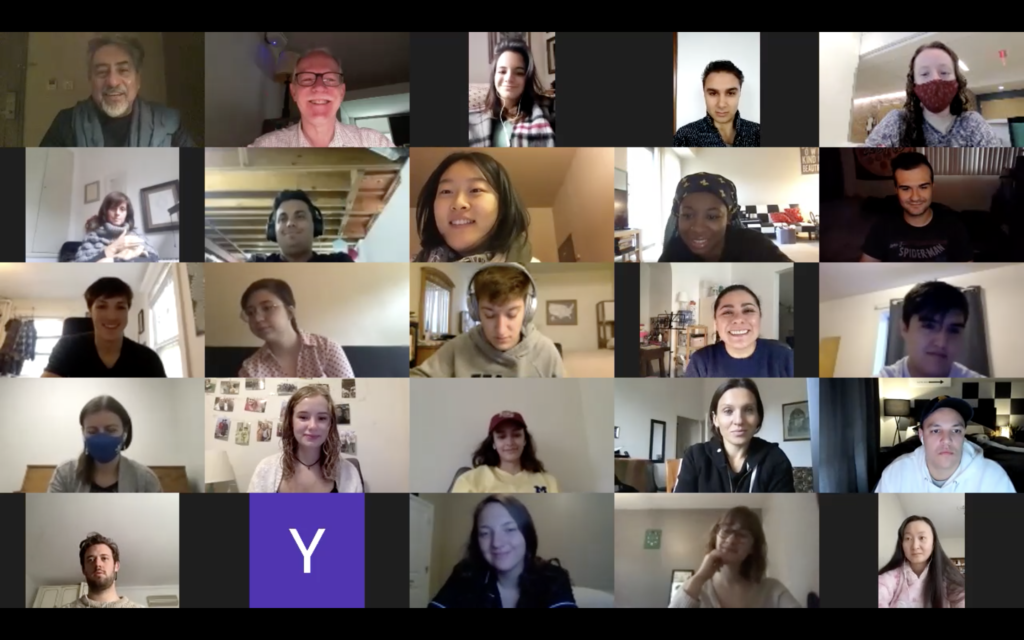 In early 2020, Professor Timothy Cheek embarked on an ambitious plan to set up virtual masterclasses for his Italian Diction students in collaboration with a music conservatory in Florence, Italy.
Italian diction is one of the most difficult singing languages for English speakers to master and requires the most coaching time. Cheek was convinced his students would thrive and improve their singing in formal Italian by working in real-time with native Italian speakers over a video conferencing platform.
His nascent concept was still waiting in the wings when the brunt of the coronavirus pandemic struck the U.S. in March, spawning widespread lockdowns. As universities switched from in-person classes to remote learning, Cheek's innovative endeavor suddenly took center stage.
"The pandemic brought our project into focus because we were compelled to experiment with technology and to find creative, effective ways to teach," said Cheek, who is a diction instructor, collaborative pianist, and vocal coach.
Cheek contacted his long-time friend, Leonardo De Lisi, vice director of the Conservatorio Luigi Cherubini in Florence, and they agreed to present six virtual master classes jointly to their American and Italian students over Zoom.
Support from the U-M Virtual Exchange Initiative, with the financial support of the Office of the Vice Provost for Global and Engaged Education, enabled Cheek to expand the collaborative project to include a cultural exchange between SMTD students and their Italian peers. Five American and five Italian students were selected to work together in pairs outside class. The students focused on helping one another improve their Italian or English pronunciation and deepen their comprehension of the cultural and historical context of words and phrases in Italian and American repertoires.
De Lisi said he was attracted to the joint project by the opportunity to exchange knowledge and practices with the music faculty and students at a leading American university via cutting-edge technology platforms and applications.
"It was the right time to explore something new because we were all in stand-by position waiting for the pandemic to finish," he remarked. "We used this mutual exchange as a way to open new windows."
At Cheek's suggestion, the Italian students selected art songs written by leading African American composers and explored this rich, though often overlooked, repertoire in tandem with their American partners.
Over the summer, the teaching, talent, and technology coalesced to create a transformational learning opportunity for the combined class of 40 SMTD and Conservatorio students who participated in the virtual master classes and culture exchange, which debuted last fall.
During the first half of the term, Cheek taught his SMTD students the foundational work they needed to communicate clearly and expressively in Italian. In mid-October the virtual exchange element commenced with general introductions among the American and Italian students. Then the five pairs of students went to work one-on-one.
"I gave them a lot of independence," Cheek said. "This was an opportunity for experiential learning with their peers and international collaboration. It worked beautifully."
Combining the study and performance of Italian operatic music and African American art songs generated both synergy and insights.
"The cultural exchange encouraged my students to go beyond their regular repertoire and discover African American composers, who are not well-known in Italy," De Lisi said. "I told them to listen to the music and words, note their feelings, and then ask the Americans why the special use of words, chords, and melodies affected them so much."
The Conservatorio students not only provided their American peers with individualized coaching on Italian diction, but instilled an appreciation for the deeper significance and nuances of the libretto.
"I said to my students: Give what is inside you when you hear the words and music of Italian songs and arias, because you are Italian and these are rooted in your family and your personal existence," De Lisi explained. "Give the American students the opportunity to listen to those words with Italian ears."
SMTD soprano Greta Groothuis, MM '22, worked with Conservatorio student Paola Leggeri, a lyric soprano who is pursuing her master's degree. After meeting on Zoom, the two vocalists recorded themselves singing their selected pieces, exchanged their recordings, and offered each other diction coaching and feedback on style.
Groothuis sang the aria "Qui la voce" from Vincenzo Bellini's opera "I Puritani."
"I learned how important the language is to the overall effect of a piece," Groothuis says. "Paola emphasized emotion and how the diction contributes to emotion as much as dynamics and vibrato. Now I try to look more closely at the poetry and underlying meaning so I can master those facets before I get into the technical aspects. This will give me more confidence."
Leggeri sang two African American songs, "Sweet Sorrow" by Maurice McCall and "Love Let The Wind Cry …How I Adore Thee" by Undine S. Moore.
"I fell in love with this beautiful music although as an Italian I had never sung it before," Leggeri said. "Greta helped me correct my pronunciation and understand the meaning of English words and phrases. The music united us even though we are in two different cultures and working with two different repertoires."
At the conclusion of the program, the students' recordings were played for the entire combined class. Cheek invited SMTD professor Louise Toppin, a world-renowned operatic singer and an expert in African American repertoire, to provide additional feedback and perspective.
The program's success has generated a "rippling effect," according to Cheek. He is writing a book about the experience and has launched a virtual exchange for his German diction students. De Lisi is organizing a collaborative symposium and concert series in Florence next year. Leggeri hopes to pursue her doctorate at U-M. And Groothuis aspires to perform on the "big stage" within the next 10 years.