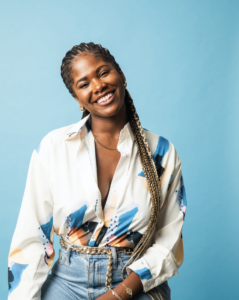 Earlier this summer, SMTD graduate student Njeri Rutherford (MFA '23, dance) earned a summer research grant from the Anti-Racism Collaborative, administered by the National Center for Institutional Diversity (NCID). The NCID awarded summer research grants, co-sponsored by Rackham Graduate School and the Center for Racial Justice (CRJ) in the Gerald R. Ford School of Public Policy, to 27 University of Michigan graduate students, with the awards totaling $122,062.
The grants, awarded to students representing many disciplines across the university, aim to support engagement in research projects focused on racial inequality, racial equity, and racial justice, while advancing graduate students' progress toward their degree.
Rutherford's project, Where Are All the Black People?: An Inquisition of Black Dance Across the African Diaspora, focuses on dismantling oppression and white supremacy in the field of dance, emphasizing how Black dance relates to and influences Eurocentric genres of dance.
"I feel very honored to have received this award to continue my quest of celebrating Blackness and Black liberation," noted Rutherford. "Through this research project I hope to amplify the voices of Black dancers through video documentation in hopes of decentering whiteness in the dance field."
The NCID, Rackham, and CRJ will host opportunities for the campus and broader communities to engage with the award recipients and learn more about their research during the 2022–23 academic year, as well as provide ongoing professional development and support to the grantees.