Erik Santos
Chair of Composition and Associate Professor of Music
---
Bio
Erik Santos is a composer, multi-instrumentalist, singer, producer, and teacher, who is active in many musical genres, from rock and jazz, to classical, to electronic, world music, and music for theater and dance. He is the Chair of the Composition Department at the University of Michigan School of Music, Theatre & Dance.
As the first-born in a family of musicians – father Rosendo Ejercito Santos, Jr., mother Harriet, brothers Nathan and Jason – music has always been at the core of his life practice, both as a profession and hobby.
Professor Santos has received commissions, prizes, fellowships, and other recognitions for his concert music, including the prestigious 2020 Sousa-ABA-Ostwald Prize from the American Bandmasters Association, the Charles Ives Scholarship, and the Charles Ives Fellowship from The American Academy of Arts and Letters, awards from Broadcast Music Incorporated (BMI), the MacDowell Colony, the Bozeman Symphony, the Civic Orchestra of Chicago, the Rackham Graduate School of U-M, and the Music Teachers National Association (MTNA).
But, in recent years, Santos has become increasingly preoccupied with presenting music in venues other than the classical concert hall  — dance clubs, street corners, radio, theaters, churches, museums, cafes, car stereos, movies, Internet, iPods, etc. — where there is more emphasis given to the interaction of music with other spontaneous sensory elements, involving listeners at the hub of a transdimensional experience. This interest flourished in 2002 when he was invited to join the pioneering and internationally celebrated Japanese butoh company Dairakudakan: Temputenshiki (avant-garde dance/theater), as a resident composer—a potent collaboration that continues to this day.
In 2005, Santos and artist/singer Toko Shiiki formed an upbeat band called October Babies, which has performed a large variety of original multi-cultural and multi-lingual dance songs in America and Japan. (Check out their 2020 EP Find New Way, and new videos!) They affiliated with the local Ann Arbor music label/collective Oddfellow Music, which later became Willis Sound. Having completed 5 albums, along with music videos and documentaries with October Babies, Santos and Shiiki became interested in filmmaking, and this led to the full-length movie Threshold: Whispers of Fukushima in 2015. This project focuses on the lives of several musicians who have chosen to live in their homeland of Fukushima, Japan, despite the devastation of earthquake and tsunami, the threat of the failing nuclear reactor, and even persecution by fellow human beings. By 2019, they completed three more films inspired by creative relationships they formed in Fukushima (Over the Sky, Passing the Baton, and Up the Mountain), as well as the film We Women Weave, about the Moonseed Movement Troupe.
The creative relationships formed in the making of Threshold have continued to grow. For example, in 2016, Santos and Shiiki co-organized a partnership with the University of Michigan Center for World Performance Studies, the Center for Japanese Studies, and SMTD, to invite the fiery Japanese youth drum ensemble Yamakiya Taiko to perform at the University of Michigan for The Fukushima Tribute Concert/Residency. This week-long event began with a thunderous concert at the Power Center and continued with a bunch of rousing Taiko workshops around campus and town. The ensemble premiered a new work Santos wrote for them and a cadre of U-M student drummers, called "Armadillo Flow." Check out the video!
Santos has been on the Michigan local original music scene for XX years, with bands October Babies, The Crossed Lines, 16 More Miles, and Citygoat, and he's hosted several long-running Open Mic stages in the area. These days, he's possessed by a fresh passion for practicing – learning, unlearning, all day every day – memorizing poetry, investigating inventions of Bach and Bruce Lee, and Vince Gilligan, enjoying sound.
Bio last updated August 2021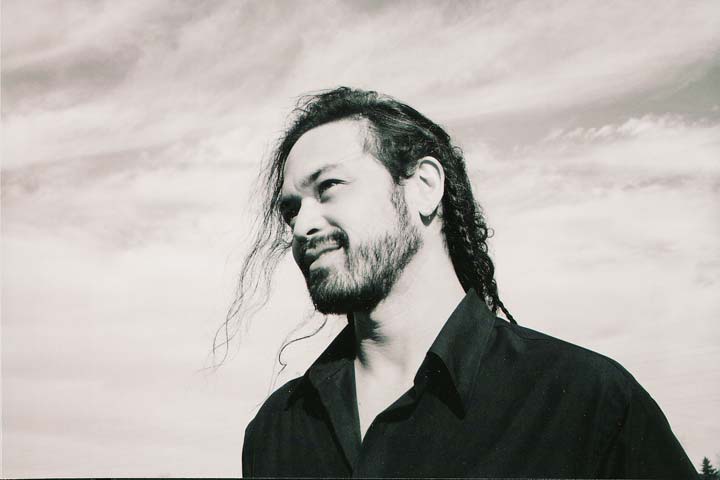 Education
BM (voice), Indiana University of Pennsylvania
MM, DMA (composition), University of Michigan