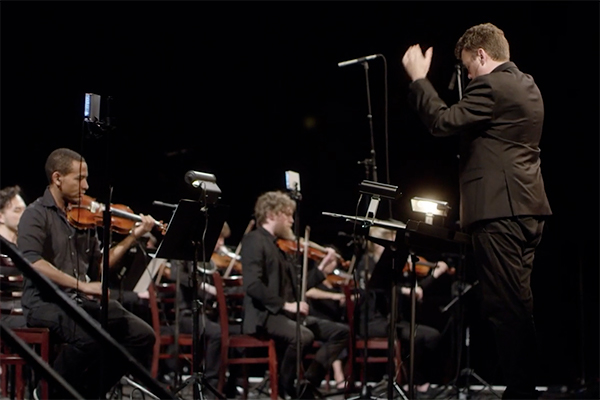 Doug Perkins, Associate Professor of Music and Director of Percussion Studies at the University of Michigan School of Music, Theatre & Dance, is the conductor on a new recording of Drift Multiply, a composition from New York-based composer Tristan Perich which was released today via online streaming and CD.
Drift Multiply is performed by fifty violins and fifty-channel 1-bit electronics. Scored as 100 individual lines of music, the piece blends violins and speakers into a cascading tapestry of tone, harmony, and noise. The violins perform from sheet music, while the speakers are connected to custom-built circuit boards programmed to output 1-bit audio, the most basic digital waveforms made of just ones and zeros. Like much of his other work, Perich's inspiration for the piece was the aesthetic simplicity of math, physics, and code. 
Perkins conducted the premiere of Drift Multiply at the Cathedral of Saint John the Divine in 2018 during the Red Bull Music Festival. In 2019, he traveled to the Netherlands to conduct the piece for Big Idea #01, where world-renowned dancer and choreographer Lucinda Childs created a large-scale dance set to Drift Multiply that featured 66 dancers. And now, Perich and Perkins have collaborated on the recording and release of Drift Multiply, which has been featured on several "Best of" lists this year, including the New York Times Top 25 Classical Music Tracks of 2020; the New York Times Best Songs of 2020; PopMatters Best Electronic Songs of 2020; and Bandcamp's Best Contemporary Classical Albums of 2020.
"From the moment Tristan and I started trying, dreaming, and scheming this project over coffee at his house in Brooklyn, through conducting the premiere at the Red Bull Music Festival, concerts and recording with our many new friends from the Netherlands, premiering a new dance with the legendary Lucinda Childs, and mixing the record remotely through a crazy summer of quarantine, Drift Multiply has been a singular journey of making the improbable a reality," said Perkins. "I am beyond grateful to Tristan for the brilliant piece and to the vast team of people that made this project a success. I really hope to bring this project to SMTD as soon as possible!"
Listen to Drift Multiply now on Spotify.
Watch the Drift Multiply Premiere