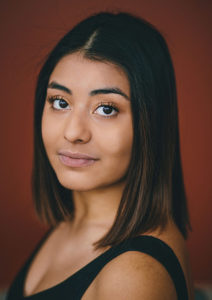 Johanna Kepler completed a BFA in Dance with a minor in Latino Studies. During her time at U-M, Kepler served on the Student Advisory Board for the Office of Diversity, Equity and Inclusion and was an SMTD Diversity, Equity and Inclusion Student Ambassador. Kepler also founded Arts in Color, a student organization committed to diversity, equity, and inclusion within the arts.
Academic and career accomplishments
Founded the Power of the Performing Arts: Uniting Artists While Apart interview series to raise awareness of the COVID-19 pandemic's effects on the performing arts. The series has engaged 300 performing artists from around the country
Founded Arts in Color a student organization within the Department of Dance that is committed to diversity, equity, and inclusion
Choreographed a piece for Latin Xpressions, becoming one of the first students to have their work featured in the Department of Dance's annual show
Created the multimedia original work "Through Our Eyes," which was featured as part of SMTD's Collage Concert in 2018
Choreographed for the American Dance Festival's regional conference in 2019
Received the Martin Luther King, Jr. Spirit Award in 2019 for her work with Arts in Color, the student organization she founded
Selected for the UMS 21st Century Artist Internship, where she worked with Hubbard Street Dance Chicago in the summer of 2018
Choreographed MUSKET's production of Cabaret in 2019
Throughout her time at SMTD, Johanna Kepler has emerged as a dynamic, collaborative arts leader. Her ongoing commitment to the responsibility of synergizing art-making and artist citizenship is a quintessential example of what a Michigan education can represent, and her down-to-earth, grounded approach to leadership belies substantial grit and courage. –Prof. Jonathan Kuuskoski
Address to the Graduating Student Body
"Hello School of Music, Theatre & Dance Class of 2020, faculty, family, and friends. My name is Johanna Kepler and I am thrilled to be receiving a Bachelor of Fine Arts in Dance and a minor in Latino Studies from the University of Michigan. Like many freshmen, I came to Michigan, unsure of how I would fit in and how I would find my way. To be a professional dancer and choreographer was my dream, but what would be my path? For my whole life up until college, I had tried to fit into the boxes society tells us we must be able to check off. As an adopted girl from Guatemala, with two white lesbian moms, raised in a half-Jewish household, you can see how this may have been a challenge.
From a young age, I had to navigate in a world that did not reflect me or my family makeup. From a young age, I was privy to the complexities of race and social dynamics because my family, identity, and story were constantly being called into question.
Entering U-M, I was not sure of where I would fit in or if my story would be accepted. I needn't have worried. In the School of Music, Theatre & Dance I learned the value of the voice, the power of a story, and how together we, as artists, can weave a fabric reflecting our diverse lives and points of view, while sharing a common experience. I would use my newfound knowledge of the importance of intersectionality in identity to help guide me in how I think about the performing arts and how I engage with the world around me. I am thankful for the strong sense of community that SMTD fosters and the exciting opportunities for cross collaboration of artistic disciplines. Over the years I saw my talented peers from all departments collaborating to create interdisciplinary works that told unique stories and changed the way I viewed the world.
I believe the performing arts has the power to create change in every sense of the word. The performing arts has the unique ability to bring people together from all backgrounds, to promote collaboration across discipline and identity, to challenge the social norms of our society in a tangible way, and most of all to create community across difference. In a time of uncertainty and social distancing, it is often hard to turn on the news and to really process what is happening in our world. In many ways our lives and careers have been halted, stopped in our tracks from seemingly moving forward. However, during this time, I have seen the performing arts community rally together and arguably create a stronger community online than ever existed before.
The world may have stopped but as artists, we have not stopped dreaming, creating, and sharing. Daily on Instagram, I see numerous live classes happening. I open Facebook or YouTube to see free concerts by a wide range of  musicians and orchestras from around the world. In many ways, the performing arts are more accessible now than they ever have been. Teachers and choreographers are teaching Zoom classes all across the world. I have taken class with top choreographers from Israel to Australia, all from my kitchen. Students who may not have the financial ability to take studio class or have access to a studio now have opportunities for world-class training with the tap of their fingertips.
I have also seen artists supporting other artists like never before. I have seen vulnerability in the work that people are posting. No longer must we create for a big proscenium stage or have a specific deadline to showcase a piece, we are just free to create. When else in our lives will we have the privilege to create with this kind of time?
But with this opportunity comes responsibility. We must also notice and should take pride in the fact that so many people are turning to the arts to help them through this time of anxiety. People need entertainment. People need us. We must ask ourselves how can we help our very hurting world?
We can help by creating joy. As artists we have the ability, even if only for a split second, to take an audience away from the pain of today. Joy is powerful and the ability to create and share joy is a privilege. Spreading joy with the simple post of an unfinished dance in your living room or a clarinet solo from your kitchen could put a smile on the face of a nurse across the world. We, as artists, have the power to spread joy in a time of fear and uncertainty.
About five weeks ago, I started a project called the Power of the Performing Arts: Uniting Artists While Apart. Once our normal commencement ceremony was canceled and the world started to shut down, I realized there needed to be a way for artists to connect across all genres and styles. My goal was to make a platform through which artists could share their stories in the most authentic way possible, create community through technology, and raise awareness on how the COVID-19 pandemic is affecting artists in the U.S. and around the world. To do this, I have been interviewing performing artists, directors, choreographers, producers, and arts administrators from all across the globe.
One interview I did recently was with Kelly Ashton from Sleep No More. When asking about her work with physical theatre and environmental sustainability, she said: "Art was never made to change laws. Its purpose is to open up people's minds to change how they vote, who they elect, and how they see the world and to teach morals, so it's our job as artists to find strategic ways to tell these stories that have underlying moral obligations for our future generations. For me, what I work on for environmental science is how can you have a basic moral story of good versus evil, add a layer of the environment and what's presently happening and examining past relationships with the environment, and then use the emotional vulnerability of movement to add the extra sense of all to that."
Just as working with my peers in SMTD did, each interview gives me hope for a better future in the performing arts. The story and artistic journey of each artist has one common thread: the hunger and drive to create and the goal to connect and build community. We did not choose the performing arts because we thought it would be easy: it is not. We chose the performing arts because we are passionate and we know in the hardest of times it is what we turn to for help. And now we see that it is what the world turns to. The power of a single story can move people to action. The power of shared stories can change the world.
In closing, I would like to give a special thanks to our parents and families who have supported us on our journey. Without you we would not be (virtually) standing here today. I would also like to thank the faculty and staff of the School of Music, Theatre & Dance for inspiring us, motivating us, supporting us, and helping to shape us into the artists and people that (virtually) stand before you today.
Now more than ever, the world needs the arts. The education we have received has given us the skill set to be agents of change and to shape a world that we want to live in, now we must go forth and do it."