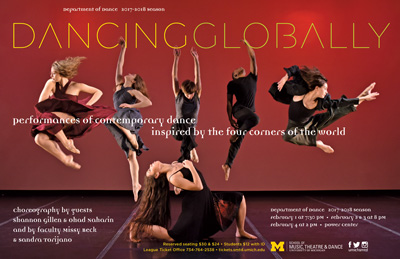 Dancing Globally
Choreography by guests Ohad Naharin & Shannon Gillen with faculty Missy Beck & Sandra Torijano
Department of Dance
February 1-4, 2018 • Power Center

Dancing Globally celebrates global connections in dance by presenting the works of two internationally renowned choreographers and two faculty members. Contemporary choreographer Ohad Naharin, Artistic Director of the Israeli Batsheva Dance Company (recently presented in Ann Arbor by UMS), is a leading innovator in the world of dance. His revolutionary dance movement language, Gaga, enables dancers to move unpredictably with great speed and clarity. The Department presents excerpts from Naharin's 'greatest hits' including "Echad Mi Yodea," "Metronome," and "Mabul." Choreographer Shannon Gillen burst onto the scene in 2010, prolifically creating over 30 works internationally and for her own company Vim Vigor. Her signature choreography combines highly physical movement with cinematic theatricality. Faculty choreographer Sandra Torijano finds inspiration in the life and bestselling novel (The Island of Lonely Men) of Costa Rican writer José León Sánchez. Missy Beck's new work Fall(s) plays with the idea of scale, whereby a large group of dancers moves as if one, so becomes ameba-like: it swirls, rises, falls, and morphs into sculptures and continually shifting landscapes.
Artistic Staff
Artistic Director: Robin Wilson
Scenic Designer, Fall(s) & Minûtus Luminous: Toni Auletti
Lighting Designer: Mary Cole
Costume Designer/Coordinator: Suzanne Young
Sound Engineer: Roger Arnett
Stage Manager: Martijn Appelo

Repertoire & Performers
[accordion title="Excerpts from Kyr (1990), Anaphase (1993), and Mabul (1992)"]

Works by Ohad Naharin for Batsheva Dance Company
Music: "Hava Nagila," traditional song arranged and performed by Dick Dale; "Echad Mi Yodea," traditional song arranged and performed by Tractor's Revenge and Ohad Naharin; "Cum Dederit" by Vivaldi
Original Lighting Design by Avi Yona Bueno (Bambi), recreated by Mary Cole
Staged by Mario Bermudez Gil, Bobbi Jene Smith, and Shamel Pitts
Gaga teachers: Catherine Coury, Bobbi Jene Smith, and Shamel Pitts
Artistic Coordinator of Gaga: Aya Israeli
U-M Rehearsal Director: Jillian Hopper
Dancers: Sally Butin, Michaela Esteban, Danielle (Dee Dee) Fattore,
Cailin Ferguson, Alyssa Gorman, Nicolas Hopkin, Yoshiko Iwai, Madeline Joss, Hannah Marcus, Beynji Marsh, Johnny Mathews III, Alexa Miller, Gabriel Needle, Noie Porat, Alexis Rosenstrauch, Sheli Ruffer, Alicia Samson, Soultana Schiavi, Emily Soong, Kandis Terry, Florence Woo, Meredith Ziegelmeyer
[/accordion][accordion title="Vox (2018)"]
Concept/Direction by Shannon Gillen
Choreography by Shannon Gillen, Martin Durov, and Laja Field
Rehearsal Assistants: Martin Durov, Laja Field, Jason Cianciulli, Rebecca Diab, Emma Whiteley
U-M Rehearsal Director: Jillian Hopper
Music Score by Martin Durov
Dancers: Sophie Allen, Julia Dooley, Michaela Esteban, Al Evangelista, Cailin Ferguson, Alyssa Gorman, Madeline Joss, Emma Lambert, Hannah Marcus, Johnny Mathews III, Grace Nagelvoort, Annelise Senkowski, Kaitlyn Soloway, Florence Woo
Understudies: Victoria Briones, Sally Butin, Shea Carponter-Broderick, Katherine Mousel
[/accordion][accordion title="Fall(s) (2018)"]
Choreography by Missy Beck in collaboration with the dancers
Music: "So Close" by Olafur Arnalds; "Goodbye" by Apparat; "The Final Chapter" and "Take My Leave of You" (featuring Anor Dan) by Olafur Arnalds
Dancers: Danielle (Dee Dee) Fattore, Kayla Fiore, Sara Fox,
Alexa Guidotti, Melanie Holt, Alexa Miller, Jolie Moray, Sarah Morgan, Shannon Nulf, Alexis Rosenstrauch, Kandis Terry, Audrey Vogelsang, Kiara Williams, Alyssa Winnie, Abigail Worth
[/accordion][accordion title="Minûtus Luminous (2018)"]
Minûtus Luminous is dedicated to José León Sánchez
Choreography by Sandra Torijano
Conductor/Music Director: Diego Piedra
Poem recordings by George Shirley and José León Sánchez
Music: "The Waiting" by Michael Hoppé, Martin Tillman, and Tim Wheater;
Original compositions by Eddie Mora and Chavela Vargas (Arrangement by Carolina Heredia); "Etude No. 1" by Heitor Villa-Lobos; Original composition by Diego Piedra
Music Edited by Keaton Royer
Rehearsal Assistant:  Sophie Allen
Musicians: Violin 1- Diego Piedra, Teagan Faran; Violin 2 – Nora Kuo, Maxwell Tsao; Viola – Patrick Marsh, Aimee McAnulty; Cello – Tim Edwards, Abby Schneider; Bass – Thomas Hawthorne; Voices – Shohei Kobayashi, Adrianna Tam, Suzanna Mathews, Yongmin Kim
Dancers: Sophie Allen, Victoria Briones, Shea Carponter-Broderick, Le' Elle Davis, Lydia Dunn, Lauren Dysarz, Katrina Granger, Nicolas Hopkin, Johanna Kepler, Beynji Marsh, Monica Miller, Sophia Montalvo, Zachary Morris, Gabriel Needle, Alicia Samson, Soultana Schiavi, Kaitlyn Soloway, Matthew Standerski, Maya Tinoco, Emily Van Duinen, Craig White, Sasha Yakovenko, Courtney Ziegelmeyer, Meredith Ziegelmeyer
Poem by José León Sánchez:
In the nights, sprouting fear and anguished laments, resembling children of the same night… carried by the winds, like the last cry of hungry coyotes… in the nights were heard burrowing in the nocturnal peace from hill to hill…and further beyond the last curve of the road…
Dedication from "The Island of the Lonely Man" by José León Sánchez:
To my brothers and sisters who today suffer in prison, where the prevailing situation of torture, anywhere in the world where you don't have freedom; I know that you dream, that you suffer, that you keep the silence, that you wait and that you have heart and you can't defend yourself.
Choreographer's Notes: I was inspired by José León Sánchez, one of the best writers of Latin America, who was imprisoned for 30 years, persecuted for a crime that he did not commit. During those years of misery, he was abused and tortured, and transformed his grief. His journey moved all of those who read his books, his heart present and his books full of poetry and humanism. Presently, he is 90 years old, full of spirit and passion to help others, an activist who brings hope to all. Even though he was given just a few minutes of sun each day while imprisoned, he brings today the light of hope to other men and women who have been mistreated, abused and who have experienced injustice without being able to defend themselves. Having enjoyed the opportunity to work with José León side by side, I discovered that my work couldn't be a replica of his life but rather a voice to defend others, as a song to those families and communities who have had to live with misfortune. The dancers dance with strength, representing valor and courage. At the end of the piece there is a song of hope and brotherhood.
Acknowledgements: Thanks to the cast who have illuminated the choreography with their spirit. Special thanks to Peter Sparling, Toni Auletti, the staff of University Production, the faculty and staff of the Department of Dance, and the Duderstadt team: Robert Newcomb and Dave Greenberg for the recording session. And finally to Professor Emeritus George Shirley for embracing José León's poem wisely and to Diego Piedra and all the musicians.
[/accordion]
Resources
[accordion title="From the Chair"]
Welcome to our annual major production, Dancing Globally and thank you for joining us. This year we feature 58 dancers in four distinctive dance works hailing from choreographers working in Israel, Costa Rica, New York, and our own Ann Arbor. The works are enhanced by a brilliant team of designers, including Toni Auletti, Mary Cole, and Suzanne Young, and supported by an expert and dedicated production crew.
Since its beginnings in the United States and Europe in the early 20th century, modern dance has absorbed traditions from diverse cultures, and in turn, Euro-American modern/contemporary dance has spread globally. More than ever, today's dancers reflect cross-cultural influences as they embody the movement vocabularies of the teachers and choreographers with whom they work.
Early in his career as a dancer in the Batsheva Dance Company in his native country of Israel, Ohad Naharin was cast in a work by the American modern dance pioneer Martha Graham. Soon thereafter, he traveled to New York City to perform with Graham and study at the Juilliard School. Naharin created and performed dances on several continents before returning to Israel to become artistic director of the Batsheva Dance Company. There he developed his own dance training method, Gaga, in which teachers lead dancers through a series of guided improvisations that focus upon the sensation of movement rather than a codified technique. Gaga has become a hugely popular global dance phenomenon. Naharin's celebrated works have been set on prominent companies across the world.
Guest artist Shannon Gillen's background also reflects unique international cross currents. After training at Juilliard and New York University, Gillen performed in Hanover, Germany for several years with the Johannes Wieland Dance Company and began to produce her own choreography in Europe before establishing her innovative Vim Vigor Dance Company in New York City. Her explosive movement exemplifies the growing athleticism of dance as well as the dramatic resonances found in much of the European dance scene.
Choreographer Sandra Torijano was a soloist with the National Dance Company of Costa Rica. Her mentors there drew upon Central and South American dance traditions, German Tantztheater, and U.S. modern dance. Torijano is also well versed in the vernacular social dances of Costa Rica. She has been dedicated to sharing the culture of Latin American musicians, composers, designers, visual artists, and writers in her vibrant dance works. Her work Minûtus Luminous is inspired by the resilient spirit of Costa Rican author José León Sánchez.
Missy Beck's training is grounded in European traditions of ballet, and she serves on our ballet faculty, even while she choreographs in a range of genres, including contemporary/modern dance. In her abstract dance Fall(s), we witness motifs of jumping, falling, and wavering balances. How we attach meanings to these motions is up to each of us as individual viewers, as we ourselves seek our own balance. But no matter who we are or where we reside in the world, we can relate to these movements through our kinesthetic empathy. It is this kind of commonality that fosters intercultural understandings and underpins the notion of a universal language of dance. Dance communicates directly and viscerally.
Here's to Dancing Globally. Enjoy the performance.
— Jessica Fogel, Professor and Chair
[/accordion]
Media
Program