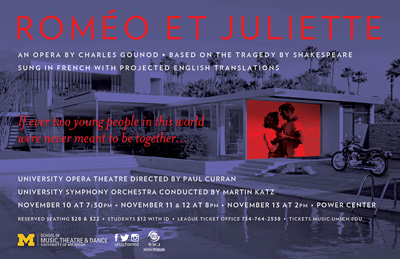 Roméo et Juliette
Music by Charles Gounod
Libretto by Jules Barbier and Michel Carré
Based on the tragedy by Shakespeare
University Opera Theatre • University Symphony Orchestra
November 10-13, 2016 • Power Center

Based on Shakespeare's play, the opera heightens focus on the two young lovers. A chance encounter. A meeting of eyes. Love at first sight. Two young people, kept apart by their feuding families, decide to take fate into their own hands and pursue their love. Married in secret, they hope to end their families' enmity through their union. But circumstances conspire to thwart their efforts as missed chances, poor timing, and mistakes prevent the lovers from finding happiness.
This famous tale has fascinated audiences for 400 years and has inspired countless adaptations including West Side Story. Eight years after his initial opera success with Faust, French composer Charles Gounod paired again with librettists Jules Barbier and Michel Carré to create Roméo et Juliette. Gounod's poignant score features passionate love duets and exquisite solos, such as Juliette's "Je veux vivre" and Roméo's "Ah, lève-toi, soleil," in one of the most beautiful works of French lyrique drama style. The opera debuted in Paris in 1867 and was part of New York's Metropolitan Opera's debut season in 1884. Our production sets the story in 1950s Southern California. From dramatic fighting to rousing choruses and tender intimate moments, Roméo et Juliette is the ultra-romantic love story of two young lovers swept along by fate.
Artistic Staff
Conductor/Music Director: Martin Katz
Director: Paul Curran
Assistant Conductor: Diego Piedra
Scenic Designer: Peter Harrison
Costume Designer: Jessica Hahn
Lighting Designer: Kendall Smith
Fight Choreographer: Robert Najarian
Wig & Makeup Designer: Ora Jewell-Busche
Diction Coach: Timothy Cheek
Chorus Master: Shohei Kobayashi
Repetiteurs: César Cañón, Rafael Gordillo Maza
Stage Manager: Kelsy Durkin
Cast (Thursday-Saturday/Friday-Sunday)
The Capulets
Juliette, young daughter of Capulet: Janel Speelman/Kara Mulder
Gertrude, Juliette's nurse: Helen Hass/Olivia Johnson
Tybalt, Juliette's cousin: Matthew Whitehead/Dorian Dillard II
Capulet, Juliette's father: Zachary Crowle/Joseph Johnson
Gregorio, a servant: Justin Burgess/Benton DeGroot
The Montagues
Roméo, son of Montague: Tom Cilluffo/Darius Gillard
Stephano, Roméo's friend: Isabel Signoret/Blair Whiteside
Benvoglio, Roméo's cousin: Westley Montgomery
Mercutio, Roméo's friend: Yazid Pierce-Gray/John Daugherty
Friar Laurence, a priest: David Weigel/Samuel Kidd
Paris, a young Count: Harrison Kane
The Duke: Kevin Starnes
Ensemble
Eliana Barwinksi, Jahbreil Campbell, Bryan Yu Hin Chan, Kurt Clare, Hailey Cohen, Patrick Flynn, Madeleine Gotschlich, Meredith Kelly, Dylan LaCroix, Jasmin Mould, Francesca Napolitano, Edward Nunoo, Kristine Overman, Daniel Passino, Isabel Springer, Jamaal Stewart, Karina Stribley, and DaShawn Williams
Resources
[accordion title="A Dedication"]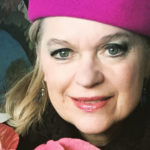 Kay Walker Castaldo, Clinical Assoc. Professor of Music, passed away this summer after a courageous battle with a brain tumor. Kay first came the School as a guest director in 2005 before joining the faculty in 2012. Internationally renowned, Kay directed at U-M: Tartuffe (2005), La Bohème (2007), Ariadne auf Naxos (2013), The Magic Flute (2014), and Dead Man Walking (2014).
---
Hi Kay,
What a joy it was for me to collaborate with you on two occasions for the University Opera Theatre!
First, our superb production of La Bohème in 2007, when you joined us as a guest. Each of our principals, both casts, had individual interviews with you. You quickly learned who each singer was emotionally and how to draw the maximum out of him or her. There were tears shed in rehearsals, but how can one avoid that in this story? And will I ever forget the second act? The stage full of thirty choristers, a toy seller, a marching band, motorcyclists and our six principals…and each person knew precisely who he was, where she came from, what was happening for him personally on that particular Christmas Eve. No group tableaux without individual resumes for you, Kay. It took forever to rehearse, and I complained, but the end result was singers and actors who had grown by leaps and bounds in just that twenty-minute scene. (You might be interested, Kay, to know that one of our Friars in tonight's production was a little kid in that Bohème; now he's marrying people! See what you did?)
After you joined our faculty, I got lucky and had my second partnership with you. Our Magic Flute in 2014 was my first time with that score, and you know how indelible a first time can be. While this opus is surely a masterpiece, it is also notorious for being too full of stately, spiritual moments. Which honest person would not admit to feeling sleepy on and off during the second act? Your imagination created a magical context — part dream, part reality, part childlike, part adult, and the result was a riveting, fascinating evening when sleep was not possible. I've done Flute twice since, but your staging remains with me all these years later.
Roméo et Juliette was to have been our third partnership. We chose the opera together, negotiated the version together, and you attended auditions with me despite serious pain and fragility. We are fortunate to have guest stage director Paul Curran shaping and guiding us through this process. So please accept these our performances as a gift and a tribute to you, Kay. For the too brief time you were with us, you managed to make us all grow, learn, and communicate in deeper ways than ever before. You shouted in the gentlest of voices, and you worked miracles.
I hope you like our show.
— Martin Katz, Conductor
[/accordion][accordion title="Synopsis"]
Act I
Juliette's father, Lord Capulet, is hosting a costume party. Two men comment enthusiastically about Juliette's beauty – her cousin Tybalt, and Paris, who hopes to marry her. With everyone in costume, Roméo and his friends are easily able to "crash" the party. He's entranced when he sees Juliette, even though she's the daughter of his sworn enemy. He shyly approaches her, asking her to dance. The two hit if off immediately. Juliette tells him her name, and Roméo removes his mask. Tybalt recognizes and wants to confront Roméo, but Juliette's father pulls him back and orders the festivities to continue.
Act II
Roméo has left his friends and serenades Juliette from under her bedroom window, hoping to draw her out. It's Gounod's version of Shakespeare's famous Balcony Scene, and features one of the composer's most beautiful duets, "Ah! Ne fuis pas encore!" (Ah, do not flee again). Juliette's nurse interrupts, and Juliette returns to her room, leaving Roméo in the garden below.
Act III
Scene 1: Roméo and Juliette tell Friar Lawrence that they want to be married — in secret, of course, because otherwise their families would forbid it. Friar Laurence agrees, hoping their union will end the feud, and performs the ceremony.
Scene 2: Outside the Capulet house, the boys are getting rowdy. Roméo's friend Stephano sings an insulting song, and one of the Capulet gang starts a brawl. Roméo's friend Mercutio fights with Tybalt and is fatally wounded. When Roméo hears this news, he runs in to avenge Mercutio's death and kills Tybalt. To prevent further bloodshed, the Duke of Verona puts a stop to the confrontation and banishes Roméo from the city
Act IV
Scene 1: Roméo bids goodbye to Juliette in her room, then leaves the city. Juliette's father arrives with Friar Laurence to inform his daughter that he's going to marry her off to Paris immediately – not knowing that she's already married to Roméo. Friar Laurence quietly slips her a potion which he tells her will simulate death, so she won't have to go through with the marriage to Paris.
Scene 2: The Capulet's gather for Juliette's marriage to Paris. The friar's potion works as promised, and Juliette "dies" before the wedding can take place.
Act V
Roméo goes to Juliette's tomb to bid her a last farewell, bringing a deadly poison that will unite him with his wife. He drinks it. Juliette awakens to find Roméo still barely alive. After a final duet, Juliette takes Roméo's dagger, and stabs herself. They pray for forgiveness from God, and die in each other's arms.
— Houston Grand Opera/npr.com
[/accordion]
Media
Program
Video
Photos
[cycloneslider id="16-17-romeo-et-juliette"]