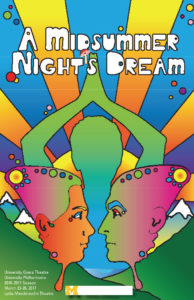 A Midsummer Night's Dream
An opera by Benjamin Britten
Libretto by Benjamin Britten and Peter Pears
Adapted from William Shakespeare
University Opera Theatre • University Philharmonia Orchestra
March 23-26, 2017 • Lydia Mendelssohn Theatre

Adapted from one of Shakespeare's most beloved comedies, the opera A Midsummer Night's Dream is always set in a mystical world conjured up by the stage director and conductor. On the eve of a wedding taking place at a 1970s California country club, four as yet unmatched young lovers escape to the woods to pursue their passions. Unbeknownst to them, the King and the Queen of the Fairies are having their own lover's spat in this magical wilderness. The foursome is unsuspectingly caught in the middle, as magical potions (mushrooms?) delivered by the quicksilver spirit Puck further complicate and confuse the paths of love. And though the course of true love never does run smooth, in the end all is mended as reality returns, order is restored, and love is eternally transformative.
Composer Benjamin Britten (1913-1976), in collaboration with his partner Peter Pears, cleverly pruned Shakespeare's masterpiece to create one of the most frequently performed operas written after WWII. Britten interweaves three distinct soundscapes for each realm of the Dream: the lovers, fairies, and the rustics. This skillful orchestration, which includes a parody of grand opera, gives amazing timbres, emotion, and texture to Shakespeare's words. By turns delicate, rambunctious, and rapturous, the music of A Midsummer Night's Dream leads us on a bewitching and magical journey through love's fire.
Artistic Staff
Director: Robert Swedberg
Conductor/Music Director: Kathleen Kelly
Cover Conductor: Chelsea Gallo
Scenic Designer: Gary Decker
Costume Designers: Camille Charara, Michayla Jane Q. Van Treeck
Lighting Designer: Rob Murphy
Wig & Makeup Designer: Dawn Rivard
English Diction Coach: Timothy Cheek
Assistant Conductors: César Cañón, Blair Salter
Stage Manager: Devon Sparks

Cast (Thursday-Saturday/Friday-Sunday)
Tanya, yoga instructor/Tytania, Queen of the Fairies: Kayla Hill/Kelly Ann Bixby
Flower Girls/Fairy Attendants
Cobweb: Camille Primeau/Emily Davidson
Peaseblossom: Meredith Kelly/Hayley Boggs
Mustardseed: Madeline Thibault/Mahari Conston
Moth: Jackie Cano/Tori Darnell
Ron, golf pro/Oberon, King of the Fairies: Andrew Lipian/Matthew Walker
Robin, pool boy/Puck, attendant to Oberon: Tom Cilluffo/Justin Burgess
Wedding Party
Theseus: Samuel Kidd/Kevin Starnes
Hippolyta: Kayleigh Jardine/Rachel Barg
Rustic Barbecue (Wedding Caterer)
Bottom: David Weigel/Zachary Crowle
Quince: Benton DeGroot/Jonathan Harris
Flute: Christopher Wolf/Daniel Iammatteo
Snug: Matthew Fleisher/Joseph Johnson
Snout: Dorian Dillard II/Camron Gray
Starveling: Tanner Hoertz/Nicholas Rathgeb
Wedding Guests
Lysander, in love with Hermia: Darius Gillard/Josh Lovell
Hermia, in love with Lysander: Kristen Dininno/Micaela Aldridge
Demetrius, in love with Hermia: Michael Floriano/Yazid Pierce-Gray
Helena, in love with Demetrius: Elise Vikari/Margaret Tigue
Sponsors
Media sponsorship by WRCJ
Resources
[accordion title="Synopsis"]
On the day of the wedding reception of Theseus and Hippolyta at the Athenian Country Club in California, circa 1976, the pool boy Robin begins to imagine that the yoga instructor and golf pro are magically transformed into Tytania, and Oberon – queen and king of the fairies, and that he, Robin, has become Puck, attendant to Oberon. Four flower girls who are there for the wedding are transformed into fairy attendants to Tytania. A group of caterers ("Rustic Barbecue") also arrive on the scene, as do a group of wedding guests, (Lysander, Hermia, Demetrius and Helena) who are wrapped up in their own love entanglements. As Oberon and Tytania quarrel, Puck is sent to find a magic flower that will induce Tytania to fall in love with the first creature she sees upon waking.
Lysander and Hermia decide to elope, as she wishes to get out of an arranged engagement to Demetrius, which is complicated by the fact that Demetrius, also in love with Hermia, is being pursued by Helena, who is hopelessly in love with him. As Demetrius scornfully rejects Helena, Oberon orders Puck to seek out Demetrius and make him fall in love with Helena with the help of the magic flower.
The six caterers get together to rehearse a play they hope to present at the wedding reception. There is some disagreement over casting, with Bottom and Flute finally agreeing to play the parts of Pyramus and Thisbe, the star-crossed lovers of the play's title. Quince, the director of the play, hands out scripts, and all agree to meet later to rehearse again.
Now the mix-ups begin: Puck mistakenly anoints Lysander's eyes, causing him to transfer his allegiance to Helena, while Oberon anoints Tytania's eyes, causing her to fall in love with Bottom, whom Puck has mischievously given an ass's head. The four lovers are hurled into violent discord. As the story proceeds, they bicker until Puck sends them to sleep and they wake up cured. Bottom, too, is eventually restored and Oberon and Tytania also make their peace. Pyramus and Thisbe is successfully performed before the assembled wedding guests. Oberon, Tytania, and the fairies bless the sleeping household – with Puck having the last word.
[/accordion]
Media
Program