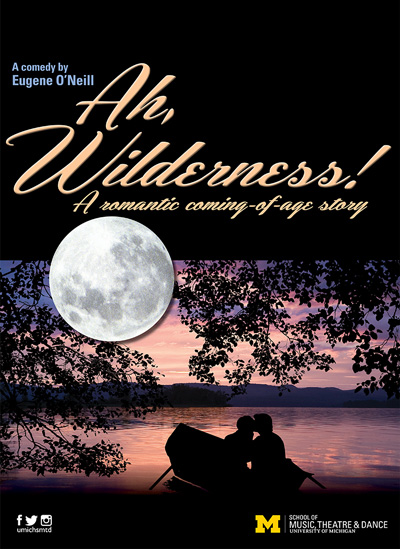 Ah Wilderness!
a comedy by Eugene O'Neill
Department of Theatre & Drama
October 6-16, 2016 • Arthur Miller Theatre

On the cusp of his 17th birthday on the fourth of July 1906, Richard Miller envisions himself as a man of the world. Swept up by the highly realistic literature of European authors, he has been sending ardent love letters to his girlfriend Muriel. When Muriel's father discovers the 'scandalous' writing, he forbids their relationship, devastating the young man. In a gesture of defiance, Richard trails along on a 'double date' to a bar with his older brother's college roommate, which unknown to him involves meeting up with some prostitutes. Full of youthful rebellion and tormented by the first pangs of love, Richard faces his first big challenges along his path to maturity.
One of the greatest playwrights of the 20th century and already a three-time Pulitzer Prize-winner, Eugene O'Neill penned Ah, Wilderness! during a short few weeks in 1932. First produced at the Guild Theatre in New York City in October 1933, comedy was a departure for O'Neill. The playwright called it "new ground…a nostalgic comedy for the ancient days when youth was young, and the right was right, and life was a wicked opportunity." Often called a comedy of recollection for the boyhood that O'Neill wished to have had, Ah, Wilderness! is a gentle coming of age story that makes us yearn for idealized childhood and simpler times.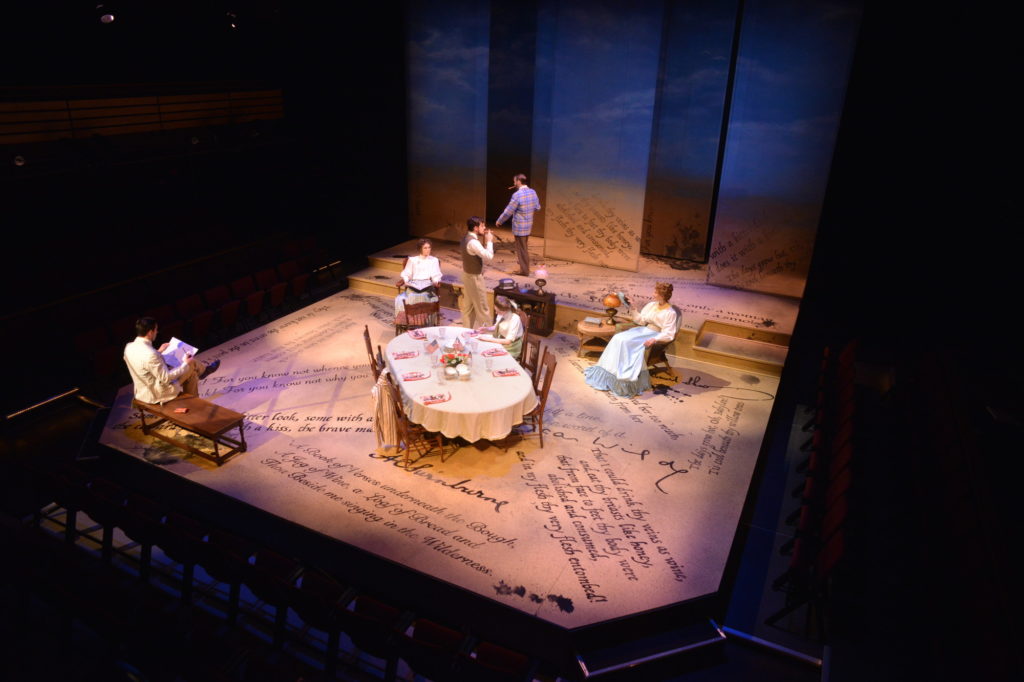 Artistic Staff
Director: John Neville-Andrews
Scenic Designer: Gary Decker
Costume Designer: Michaela Tanksley
Lighting Designer: Steven Wezleman
Sound Designer: Sara Burgess
Vocal Coach: Annette Masson
Music Director/Piano: Tyler Driskill
Stage Manager: Jessie Balaka
Cast
Nora, the Millers' maid: Stephanie Fitt
Tommy Miller, the Millers' youngest son: Alexandra Reynolds
Essie Miller, his mother: Larissa Marten
Arthur Miller, the Millers' oldest son: Jordan Rich
Mildred Miller, the Millers' daughter: Sarah Prendergast
Sid Davis, Essie's brother: Oren Steiner
Nat Miller, the father, owner of the Evening Globe: Liam Loomer
Lily Miller, Nat's sister: Amy Aaron
Richard Miller, the Millers' middle son: Kevin Corbett
David McComber, a dry-goods merchant: Jack Joslyn
Wint Selby, a classmate of Arthur at Yale: Aaron Huey
Belle: Juliana Tassos
Bartender: Eddie Williams
Salesman: Jonathan Keammerer
Muriel, McComber's daughter: Morgan Waggoner
Media
Program
Photos
[cycloneslider id="16-17-ah-wilderness"]