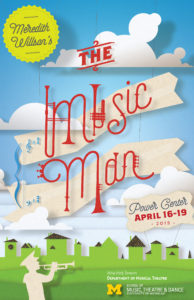 The Music Man
Book, music & lyrics by Meredith Willson
Story by Meredith Willson and Franklin Lacey
Department of Musical Theatre
April 16-19, 2015 • Power Center

The Story: 1912 River City, Iowa, is your typical bucolic, small, Midwestern town filled with stubborn, persnickety townsfolk with a gossip circle that would put the NSA to shame. Into this rather unwelcoming environment comes fast-talking salesman Harold Hill, ready to solve all the town's troubles with a boy's brass band. Intrigued by the promise of shiny instruments and grand uniforms, the townspeople fall under Hill's spell. Uncertain of Hill's spiel, the Mayor enlists the local librarian/music teacher and a quartet of council members to verify Hill's credentials. As Hill evades questions and romances the librarian, his efforts begin to transform the dull town. He tries to keep everyone at bay just long enough to skip town after he gets his money but perhaps love will foil his plans.
Background: Writer/composer Meredith Willson spent six years, wrote 30 drafts, and composed over 40 songs in his quest to bring The Music Man to the stage. A valentine to his hometown of Mason City, Iowa, the show is irresistibly All-American, evoking nostalgia for small-town values. Its score is filled with favorites including "Till There Was You," "Gary Indiana," "Lida Rose," and "Seventy-Six Trombones." Winner of five Tony Awards in 1957, The Music Man edged out West Side Story for Best Musical and won the first Grammy for Best Original Cast Album. The musical was adapted for film in 1962 and television in 2003. Heartwarming, and rousing, The Music Man is "…as American as apple pie and a Fourth of July oration…a marvelous show, rooted in wholesome and comic tradition." (New York Times)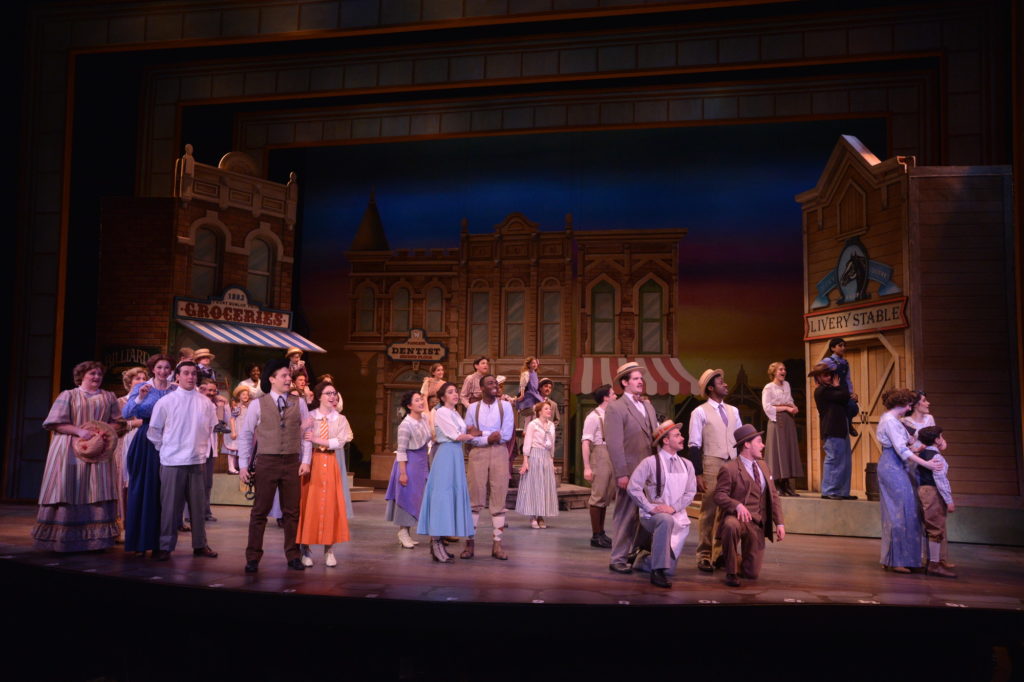 Artistic Staff
Director/Choreographer: Linda Goodrich
Music Director/Conductor: Jason DeBord
Original Scenic Design: James Fouchard for Pittsburgh CLO
Additional Scenery/Property Design: Rusty Jones
Costume Designer: Jessica Hahn
Lighting Designer: Mark Allen Berg
Sound Designer: Al Hurschman
Wig & Makeup Designer: Dawn Rivard
Stage Manager: Miriam Michaels
Cast
Charlie Cowell: Joseph Sammour
Conductor: John-Alexander Sakelos
Harold Hill: Bobby Conte Thornton
Mayor Shinn: Barrett Riggins
Quartet
Ewart Dunlop: Luke Steinhauer
Oliver Hix: Kyle Timson
Jacey Squires: Tyler Leahy
Olin Britt: Cameron Jones
Marcellus Washburn: Dylan Stasack
Tommy Djilas: Benjamin Bogen
Marian Paroo: Ellie Fishman
Mrs. Paroo: Keaton Micucci
Amaryllis: Dana Steiner
Winthrop Paroo: Ethan Steiner
Eulalie Mackecknie Shinn: Emma Sohlberg
Zaneeta Shinn: Sophia Deery
Gracie Shinn: Eve Kaplan
Alma Hix: Carly Snyder
Maud Dunlop: Christina Maxwell
Ethel Toffelmier: Hannah Flam
Mrs. Squires: AnnEliza Canning-Skinner
Constable Locke: Alex Prakken
Teens: Christopher Campbell, Wonza Johnson, Marina Kondo, Lola Leon, Mallory Michaellann, BJ Myers, Thomas Sweeney, Halli Toland
River City Townspeople: Jordan Edwin André, Trevor Carr, Eric Fegan, Sarah Lynn Marion, Leah Mattfield, Jordyn Norkey, Kaitlin Paschetto, Charlie Patterson
Children: Luke Andoni-Savas, Branden Broulette, Alex Cantú, Lydia DeBord, Harry Westphal, Maria Vesprini
Swings: Audrey Kennedy, Aidan Ziegler-Hansen
Resources
[accordion title="In Appreciation: George Bacon"]
We wish George Bacon a happy retirement as he returns to his home state of Wisconsin to help run his family's internationally renowned iris-growing business. His sharp aesthetic eye has benefited our audiences for over twenty years, scrutinizing every outfit leaving the costume shop. His attention to detail has helped ensure, for example, that the hems of every costume in the ensemble are perfectly aligned or that the construction techniques of the costume match the time period of the character (No apparent zippers in 18th century costumes!).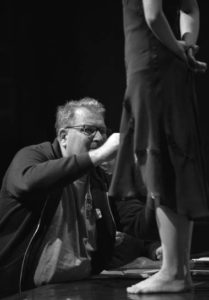 George received his MFA in Costume Design from the Department of Theatre & Drama in 1995, and joined University Productions (the producing unit of the SMTD) shortly afterwards as a colleague, serving as Associate Costume Shop Manager and Adjunct Lecturer in Theatre. He arrived at U-M with a wealth of costuming experience earned since his undergraduate graduation in 1980, having worked as a freelance cutter/draper & tailor, and then running the costume shop at the University of Wisconsin-Madison. His specialty became men's tailoring, with a combination of speed and skill that has always astonished every guest designer when first introduced to George's work. George's knowledge of the thousands of costumes in our stock is encyclopedic — he can see a costume and then name the character and actor who wore it.
As a teacher, many design students remember him fondly and respectfully for teaching them pattern-making and construction techniques. Since few costuming students arrive at college these days with basic sewing skills, getting the students to a high level of expertise is a demanding experience.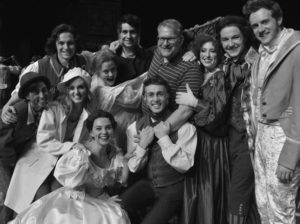 Not only a superb artisan & teacher, George used his MFA design knowledge to design costumes for some of the most memorable and imaginative productions created by the school: Julius Caesar in Egypt, Les Misérables, Crazy for You, 42nd Street (1995 & 2009), Carousel, Seussical, Jesus Christ Superstar, Children of Eden, Parade, Of Thee I Sing, West Side Story, Dancing at Lughnasa, Sunday in the Park with George, Major Barbara, Quilt, and Brigadoon. A small sampling of his beautiful designs and craftsmanship is exhibited in the Power Center lobby.
The quality that I most admire is George's ability to be creative in the face of limited resources, most recently with his costumes for Cleopatra in Julius Caesar, which truly made her the most beautiful woman in the world. He has always cared deeply about creating memorable theatrical experiences for everyone. We wish him all of our best, but not farewell, as we hope that he will have the time between planting cycles to design more unforgettable costumes for us.
— Jeffrey Kuras, Director, University Productions
(Photos – Top: George adjusting hemlines during Currents & Crossings, February, 2015; Bottom: George with the cast of Les Mis, April 2014)
[/accordion]
Media
Program
Photos
[cycloneslider id="14-15-the-music-man"]