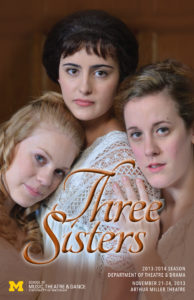 Three Sisters
a drama by Anton Chekhov
Adapted by Libby Appel
Literal translation by Allison Horsley
Department of Theatre & Drama
November 21-24, 2013 • Arthur Miller Theatre

The Story: Three sisters and their brother find themselves on their own after the death of their parents. Stuck in a small town hundreds of miles from Moscow, they long to return to the sophistication of that city. But life, with all its complications, frustrations and unexpected turns, interrupts their plans. Mired in the provinces, the family struggles to sustain hope in the belief that they will, some day, fulfill their dreams.
Background: Since its first production in 1901 at the Moscow Art Theatre, Anton Chekhov's Three Sisters has been considered one of the undoubted masterpieces of modern theatre. Unique to this adaptation by U-M alumna Libby Appel (former artistic director of the Oregon Shakespeare Festival) is the inclusion of variants, elements of Chekhov's original writing that had been either excised or changed by others. This adaptation preserves the elegance of language and the subtle, yet profound passions of the characters that are the heart of Chekhov's style. Filled with love, laughter, loss, and compromise, Three Sisters is a tale of how hope, no matter how illusory, enables us to endure.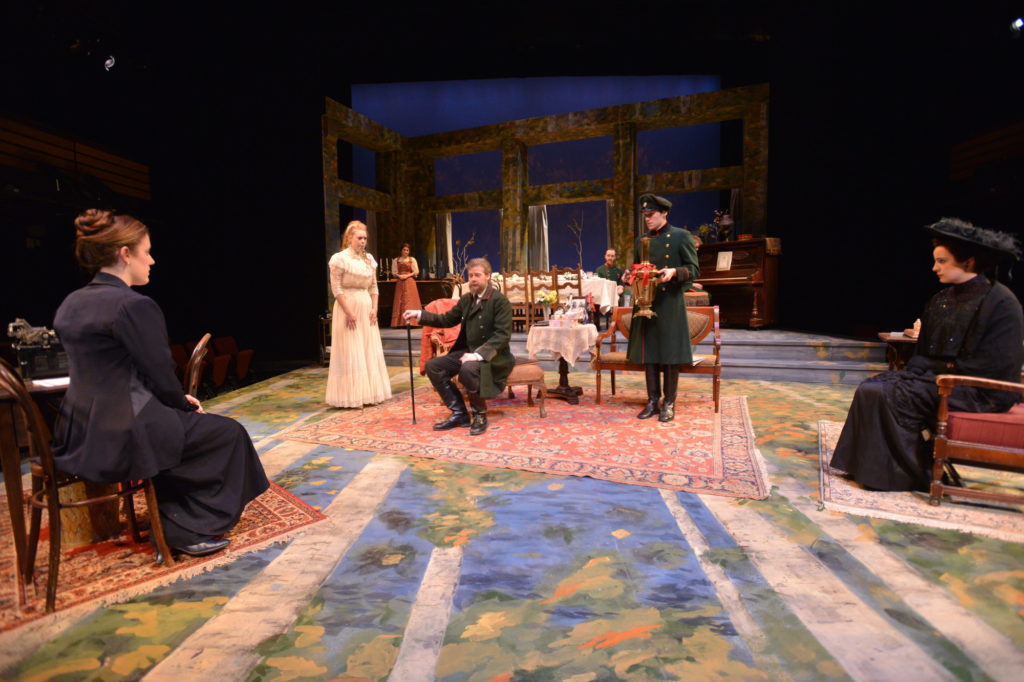 Artistic Staff
Director: Priscilla Lindsay
Scenic Designer: Gary Decker
Costume Designer: Katie Lantz
Lighting Designer: Elizabeth Williams
Sound Designer: Henry Reynolds
Wig & Makeup Designer: Alyssa Battersby
Vocal Coach: Annette Masson
Assistant Director: Lindsay Wormser
Stage Manager: Elana Lantry
Cast
Andrey Prozorov: Josh Aber
Olga, Andrey's sister: Alex Madda
Masha, Andrey's sister: Jacqueline Toboni
Irina, Andrey's sister: Kate Berg
Natasha, Andrey's fiancée, later his wife: Teagan Rose
Fyodor Kulygin, a high school teacher, Masha's husband: Drew Ariana
Lieutenant-Colonel Vershinin, Battery Commander: Tim Markham
Baron Tuzenbakh, a First Lieutenant: Avery DiUbaldo
Solyony, Staff Captain: Ben Reitemeier
Chebutykin, Army doctor: Tyler Dean
Fedotik, Second Lieutenant: Caleb Foote
Roday, Second Lieutenant: Ian Johnston
Ferapont, watchman from the district council: Graham Techler
Anfisa, the Prozorov's nanny: Kendra Williams
Yuri, an orderly: Brendan Alpiner
Marfa, a maid: Anastasia Zavitsanos
Resources
[accordion title="From the Adaptor"]
I discovered Anton Chekhov's plays at age 16 when an English teacher in my junior year of high school assigned us The Cherry Orchard to read. It was a revelation for me from the first moment I picked it up. This was the start of a life-long passion with all of Chekhov's works. I studied all the biographies and critical discussions I could find about Chekhov's life and works, literally feeling his presence in my life. When I discovered that my penchant in the theater was for directing, I made it my business to direct all of the plays, several times, including a few of the one-act farces.
Thus it seemed a natural progression when I had the opportunity to link up with a literal Russian to English translator, Allison Horsley, and begin my journey as a translator/adaptor of Chekhov's plays. My first venture was The Cherry Orchard – which seems an obvious choice as it rests in my heart as my first love. Allison and I worked very harmoniously to produce the working draft, which I then took into rehearsal and directed with a superb cast of actors at the Oregon Shakespeare Festival.
From that first translation, I felt compelled to continue with all the major plays. Fortunately, the new artistic director at OSF, Bill Rauch, agreed that something special was happening with these translations and he commissioned me and Allison to continue on with as many plays as we had the desire to do. When there are so many translations available in American English, what makes our work so special? Well, I believe a lifetime of studying and interpreting and "living with" A.P. Chekhov has made his works an essential part of my being. I think these translations have a freshness of approach and they are a merging of Chekhov's late 19th and early 20th centuries' language with a contemporary 21st century idiom. Each play is undoubtedly Chekhov's but the translations put you into your own life at the present moment. The translations keep the original Russian names and include some Russian words to give us the rich flavor of the period. I feel that I have found that elegance and sparseness of language and the subtle yet profound, buried passions of the characters that is Chekhov's signature.
— Libby Appel
[/accordion][accordion title="From the Director"]
It has been one of the great joys of my professional life to work on this play in particular – both when I acted in Three Sisters in 1985, and now as I direct our wonderful students. Chekhov's plays are the stuff that actors' dreams are made of… material into which one can "sink one's teeth."
We have learned about the world that lives in between the lines on the page, the palpable life that exists between characters: because we have delved into their pasts, their desires and their desperation, their ambitions and their failures. True ensemble acting is the result of years of training and experience. And yet Chekhov hands us the keys to that kind of magic: he asks us to believe in "possibilities." What if I choose not to hear that rude remark? What if I do? What if I leave the room now? What if I stay one more minute? How will the world change if I laugh out loud? Who will care if I keep silent? A keen curiosity about human behavior is vital to understanding the relationships in Chekhov's plays. It's all there in his text… we just have to unlock the door and step inside.
— Priscilla Lindsay, Director
[/accordion]
Media
Program
Photos
[cycloneslider id="13-14-three-sisters"]