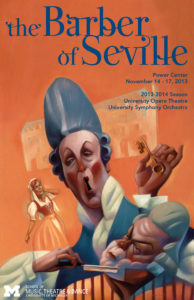 The Barber of Seville
Music by Gioachino Rossini
Libretto by Cesare Sterbini
From the comedy by Pierre-Augustin Caron de Beaumarchais
University Opera Theatre • University Symphony Orchestra
November 14-17, 2013 • Power Center

The Story: Smitten at first sight by the lovely Rosina, Count Almaviva engages the barber Figaro to facilitate a meeting. Wishing to be loved for himself and not his wealth, Almaviva disguises himself in various ways to earn her affections. Fortune smiles when she responds, but a problem remains – her elderly guardian Dr. Bartolo, who has his own designs to be Rosina's husband to gain her dowry! It is up to the ingenious Figaro to plot a solution involving subterfuge, eavesdropping, and even abduction that will allow the course of true love to win the day.
Background: The Barber of Seville debuted in 1816 with a disastrous opening, followed by an equally exuberant and acclaimed second performance. Composer Giuseppe Verdi declared, "I cannot help believing Il barbiere di Siviglia, for abundance of ideas, for comic verve, and for truth of declamation, the most beautiful 'opera buffa' in existence." From Barber's immediately recognizable overture (Bugs Bunny anyone?) to its glorious arias including "Largo al factotum" and "Una voce poco fa," Rossini's score is filled with soaring lyricism and delightful melodies. A vivacious romp, The Barber of Seville endures as a beloved and charming opera full of fun.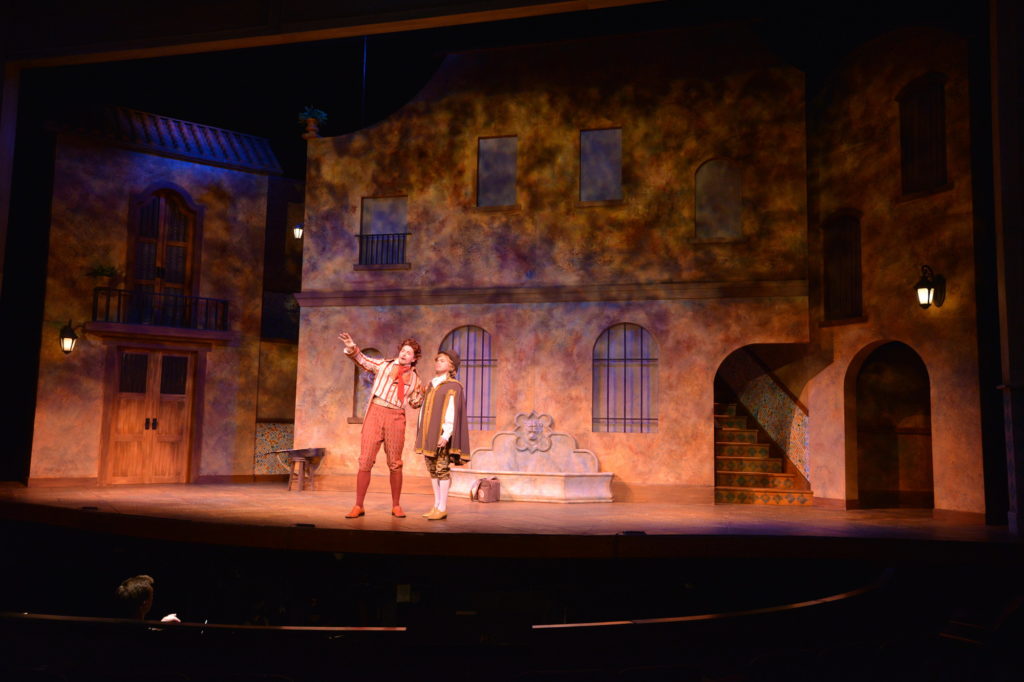 Artistic Staff
Director: Robert Swedberg
Conductor: Clinton Smith
Assistant Conductor: Elim Chan
Scenic & Costume Designer: Jeff Bauer
Lighting Designer: Rob Murphy
Wig & Makeup Designer: Erin Kennedy Lunsford
Italian Diction Coach: Timothy Cheek
Chorus Master: Arianne Abela
Repetiteurs: Michael Bagby, Michael Sherman
Supertitles: Chris Bergman
Stage Manager: Jenn Jacobs
Cast (Thursday-Saturday/Friday-Sunday)
Hostess: Alexandra Shaw/Lauren Jacob
Fiorello, Count Almaviva's servant: John Daugherty/Phillip Harris
Count Almaviva, a nobleman: Jacob Wright/Francisco Bedoy
Figaro, a barber: Ian Greenlaw/Issac Droscha
Dr. Bartolo, Rosina's guardian: Nicholas Davis/Jesus Vicente Murillo
Ambrogio, Bartolo's servant: Alexander Turpin
Rosina: Ashley Dixon/Sarah Coit
Don Basilio, Rosina's music teacher: Glenn Healy/Jonathan Harris
Berta, Dr. Bartolo's housekeeper: Kate Nadolny/Francesca Chiejina
Official: Michael Miller
Ensemble: Achilles Bezanis, Paul Robert Brumfield, Tom Cilluffo, Benton DeGroot, Tomer Eres, Darren Fedewa, Alex Greenzeig, Daniel Iammatteo, Michael Miller, Nicholas Rathgeb, Austin Ryan, Khris Sanchez
Understudies:
Rosina — Lauren Jacob, Berta — Alexandra Shaw
Sponsors
Media Sponsorship by WRCJ.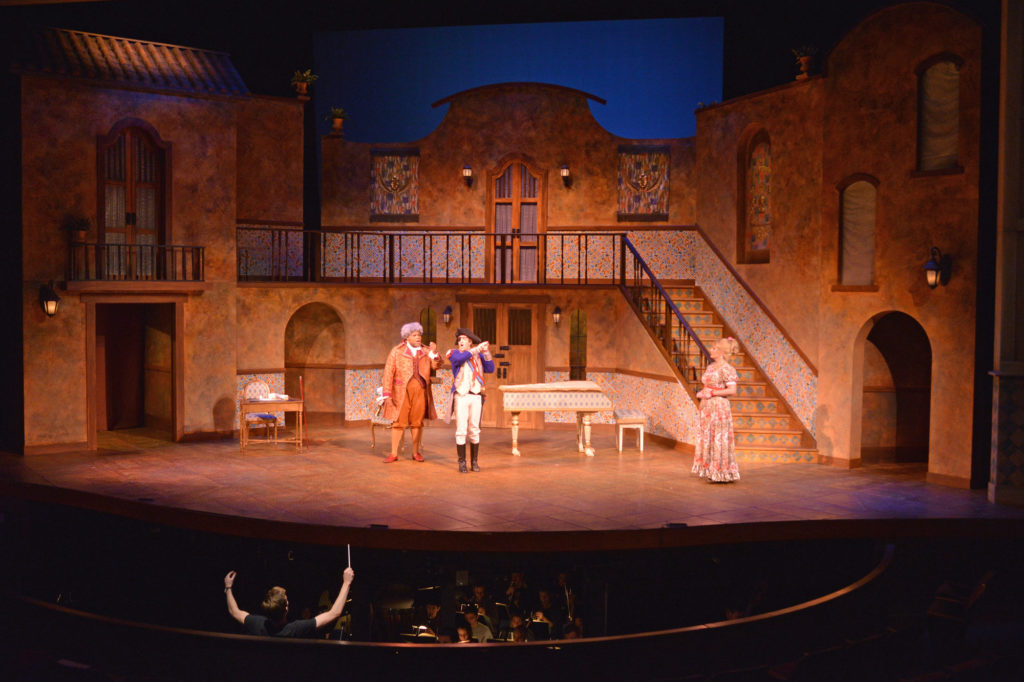 Resources
[accordion title="Synopsis"]
Act I
Scene I — At night, Count Almaviva brings a band of musicians to serenade Rosina, ward of Dr. Bartolo, who keeps the girl confined in his house. When Rosina fails to answer his song, the count pays the players, and they leave. At the sound of Figaro's voice, Almaviva steps away as the barber bounds in, boasting of his busy life as the neighborhood factotum. Figaro, though currently in Bartolo's employ, encounters Almaviva and promises to help him win Rosina – for a suitable reward. No sooner has Bartolo left the house to arrange his own marriage with Rosina than Almaviva launches into a second serenade, calling himself "Lindoro," a poor creature who can offer only love. Figaro suggests Almaviva disguise himself as a drunken soldier billeted to Bartolo's house.
Scene 2 — Alone in the house, Rosina muses on the voice that has touched her heart and resolves to outwit Bartolo. Figaro joins her, but they leave on hearing footsteps. Bartolo enters with the music master, Don Basilio, who tells him Almaviva is a rival for Rosina's hand and advises slandering the nobleman's reputation. Bartolo agrees, but Figaro overhears them. Warning Rosina that Bartolo plans to marry her himself the very next day, the barber promises to deliver a note she has written to "Lindoro." Rosina, alone with Bartolo, undergoes an interrogation, then listens to his boast that he is far too clever to be tricked. Berta, the housekeeper, answers violent knocking at the door, returning with Almaviva disguised as a drunken soldier in search of lodging. While arguing with Bartolo, Almaviva manages to slip a love letter to Rosina. But when Bartolo demands to see the letter, the girl substitutes a laundry list. Figaro dashes in to warn that their hubbub has attracted a crowd. Police arrive to silence the disturbance. As an officer is about to arrest him, Almaviva whispers his identity and is released. Rosina, Berta, Bartolo and Basilio are stupefied by everything that is happening.
Act II
Bartolo receives a young music teacher, "Don Alonso" (again Almaviva in disguise), who claims to be a substitute for the ailing Basilio. Rosina enters, recognizes her suitor and begins her singing lesson as Bartolo dozes in his chair. Figaro arrives to shave the doctor and manages to steal the key to the balcony window. Basilio now comes in, looking the picture of health; bribed by Almaviva, he feigns illness and departs. Figaro shaves Bartolo while Almaviva and Rosina plan their elopement that night. They are overheard by the doctor, who drives Figaro and Almaviva from the house and Rosina to her room, then sends again for Basilio. Berta, unnerved by all the confusion, complains she is going mad. Bartolo dispatches Basilio for a notary, then tricks Rosina into believing "Lindoro" is really a flunky of Almaviva. After a thunderstorm, Almaviva arrives with Figaro and climbs through a balcony window to abduct Rosina. At first the girl rebuffs "Lindoro," but when he explains that he and Almaviva are one and the same, she falls into his arms. Figaro urges haste, but before they can leave, their ladder is taken away. Basilio enters with the notary. Though summoned to wed Rosina and Bartolo, the official marries her instead to Almaviva, who bribes Basilio. Rushing in too late, Bartolo finds the lovers already wed. When Almaviva allows him to keep Rosina's dowry, the old man accepts the situation.
— synopsis courtesy San Francisco Opera
[/accordion]
Media
Program
Photos
[cycloneslider id="13-14-barber-of-seville"]