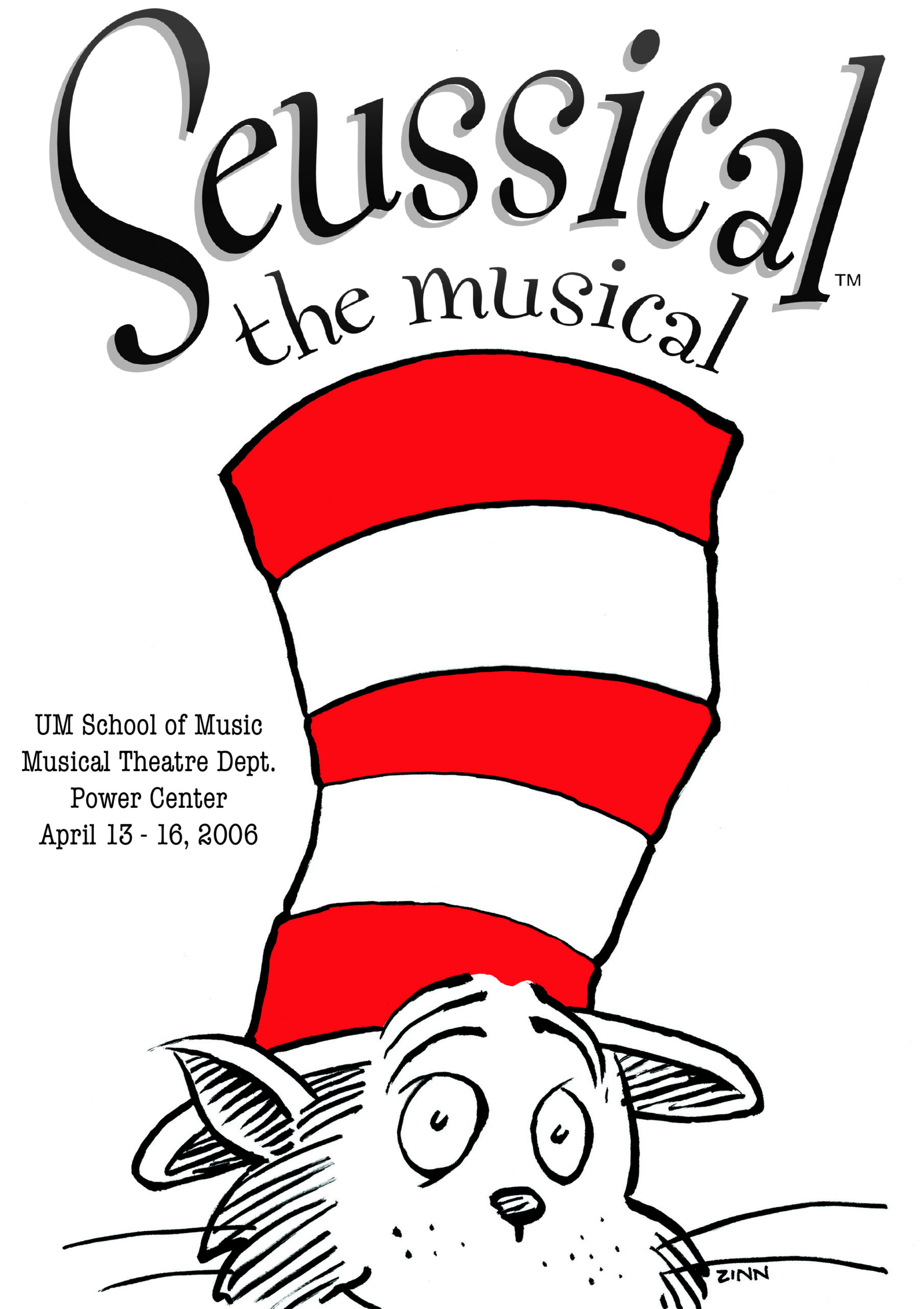 Seussical
Music by Stephen Flaherty
Lyrics by Lynn Ahrens
Book by Lynn Ahrens and Stephen Flaherty
Co-conceived by Lynn Ahrens, Stephen Flaherty, and Eric Idle
Based on the words of Dr. Seuss
Department of Theatre & Drama
April 13-16, 2006 • Power Center

We have all the characters from Dr. Seuss,
They're off of the page and out on the loose!
Horton the elephant, Gertrude the  bird!
And JoJo the thinker who thinks a new word!
The Wickersham Brothers, the Sour Kangaroo,
And all of the Whos play a major role too!
And of course we can't have a big show like that
Without our emcee – the Cat in the Hat!
From Whoville to the Circus to the Jungle of Nool,
Why we'll even take you to McElligot's Pool!
Fun for all ages and sizes and kinds
With big imaginations and open-upped minds!
– Courtesy John Stuff, Champaign-Urbana Theatre Company
From the team who created Ragtime and Once on This Island comes a new and whimsical musical that weaves together Dr. Seuss's most famous tales. The musical incorporates contemporary pop culture and social parody into breezy lyrics set to sweetly accessible melodies. Seuss's stories have taught tolerance, peace, and the value of dignity to generations of kids – that "a person's a person, no matter how small" – in fun and captivating ways. These teachings are at the heart of Seussical. Declared "clever, colorful, tuneful, and full of heart" by the Indianapolis Sun, Seussical is a delightful show for adults and children alike.
Artistic Staff
Director & Choreographer: Linda Goodrich
Music Directors: Brian Lewis, Cynthia Kortman Westphal
Scenic & Properties Design: J Branson
Costume Design: George Bacon
Lighting Designer: David Neville
Sound Designer: Roger Arnett
Wig Designer: Dawn Rivard
Associate Choreographers: Roger Castellano, David Hull
Stage Manager: Joseph Schlenke
Cast
The Cat in the Hat: Andrew Keenan-Bolger
Horton the Elephant: Kendal Sparks
Gertrude McFuzz: Ricki Foss
Mayzie LaBird: Anne Horak
JoJo: Quintan Craig
Sour Kangaroo: Raena J. White
Bird Girls: Mara Newbery, Dani Spieler, Helene Yorke
Wickersham Brothers, Hunters: David Hull, Jake Wilson, Amos Wolff
Watchamacallits: Danny Binstock, Marjorie Failoni, Sydney Morton, Cary Tedder
The Mayor of Whoville: Michael Mahoney
Mrs. Mayor: Kristin Shields
General Genghis Kahn Schmitz: Alex Brumel
The Grinch: Peter Gosik
Vlad Vladikoff: Danny Binstock
Judge Yertle the Turtle: Benj Pasek
Max: Jacob Liebowitz
Citizens of the Jungle of Nool, Whos, Mayor's Aides, Fish, Circus McGurkus Animals and Performers: Andrew Arrington, Etai BenShlomo, Darren Biggart, Danny Binstock, Mark Christine,  Ted Ely, Marjorie Failoni, Peter Gosik, Jessica Hershberg, Paul Louis Lessard, Erin McGrath, Andrew Mientus, Shina Morris, Sydney Morton, Benj Pasek, Patrice Seibel, Caitlin Smith, Nina Sturtz, Cary Tedder, Ashley Williams, Cortney Wolfson, Eli Zoller
Cadets, Who Youths: Charles Basset-Kennedy, Maya Basset-Kennedy, Olivia Basset-Kennedy, Ariel DeYoung, Tessa Elliott, Annika Kendall, Oliver Kendall, Sophie Kendall, Nyeli Kratz, Jacob Liebowitz, Erika Ratliff, Garret Weng
Pit Singers: Emily Glick, Olli Haaskivi, Derek Krantz, Ruth Pferdehirt, Kira Safan, Benton Whitley
JoJo Cover: Andrew Mientus
Sponsors
The 125th Anniversary season is made possible in part by a generous gift from Will and Jeanne Caldwell.
This production is sponsored in part by generous support from the University of Michigan Credit Union.
The School of Music acknowledges the generosity of McKinley Associates, Inc. whose support has helped make this production possible.
Media
Program
Photos
[cycloneslider id="05-06-seussical"]