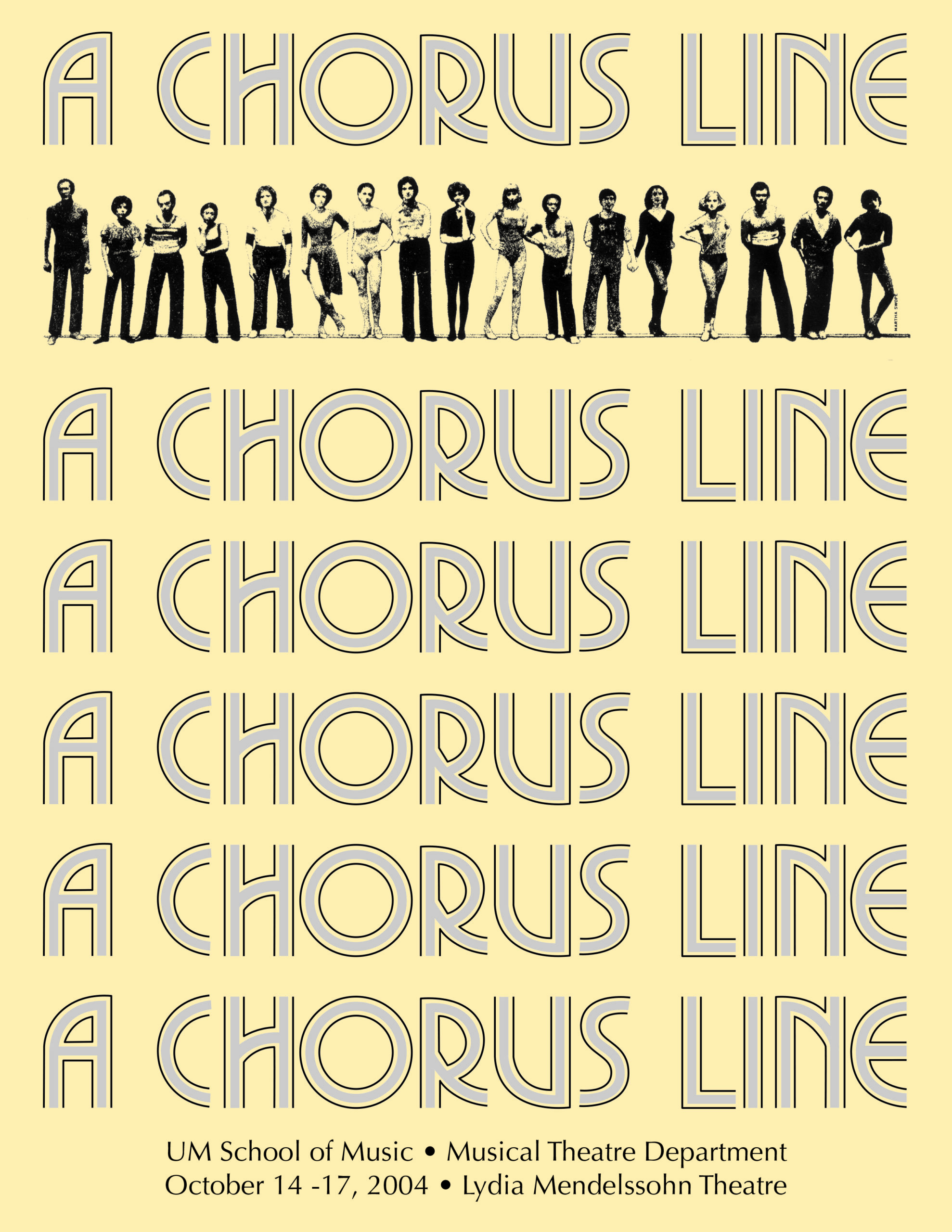 A Chorus Line
Music by Marvin Hamlisch
Lyrics by Edward Kleban
Book by James Kirkwood and Nicholas Dante
Department of Musical Theatre
October 14-16, 2004 • Lydia Mendelssohn Theatre

A typical audition notice will read as follows: "Looking for four women, four men for tight dancing chorus. Must have extensive dance experience. Bring 16 measures of a song, a monologue and be prepared to dance."
On Broadway, an actor's first hurdle is to pass the thank-you line and actually be allowed to audition. In A Chorus Line, director Zach's audition is something much more. Once he has chosen the seventeen finalists, he asks the aspiring choristers to show him more than just what they can do – he wants to know who they are. Where did they come from, what made them want to dance – what are their hopes, dreams, fears and disappointments?
Once they get over the shock of Zach's demand and realize he's very serious about his request, we begin meet various theatre "gypsies." First hesitantly, then in an increasing torrent of self-discovery, the stories of the dancers begin to unfold: Cassie, who has been a star but now can't find work and is happy just to be back in the chorus; Paul, a homosexual Puerto Rican who is searching for dignity as well as a job; Connie, who at four-foot ten knows she'll be able to work for a long time – as a child; Val, the drop-dead beauty who reveals that she wasn't always that way; and Sheila, the thirty-year old cynic who has learned the hard way that she wasn't cut out to be a ballerina.
When A Chorus Line debuted in 1975, it was a radical departure from the typical Broadway show. Instead of a show that evolved a story where each event led to the next, "A Chorus Line" was, as composer and lyricist Maury Yeston described it, "a form in which a series of monologues linked by an idea could support an evening of theater." The original idea was Michael Bennett's, a veteran chorus dancer and choreographer. He gathered a group of Broadway dancers and talked to them about their hopes and the problems they had encountered pursuing a life on the Broadway stage. The over 40 hours of tape was eventually boiled down to the original reality show, "A Chorus Line." The show was workshopped for a year, a process that is standard for today's Broadway-bound musicals, but was relatively unknown in the 70s. What resulted was one of the most beloved musicals of all time.
A Chorus Line ran for 6,137 performances and for some time was the longest running musical in history. The show garnered numerous awards, including nine Tony Awards in 1976 and the Pulitzer Prize for Drama. Featuring music by Marvin Hamlisch and lyrics by Edward Kleban, almost every song in "A Chorus Line" is familiar to audiences: "What I Did For Love," "One," "Nothing," "Dance: Ten Looks: Three," and "I Can Do That."
Artistic Staff
Director/Choreographer: Kerry Casserly
Music Director/Conductor: Cynthia Kortman Westphal
Assistant Director & Choreographer: Billy Johnstone
Scenic Designer: Arthur Ridley
Costume Coordinator: Christianne Myers
Lighting Designer: Jaime Burke
Sound Designer: Mark Gordon
Stage Manager: Amy Duffy
Cast
Zach: Eli Zoller
Larry: Jacob Wilson
Cassie Ferguson: Alexis Sims
Paul San Marco: Daniel Taylor
Sheila Bryant: Anne Horak
Mike Costa: Brian Spitulnik
Connie Wong: Jennifer Sese
Don Kerr: Josh Rouah
Maggie Winslow: Chelsea Krombach
Gregory Gardner: Thomas Berklund
Bobby Mills III: Michael Zahler
Bebe Bensenheimer: Jessica Blair Lukasik
Richie Walters: Justin Keyes
Alan Deluca: Nick Blaemire
Kristine Urich: Erin McGrath
Valerie Clark: Whitney Bashor
Mark Anthony: Dave Hull
Diana Morales: Kate Loprest
Judy Turner: Paige Wheat
Tricia: Dani Spieler
Vicky: Heléne Yorke
Lois: Mara Newbery
Butch: Jamie Cooper
Roy: Andrew Keenan-Bolger
Tom: Felipe González
Frank: Alex Michaels
Understudies
Diana, Sheila, Bebe, Cassie: Dani Spieler
Cassie, Val: Heléne Yorke
Cassie: Jessica Blair Lukasik
Judy, Kristine: Mara Newbery
Paul: Jamie Cooper
Mark, Richie: Andrew Keenan-Bolger
Mike: Felipe González
Greg, Al, Bobby: Alex Michaels
Sponsors
The School of Music acknowledges the generosity of McKinley Associates, Inc. whose support has helped make this production possible.
Resources
[accordion title="From the Director"]
I am very grateful to the University of Michigan, Professor Brent Wagner and Linda Goodrich for inviting me to restage, recreate, and pass on "the gift" of Michael Bennett's Tony-Award, Pulitzer-Prize winning A Chorus Line to this new generation of artists. It is the definitive "triple threat" experience.
My mom taught dance which insured that all six kids could afford lessons. At our house in the basement, there was always a song and dance going on – costumes galore, records playing, silliness, kids, chaos, fun – all fun until it was time to clean up. Call it left brain, call it right brain, I learned showbiz is hard work. My parents were teachers who inspired artistic expression yet instilled a seriousness about life's spiritual journey. I am glad they did or I may never have survived working in the theatre in NYC for 25 years, much less the A Chorus Line sagas.
When I first met Michael Bennett in 1979 while playing Kristine in Boston, I was immediately drawn into his lightening-speed life force, his charismatic personality, and his deep passion for his work. In his sparkly brown eyes, one could see that he knew exactly what he wanted, how he felt, how he was going to get that "moment" out of an actor. Still I was intrigued and loved him the first time I saw him in person. I wanted to please him and – luckily he liked my work.
Michael danced full out at some rehearsals and demanded the same. So one by one we had to do the jazz combination alone onstage with the drummer. I was so terrified. I felt sort of like I was having an out of body experience where I was still dancing but my feet and knees felt like mush and I had to look down to see if they were still there.
One of my sweetest memories of Michael was sitting at a piano backstage in Buffalo, NY (Michael's hometown). A couple of us were making up tunes and lyrics and Michael sang along a line or two and rightly said, "I can't sing on pitch." We all laughed and I consoled him. That day we met his mom and family and I believe he was given his high school diploma and a key to the city.
Most of the students at U of M have never seen the stage version of A Chorus Line and because of that they breath new life, creativity, humor, reality, and a fresh depth into these 26 characters so many of us have come to know and love. I love this beautiful little Mendelssohn theatre. Michael Bennett would be known to comment "We never used to need microphones." I commend the wonderful collaboration of teachers, students, cast, crew, orchestra and production department. Special thanks to Musical Director Cynthia Westphal and my assistant Billy Johnstone. Lastly, thank you dear audience for coming to re-live and share some of your own memories of feeling close to A Chorus Line.
— PEACE! Kerry Casserly
P.S. To the U of M students, just remember the advice of Paul, Cassie, Greg, and Diana: "without an education you can't get a good job," "you're all special," "one day at a time is enough to deal with," "the gift is yours to borrow," "Do it for Love!"
[/accordion][accordion title="About A Chorus Line"]
On July 25, 1975, A Chorus Line opened on Broadway at the Shubert Theatre. It closed there on April 28, 1990 after 6,137 performances. For some time, it held the record as the longest-running musical in history. While all shows are a result of collaboration, A Chorus Line particularly owed its success to its true creator, Michael Bennett. Never had a director-choreographer been so dominant in a show's formation. While Bennett knew that it had to have commercial audience appeal, he wanted a show that spotlighted "gypsies" (a theatrical term for chorus dancers). He wanted to honor a dancer's life.
Throughout his previous musicals, Bennett created a style of choreography that remained unique to each particular show. At the top of his form with A Chorus Line, he incorporated what he called "cinematic staging." There was constant "jump-cutting" as the audience's attention was shifted from one figure to another. Bennett brought things into sudden focus as in a film through stage dissolves, close-ups, montages and wipes. Equally effective, creative and dramatic was Bennett's use of mirrors in the show. It was musical staging that went beyond anything other musicals had ever presented.
A Chorus Line began as a workshop "share" session. A group of dancers met after rehearsals for other shows to talk about their personal and professional lives. The sessions were tape recorded, written down, and a musical libretto was pieced together. Playwright/novelist James Kirkwood and former dancer Nicholas Dante assembled the book. Academy-award winner Marvin
Hamlisch composed the music and the relatively unknown Edward Kleban wrote the lyrics. Their combined work, guided closely by Bennett, resulted in a staging scheme that filled the songs and book with overlapping layers. Neil Simon was called in to do some uncredited book doctoring, adding some of the great one-liners.
The formation of the show took place during a lengthy series of workshops that allowed Bennett's many creative re-thinkings to develop. His methods did not always sit well with his cast, but Bennett's determination held firm. Joseph Papp, through his New York Shakespeare Festival, became the show's producer. He provided the essential funding, rehearsal/workshop space, and unusually generous time for the show to take shape.
A Chorus Line opened to almost unanimous rave reviews and ran for fifteen years. It won almost every award possible, including the Pulitzer Prize for Drama. It received nine 1976 Antoinette Perry Awards: Best Musical, Best Director of a Musical (Michael Bennett), Best Choreographer (Michael Bennett), Best Book (James Kirkwood & Nicholas Dante), Best Score (Marvin Hamlisch & Edward Kleban), Best Actress in a Musical (Donna McKechnie – Cassie), Featured Actress in a Musical (Carole Bishop – Sheila), Featured Actor in a Musical (Sammy Williams – Paul), and Lighting Designer (Tharon Musser).
While this musical about musicals focused on the lives of dancers, general audiences found that the show spoke to their individual lives and experiences. In the Playbill, the show was dedicated "to anyone who has ever danced in a chorus or marched in step… anywhere." However, it seemed to be professional performers and future hopefuls who were most affected by A Chorus Line. Ask almost any dancer or actor who saw it and they will tell you it provided a spark or moment of inspiration that pulled at some part of their souls. In some way, they found their own stories on that stage with all the joys and disappointments, fears, memories, and hopes.
A Chorus Line was the perfect combination of artistic achievement and popular appeal. As A Chorus Line ran on, Michael Bennett went on to Ballroom (1979) which had a disappointing run but brought Bennett another Tony for choreography. Then came the enormous hit Dreamgirls (1981) and yet another Tony for choreography. On September 29, 1983, A Chorus Line became the longest running Broadway show ever with performance number 3,389. For that special night, Bennett re-staged the show so that each number featured current and past members of the Broadway, touring and international casts. The highlight was the finale, with 338 dancers sharing the stage.
Michael Bennett began work on two more projects, Chess and Scandal, but never finished. He died on July 2, 1987 at his home in Tuscon, the official cause being lymphoma, an AIDS-related form of cancer. The man who was "one singular sensation" was gone at the age of 44. On Broadway, A Chorus Line was still playing and his dances were still being performed. He had kept his illness quiet, so there were no final tributes in his final days. No bows, just a fade out. A dancer's life.
— William J. McKay, 1998
From www.musicals101.com
[/accordion]
Media
Program
Photos
[cycloneslider id="04-05-chorus-line"]