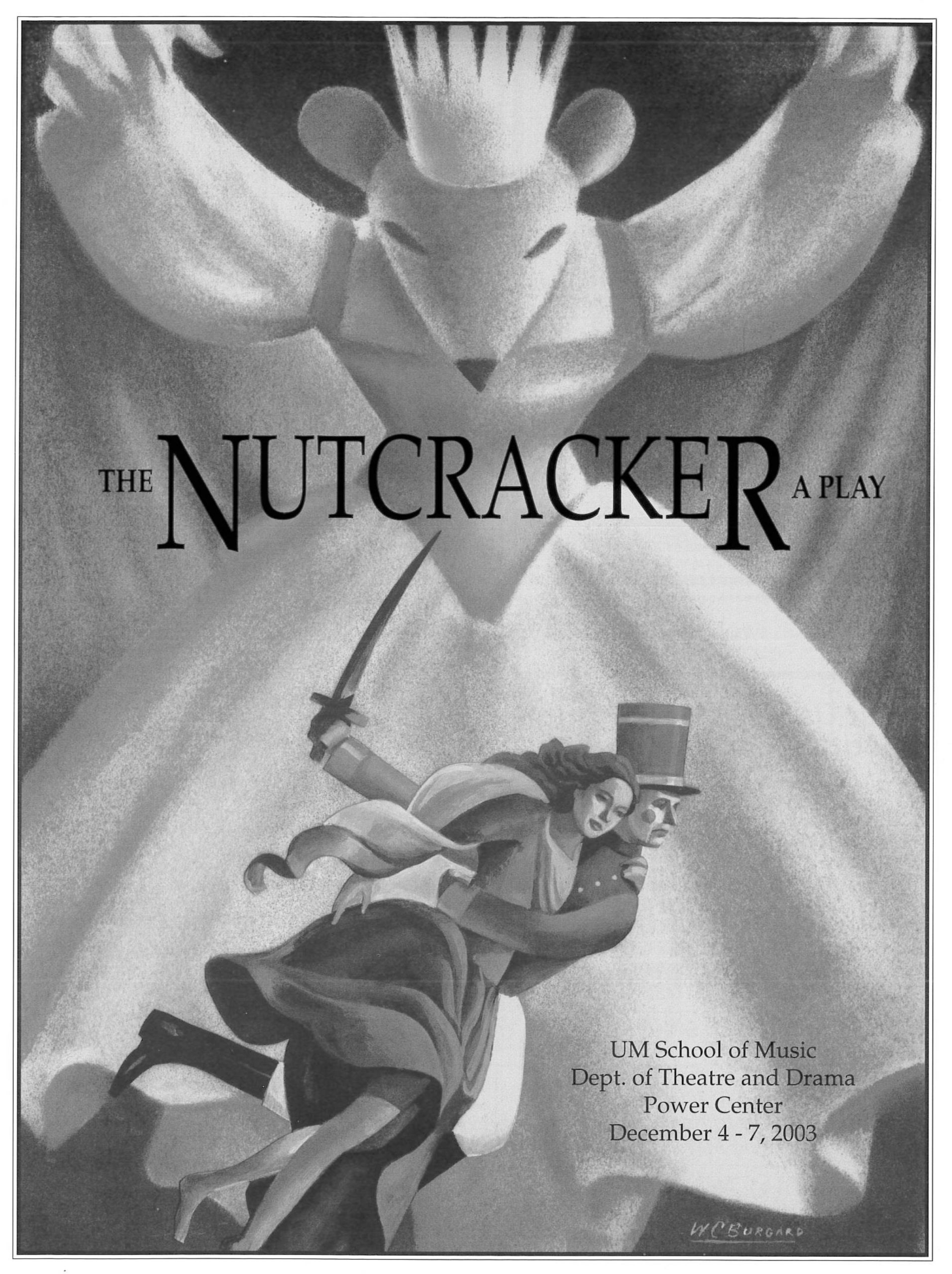 The Nutcracker
a play by David Hammond
Based on the fairy tales of E.T.A. Hoffmann
Department of Theatre & Drama
December 4-7, 2003 • Power Center

Most people are familiar with the ballet version of The Nutcracker, a staple of American holiday theatre. However, most ballets are based on an adaptation of E.T.A. Hoffmann's 1816 children's fable which eliminated much of Hoffmann's story. Born in 1776, Ernst Theodor Amadeus Hoffmann was deeply interested in music, but failed as a composer. Better known for his literary works, which influenced such authors as Gogol, Pushkin, and Poe, Hoffmann's short story "The Nutcracker and the Mouse King" offers a more dramatic and theatrical version than the ballet typically treats. The dramatic adaptation of the story by David Hammond, which premiered at PlayMakers Repertory Theatre in North Carolina, allies the play more closely with the original Hoffmann fable to include the heart of Hoffmann's original novella, The Story of the Hard Nut. According to Hammond, "[Hoffmann's story] had the great line that a classic fairy tale has…the classic romance where a young couple goes into an enchanted place where they undergo trial and then they emerge better informed, better equipped to deal with the real world."
The production starts out as people familiar with the classic tale might expect: Marie Stahlbaum and her brother Fritz enjoy their family's Christmas party, relishing their gifts, most particularly the nutcracker presented to them by their mysterious Godfather Drosselmeier. During the night Marie fancies that a party of agile rodents, led by the evil Queen Mouserinks, comes to steal the nutcracker. Drosselmeier comforts her by telling her "The Story of the Hard Nut," a tale of true love between a brave lad named Christian who has been transformed into a nutcracker until, once every hundred years, he has the opportunity to crack the hardest nut in the land and break the curse placed on his true love, a beautiful princess. The children and Drosselmeier are drawn into the mysterious world of the mice in an effort to break the spell. Absent in the production are the Sugar Plum Fairy and her world of sweets. Instead, the story focuses on Christian's struggle to regain his humanity from the evil Queen Mouserinks and her cohorts.
Artistic Staff
Director: John Neville-Andrews
Scenic and Lighting Designer: Rob Murphy
Costume Designer: Christianne Myers
Sound Designer: Henry Reynolds
Wig Designer: Dawn Rivard
Choreographer: Christine Naughton Shawl
Original Music: Katie Kring
Aural Effects: Scott Jaeger
Stage Manager: Alix Malloy
Cast
Narrator: Judy Dow Rumelhart
The Stahlbaum Household
Dr. Stahlbaum: John Hill
Frau Stahlbaum: Leta Nikulshina
Marie: Alicia K. Guldberg
Fritz: Matthew Stephen Smith
Louise: Kellie Matteson
Aunt Clara: Phyllis Wright
Majordomo: James Piper
Footmen: Edmund Alyn Jones, Rob Sulaver
The Drosselmeiers
Godfather Drosselmeier: Steven Whiting
Christian: Chris Allen
Christmas Party Guests
Frau Overbaer: Karenanna Creps
Peter Overbaer: David Abed
Hansel Overbaer: Adam Miller-Batteau
Party Guests: Eduardo Del Carmen, Justin Patrick Holmes, Meghan Powe, Alexandra Reed
The Story of the Hard Nut
King: Eduardo Del Carmen
Queen: Meghan Powe
Princess Perlipata: Alexandra Reed
Prince: Justin Patrick Holmes
Soldiers: David Abed, Kevin Bradley Jr., Eduardo Del Carmen, Justin Patrick Holmes, Edmund Alyn Jones, Rob Sulaver
The Kingdom of the Mice
Queen Mouserinks: Franchesca Ramsey
Mouse Prince: Aubrey Levy
Spider: Annette Masson
Mice: Kirsten Mara Benjamin, Allison Brown, Joanna Fetter, Jen Freidel, Kimberly Harberg, Courtney Harge, Anna Heinl, Rachael Soglin
Sponsors
The Department of Theatre and Drama extends deep appreciation to Thomas ('62 BS Engineering) and Polly ('63 BA LSA) Bredt, whose major gift has made the special effects in this production possible.
This production is also sponsored in part by the University of Michigan Credit Union.
The School of Music acknowledges the generosity of McKinley Associates, Inc. whose support has helped make this production possible.
Resources
[accordion title="Notes on the Play"]
Fairy tales, unlike any other form of literature, direct the child to discover his identity and calling, and they also suggest what experiences re needed to develop his character further. Fairy tales intimate that a rewarding, good life is within one's grasp despite adversity – but only if one does not shy away from the hazardous struggles without which one can never achieve true identity. These stories promise that if a child dares engage in this fearsome and taxing search, benevolent powers will come to his aid, and he will succeed. The stories also warn that those who are too timorous and narrow-minded to risk themselves in finding themselves must settle down to a humdrum existence – if an even worse fate does not befall them.
– Bruno Bettelheim, The Uses of Enchantment
Little Red Riding Hood was my first love. I felt that if I could have married Little Red Riding Hood, I should have known perfect bliss.
– Charles Dickens
E.T.A. Hoffmann's tales mark the pivotal shift between classicism and romanticism in literature. His three fairy tales, The Nutcracker and the Mouse King, The Mysterious Child, and Master Flea, are structured around a confrontation between good and evil, and the gap between humanity's ideal vision of life and its daily existence. They present a better world, as one of his characters says, for "those who have eyes to see it." They open up a world of beauty to children and to those of us still capable of tapping into our own childlike temperament.
The Nutcracker is perhaps Hoffmann's most familiar work; however its familiarity is due to our knowledge not of his fairy tale, but of the Tchaikovsky ballet. As Jack Anderson's book, The Nutcracker Ballet, makes clear, there is a huge difference between the ballet and Hoffmann's original tale. The ballet's scenario is a hybrid concoction by Tchaikovsky's collaborators, Ivan Ajexandrovitch Vsevolojsky, director of St. Petersburg's Imperial Theater, and the choreographer, Marius Petipa. Rather than returning to Hoffmann's tale, the two writers based their scenario on Alexandre Dumas' popular French version of the story, The Nutcracker of Nuremberg. The balletic version, so familiar to audiences today, not only smooths out the difficult, confusing aspects of Hoffmann's plot, it also removes its dark, weird underbelly. Tchaikovsky's score, with its erotic suggestions, is much closer in tone to Hoffmann's original tale.
The major dramatic problem with the Nutcracker ballet is its elimination of Hoffmann's tale within a tale, "The Story of the Hard Nut." "The Story of the Hard Nut" gives the tale coherent dramatic sense and deeper psychological meaning. It is important not only for plot development, but because it presents a rather harsh satire of life dominated by humanity's more primitive instincts. Hammond's adaptation of The Nutcracker restores "The Story of the Hard Nut" and makes it plain that the battle between the mice and the nutcracker is ultimately resolved in victory through the determined faith of an innocent child. That child comes to realize that she can only grow herself if she aids another human being. Hoffmann's entire theme is encapsulated in the figure of the nutcracker himself who, constantly manipulated by others, can only become human through the selfless devotion of another.
– Courtesy Adam Versenyi, Dramaturg, PlayMakers Repertory Company and Professor of Dramaturgy, Univ. of North Carolina – Chapel Hill
[/accordion]
Media
Program