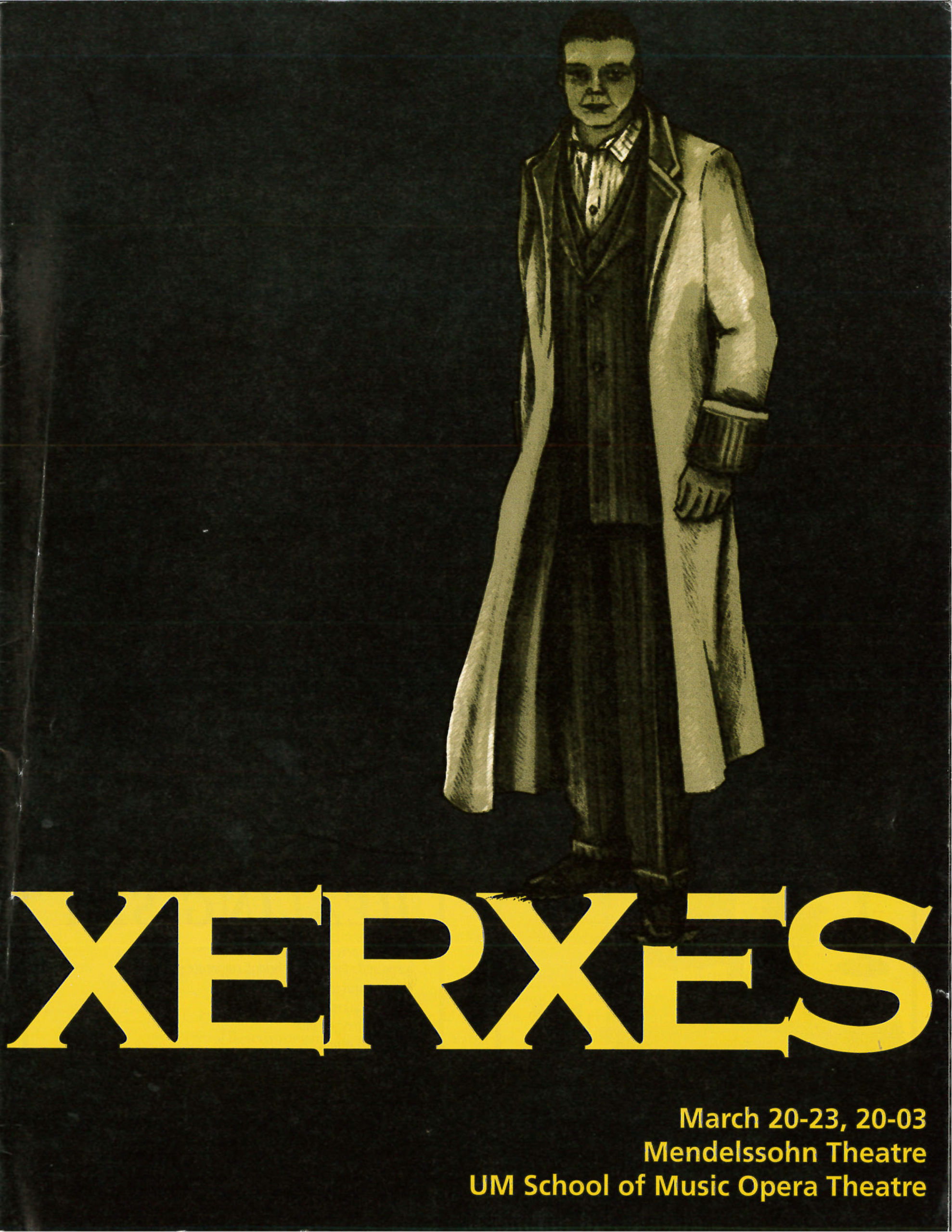 Xerxes
An opera in three acts by George Frideric Handel
Libretto by Niccolò Minato revised by Silvio Stampiglia
Edited by Charle Mackerras and Noel Davies
English version by Nicholas Hytner
University Opera Theatre • University Philharmonia Orchestra
March 20-23, 2003 • Lydia Mendelssohn Theatre
Artistic Staff
Director: Joshua Major
Conductor: Jonathan Shames
Assistant Conductor: Laura Jackson
Scenic Designer: Vincent Mountain
Costume Designer: Christianne Myers
Lighting Designer: Rob Murphy
Wig Designer: Guy Beck
Vocal Coach: Timothy Cheek
Chorus Master: Gabriella Hristova
Musical Preparation: Jeremy Frank, Steven McGhee
Stage Manager: Ellen Marie Peck
Cast (Thursday-Saturday/Friday-Sunday)
Xerxes: Megan Besley/Peiyi Wang
Romilda: Katherine Wessinger/Claire Molloy
Arsamenes: Jennifer Raggett/Elise Quagliata
Atalanta: Valerie E. Ogbonnaya/Annie Radcliffe
Amastris: Mirna Rubim/Aviva B. Ezring
Ariodates: John Seesholtz/Bryan Estabrooks
Elviro: Tyler T. Oliphant/David Wilson
Ensemble: Rebecca Elisabeth Blinder. Jennah Leigh Delp, Rebecca Eaddy, Sara Emerson, Nathan Evenson, Andrew C. Hill, Amanda Kingston, Suzanne Klock, Daniel Knaggs, John McLaughlin, Katherine Montgomery, Andy Papas, Carolyn Senger, Tobias Singer, Fernando Tarango, Adrienne Webster
Sponsors
The media sponsor for Xerxes is classicalmusicdetroit.com
The School of Music, Theatre & Dance acknowledges the generosity of McKinley Associates, Inc. whose support has helped make this production possible.
Resources
[accordion title="From the Director"]
Imagine being in a rowboat, leaving the shore and heading out into the ocean. The oars become useless as the sea picks you up and carries you into a void. Lost, the only hope is that the waves will eventually bring you safely back to shore. Handel takes us on an emotional journey, disassembling us and then putting us back together, more knowing and complete than when we started.
Handel explores emotional response to action and stimulus. He takes a simple human emotion, such as longing, betrayal, love, jealousy, and explores the vicissitudes of that response. The complete experience of an emotion is illuminated in breathtaking melody, harmony, and singing. Handel demands total commitment from the performers; it is the most vulnerable experience a singer can have. I urge you to accept Handel's style of storytelling, embrace his sense of time and applaud the work of these extraordinary singers.
On a more personal note, I would like to express my pride in the students of our school for tackling two of the most difficult operas that I have ever programmed at the University. Both The Cunning Little Vixen and Xerxes present musical and dramatic challenges that far exceed the demands of most opera repertoire. The level of commitment, excellence, and artistry this season has moved me deeply and filled me with enormous pride.
– Joshua Major
[/accordion][accordion title="Synopsis"]
Act I
Xerxes, after contemplating the beauties of a tree in his garden, is struck by the singing of Romilda, the daughter of Ariodates, Commander of his army. He tells his brother, Arsamenes, to inform Romilda of his admiration for her; but Arsamenes is in love with Romilda himself, and refuses to help. Xerxes resolves to do his own wooing. Arsamenes warns Romilda, who reciprocates his love, of Xerxes' passion. Atalanta, Romilda's sister who secretly also loves Arsamenes, decides to do what she can to encourage the King, who soon appears, and finding his overtures rejected by Romilda, banishes Arsamenes from his court. Meanwhile Amastris, a foreign princess betrothed to Xerxes, arrives disguised as a man, unable to bear her separation from him. She watches Xerxes receive Ariodates and his army back from a successful campaign. The King announces that he will reward Ariodates by arranging for Romilda a match with one of his own family. Amastris then overhears him talk about his new passion, and when she approaches him, she does not reveal who she is; later, she swears revenge. Arsamenes sends his servant, Elviro, with a letter to Romilda. Atalanta tries to persuade Romilda that Arsamenes is unfaithful, but fails. She decides, nevertheless, to persevere in her attempt to win Arsamenes' love.
Act II
Elviro, disguised as a flower-seller, tells Amastris about Xerxes' passion for Romilda; he then delivers Arsamenes' letter to Atalanta, who promises to pass it on to Romilda; Atalanta tells Elviro that her sister has succumbed to Xerxes' proposals. She then gives the letter to Xerxes, persuading him that it was written to her, and that Arsamenes' feigned love for Romilda is only a front for his real love for her. Xerxes shows the letter to Romilda, who seems convinced that it is indeed meant for Atalanta; but she continues to reject Xerxes. Amastris attempts suicide, but is restrained by Elviro. Elviro tells Arsamenes what Atalanta told him – that Romilda has yielded to the King. Xerxes unveils the Bridge to Europe, which is planned to facilitate an armed invasion. Turning to more pressing concerns, he finds Arsamenes and tells him that he knows of his real love for Atalanta. Arsamenes reasserts his love for Romilda. Elviro witnesses the collapse of the Bridge, destroyed by a storm. Amastris watches as Xerxes makes another attempt to seduce Romilda. Amastris intervenes, and is only saved from arrest when Romilda persuades Xerxes' guard to release her. Romilda swears to remain faithful to Arsamenes.
Act III
Romilda and Arsamenes discover that Atalanta has been scheming to separate them. Atalanta admits defeat. Arsamenes hides as Xerxes makes his most threatening advances so far; in terror, Romilda agrees to marry him if her father consents. Xerxes leaves to find Ariodates, and Arsamenes turns furiously on Romilda. Xerxes gains Ariodates' consent for Romilda's marriage to a man of his own kin: he still does not reveal he has himself in mind, preferring to marry her before any discussion about her lack of royal blood can occur. Ariodates assumes Romilda's intended is Arsamenes. When Xerxes returns to claim Romilda, she casts doubt on her own virtue. Xerxes furiously orders his brother's death; Romilda tries to warn Arsamenes of the danger he faces, but he prefers to believe she is trying to get rid of him. Ariodates waits for the bride and bridegroom, and when Romilda and Arsamenes arrive, still arguing fiercely, he hurries them off to be married. Xerxes appears just in time to be told that they are man and wife. He commands Arsamenes to kill Romilda, but Amastris steps forward and reveals who she is. She forgives him for his infidelity, and he has no alternative but to agree to marry her.
[/accordion]
Media
Program