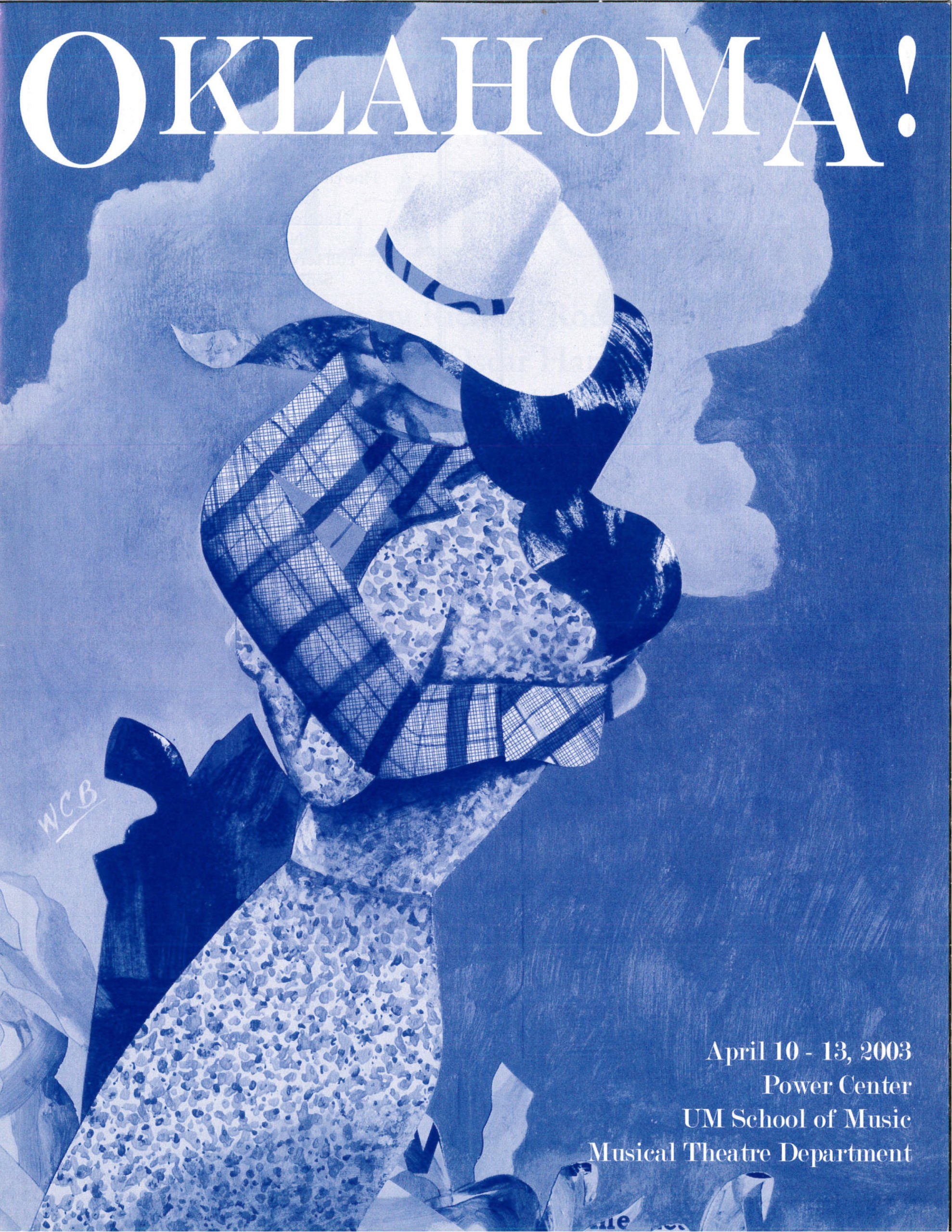 Oklahoma!
Music by Richard Rodgers
Book and lyrics by Oscar Hammerstein II
Based on the play Green Grow the Lilacs by Lynn Riggs
Department of Musical Theatre
April 10-13, 203 • Power Center
Artistic Staff
Director/Choreographer: Linda Goodrich
Musical Director/Conductor: Karl Shymanovitz
Dream Ballet Choreographer: Mark Esposito
Scenic Designer: Arthur Ridley
Costume Designer: Jessica Hahn
Lighting Designer: Mark Allen Berg
Sound Designer: Roger Arnett
Wig Designer: Dawn Rivard
Fight Director: Dan Granke
Dialect Coach: Annette Masson
Stage Manager: Alix Malloy
Cast
Aunt Eller: Alli Foss
Curly: Brian Hissong
Laurey: Melissa Gietzen
Ike Skidmore: Brad Frazier
Slim: Thomas Berklund
Will Parker: David Baum
Jud Fry: Nich Kauffman
Ado Annie Carnes: Toni Trucks
Ali Hakim: Jeremy Leiner
Gertie Cummings: Tara Siesener
Andrew Carnes: Jumanne Langston
Cord Elam: Michael McGovern
Dream Laurey: Leslie Frankel
Dream Curly: Garrett Miller
Postcard Girls: Marisa Dickmeyer, Anne Horak, Megan Reinking
Ensemble: Nicholas Ardell, Whitney Bashor, Thomas Berklund, Nick Blaemire, Lori Brooke Cohan, Ariel De Young, Marisa Dickmeyer, Tessa Elliott, Kevin B. Field, Elizabeth Filios, Monique French, Scott Gordon, Kevin Hale, Allie Harris, Anne Horak, Justin Keyes, Dana Kraft, Chelsea Krombach, Kate Loprest, Brian Mazzaferri, Casey MacDonald, Spencer MacDonald, Michael McGovern, Alex Michaels, Keewa Nurullah, Megan Reinking, Stella Rodriguez, Alexis Sims, Brian Spitulnik, Gene Swingle, Kirstyn Wade, Tessa Waldheger, Garret Weng, Tyler Weng, Paul V. Wyatt
Swing: Jenni Barber
Sponsors
The School of Music acknowledges the generosity of McKinley Associates, Inc. whose support has helped make this production possible.
Media
Program