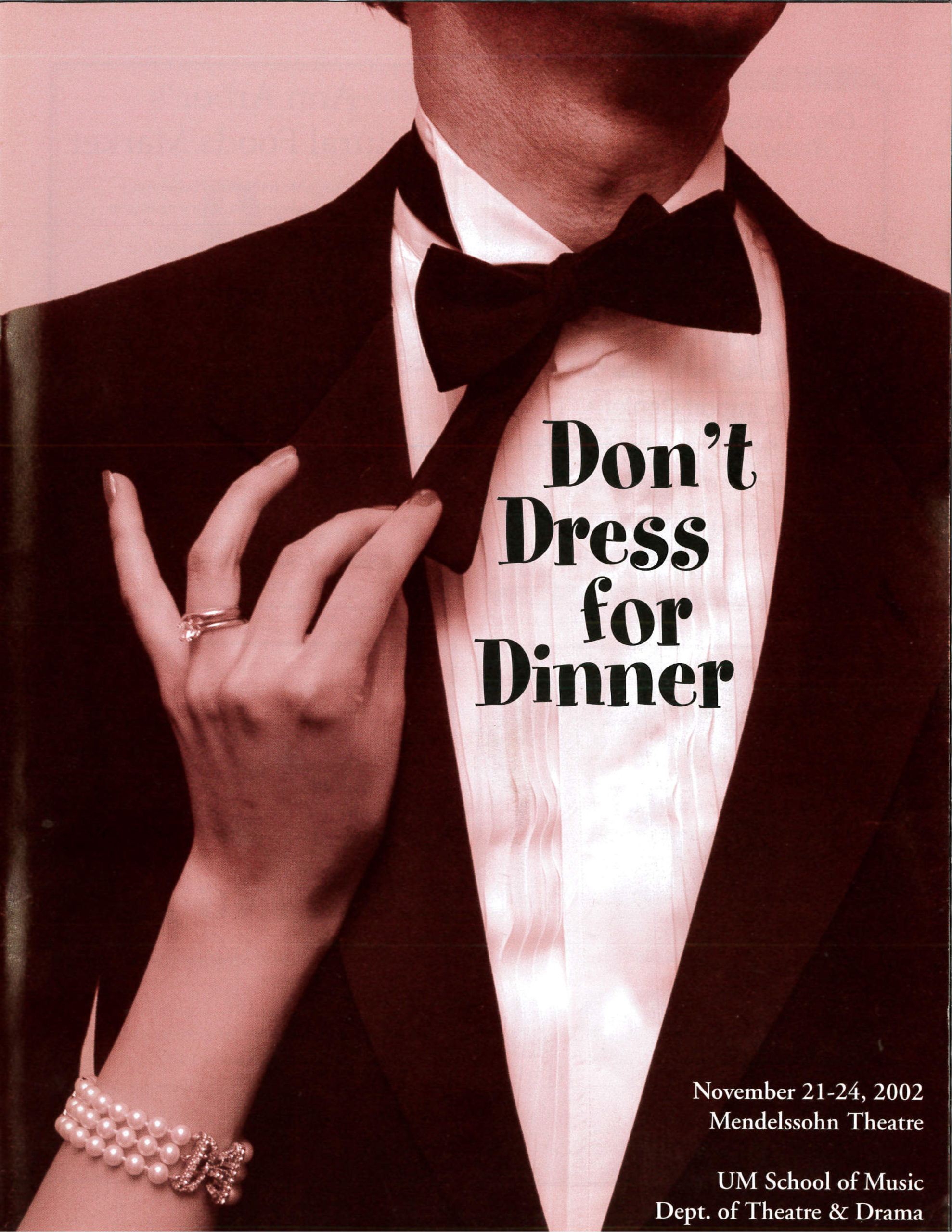 Don't Dress for Dinner
by Marc Camoletti
Adapted by Robin Hawdon
Department of Theatre & Drama
November 20-23 • Lydia Mendelssohn Theatre

Artistic Staff
Director: John Neville-Andrews
Scenic Designer: Gary Decker
Costume Designer: Edith Leavis Bookstein
Lighting Designer: Rebecca A. Hibbs
Vocal Coach: Annette Masson
Assistant Director: Margaret Brenner
Stage Manager: Amanda Heuermann
Cast
Bernard: Adam H. Caplan
Jacqueline: Téhaura Henning
Robert: Brian Luskey
Suzette: Anika Habermas-Scher
Suzanne: Anna Heinl
Giorgio: Aubrey Levy
Sponsors
The School of Music acknowledges the generosity of McKinley Associates, Inc. whose support has helped make this production possible.
Resources
[accordion title="Director's Notes"]
Much maligned by some purists because it's superficial, and by some theatre critics because it's low comedy, farce remains a staple of theatre production, and continues to delight audiences around the world. Low comedy? Yes. Obvious? Yes. Uproarious? Yes. And that's the point. Present day farce – Run for your Wife; Not with My Wife You Don't; No Sex Please, We're British; Don't Dress for Dinner; and probably the best known and best loved modern farce, Noises Off, are not ambiguous. The very titles of these shows indicate exactly what we're in for – a funny evening in the theatre.
Farce has been compared to watching two freight trains hurtling toward each other on the same track. At the last second they veer left and right onto two unseen sidings, narrowly missing collision and impending disaster. This is the image actors carry in their heads as they present farce: how do I stay on track, achieve my objective, and narrowly miss catastrophe. We, the audience, thrill to see the characters caught up in the seemingly unavoidable whirlwind of calamity, and delight in the antics they go through to circumvent a nasty collision.
We go to see a farce not to witness a Medea, a King Lear, or a Willy Loman, but to view actors portraying broad characters, while placed in absurd situations and moving physically and mentally so swiftly, that double-entendre, pratfalls and door slams are unavoidable. Farce does not target the intellect or the heart, its aim is the funny bone. The plots are full of surprises, mistaken identity, misinterpretations and double-takes. Whatever the chaotic circumstances, the characters in a farce persist, trusting that their luck will prevail and all will be fine in the end, which it usually is. So sit back, don't think too much or look too deep, let your funny bone take over, and enjoy an unadulterated farce.
– John Neville-Andrews
[/accordion]
Media
Program