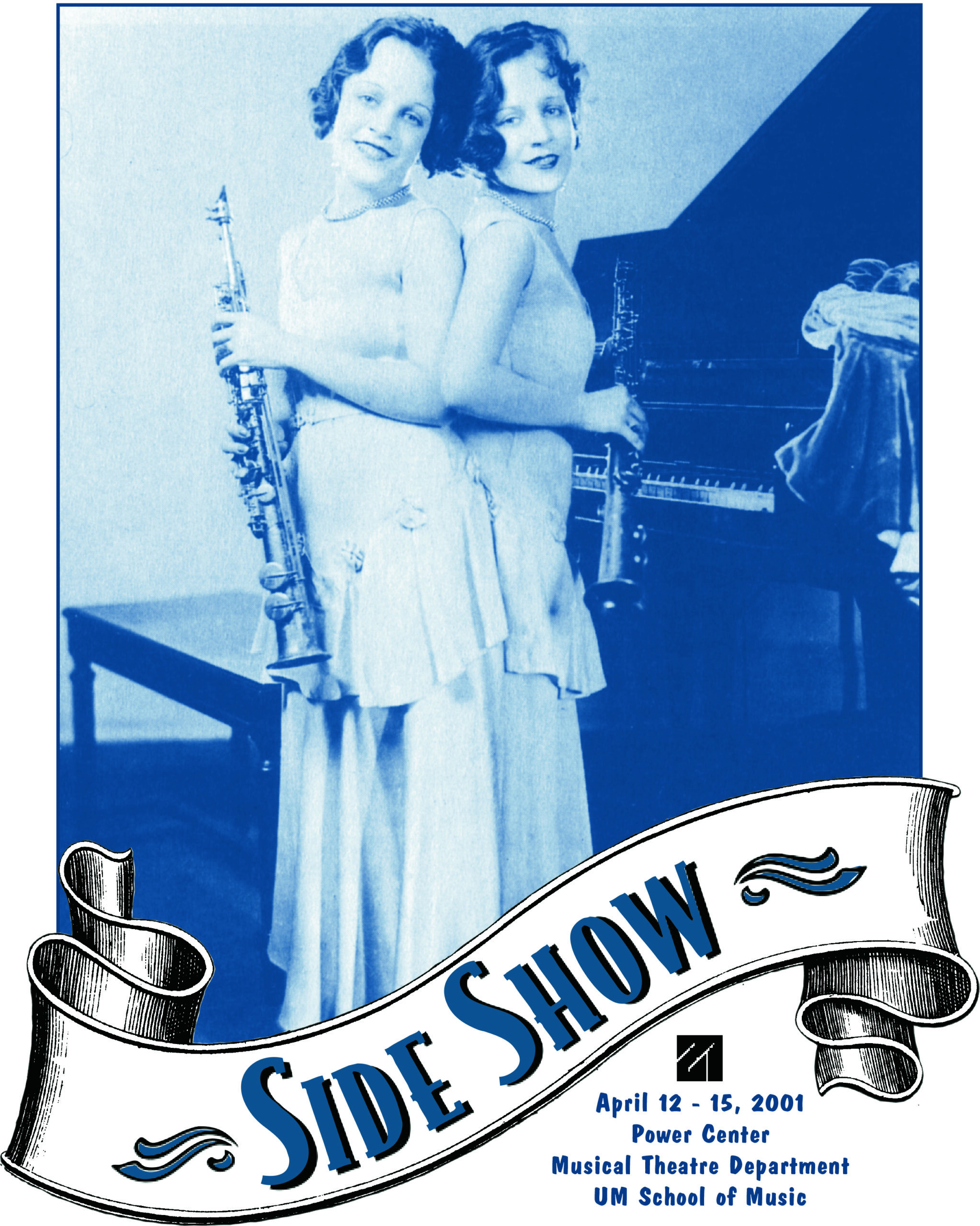 Side Show
Book and Lyrics by Bill Russell
Music by Henry Krieger
Department of Musical Theatre
April 12-15, 2001 • Power Center

Side Show is a heart-warming story of two sisters searching for love and fame. Inspired by the true story of conjoined twins Daisy and Violet Hilton, the musical touches on the universal need for acceptance and the strength of the human spirit.
Daisy and Violet Hilton were born in 1908 to an impoverished, unmarried, sixteen year-old barmaid in England. Joined at the base of their spine, the girls were sold by their mother to Mary Hilton who immediately began to showcase the girls. Trained to sing, dance, and play instruments, the twins became popular in Europe, moving to the United States in 1916. By the time Daisy and Violet were 15, they were among the highest paid performers in the nightclub and vaudeville circuit, although the girls were virtually enslaved by their guardian. At the age of twenty-three, the twins were freed by a San Antonio court order to embark on a career of their own as the "Hilton Sisters Revue." A brief film career in the B-grade films Freaks (1932) and Chained for Life (1951) marked their heyday.
Robert Longbottom was working with writer/lyricist Bill Russell on Russell's musical Pageant when he chanced upon Chained for Life and mentioned the story of the Hiltons to Russell. Fascinated by the story, Russell contacted composer Henry Krieger to collaborate on a musical based on the twin's lives. Krieger, who has earned Tony Awards for his scores for Dreamgirls and The Tap Dance Kid, jumped on the project. Side Show opened to critical acclaim on Broadway in October of 1997. Vincent Canby of The New York Times declared the show "a fascinating mix of old-fashioned Broadway and a sharp contemporary sensibility." Despite its critical success, the show floundered in sales, announcing its close in January of '98. Response to the closing was immediate, with fans holding rallies on Times Square urging people to see the show and Rosie O'Donnell featuring the cast twice on her talk show, ultimately selling out the final two weeks of the production. In a year filled with outstanding musicals on Broadway including Ragtime and The Lion King, Side Show garnered an astonishing three Tony Award nominations for best musical, score, and book of a musical. In a surprising move, the combination of Emily Skinner and Alice Ripley was nominated for a Tony Award for best actress in a musical for their portrayal of Daisy and Violet. While its Broadway run was modest, Side Show has been produced extensively in regional theatres to continued critical acclaim and commercial success.
Artistic Staff
Director/Choreographer: Linda Goodrich
Musical Director/Conductor: Ben Whiteley
Scenic Designer: Arthur Ridley
Costume Designer: Erika Furey
Lighting Designer: Aaron Sporer
Sound Designer: Roger Arnett
Wig Designer: Guy Beck
Associate Musical Director: Grant Wenaus
Stage Manager: Melissa Spengler
Cast
Roustabout/Ensemble: Stan Bahorek
Roustabout/Ensemble: David Baum
Buddy Foster: Ryan Patrick Binder
Flip: Sean Clifford
Violet Hilton: Cian Coey
Fortune Teller/Ensemble: Christy Faerber
Patron/Ensemble: Allison Foss
Harem Girl/Ensemble: Leslie Frankel
Pinhead Mother/Ensemble: Monique French
Roustabout/Ensemble: Adam C. Fry
Pinhead/Ensemble: Nick Gabriel
Bearded Lady/Ensemble: Kevin Hale
Daisy Hilton: Leslie Henstock
Roustabout/Ensemble: Brian Hissong
Patron/Ensemble: Patrice Karavas
Reptile Man/Ensemble: Nich Kauffman
Fakir/Ensemble: Jeremy Leiner
Geek/Ensemble: Jeff Meyer
Roustabout/Ensemble: Garrett Miller
Jake: Justin Miller
Sheik/Ensemble: Jesse Nager
6th Exhibit/Ensemble: Brynn O'Malley
Harem Girl/Ensemble: Annie Ramsey
Harem Girl/Ensemble: Megan Reinking
Terry Connor: Rob Rokicki
Roustabout/Ensemble: Chris Sederstrom
Pip: Darryl Semira
Dolly Dimples/Ensemble: Tara Siesener
Snake Lady/Ensemble: Toni Trucks
Pinhead/Ensemble: Erin Webley
Patron/Ensemble: Kristin Williams
The Boss: Nathan Younger
The Side Show cast also plays Reporters, Vaudevillians, the Follies Company, Party Guests, Radio Show Singers, and Hawkers.
Understudies
Buddy: Stan Bahorek
Violet: Christy Faerber
Terry: Adam C. Fry
Daisy: Megan Reinking
Dance Captains: Sean Clifford, Garrett Miller
Sponsors
The School of Music acknowledges the generosity of McKinley Associates, Inc. whose support has helped make this production possible.
Media
Program