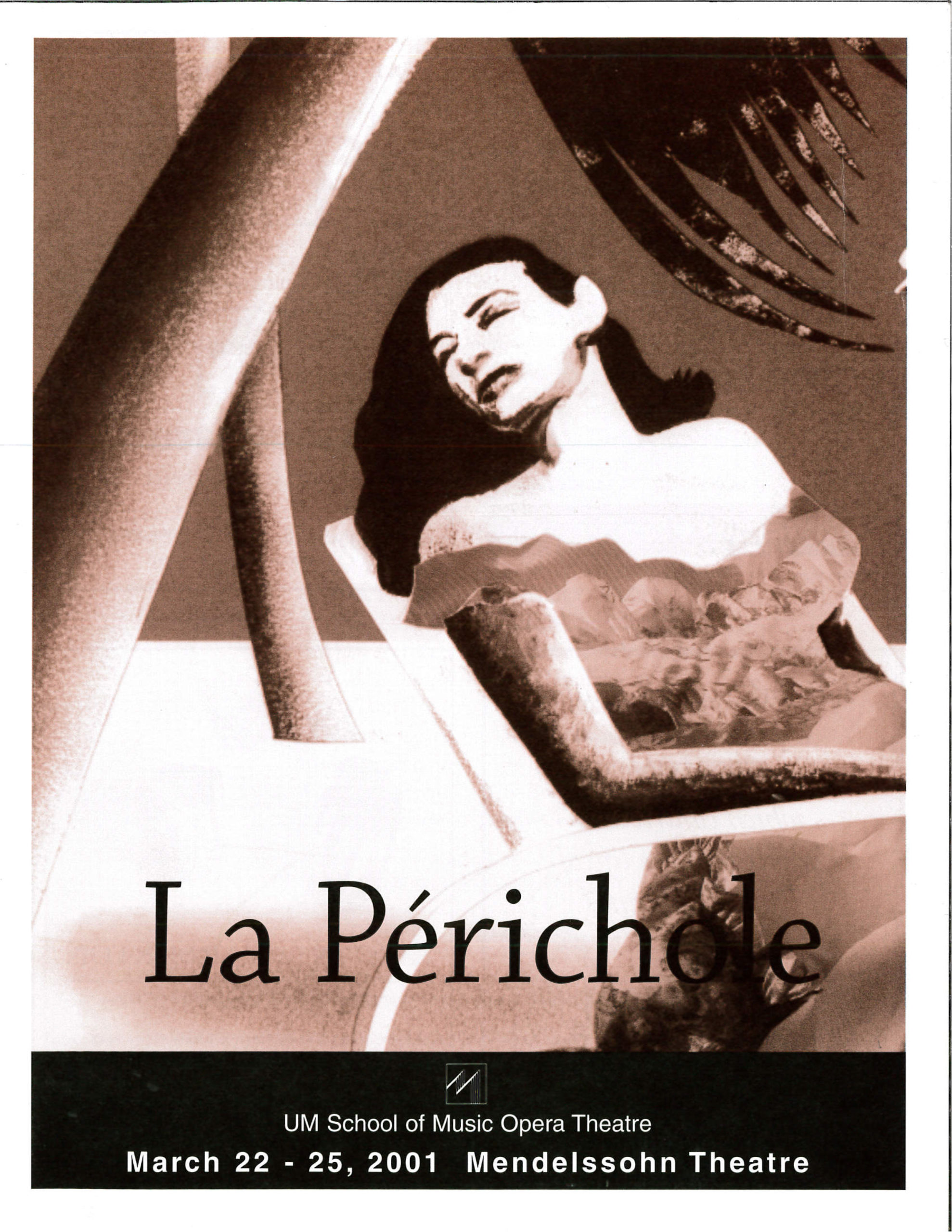 La Périchole
By Jacques Offenbach
English version by Maurice Valency
Orchestration by Julius Burger
University Opera Theatre • University Philharmonia Orchestra
March 22-25, 2001 • Lydia Mendelssohn Theatre
Artistic Staff
Director: Joshua Major
Conductor: Steven Byess
Assistant Conductor: Andrew George
Scenic Designer: Vincent Mountain
Costume Designer: Meghann O'Malley
Lighting Designer: Heather Chockley
Choreographers: Lisa Catrett-Belrose, Joshua Major
Chorus Master: Scott Hanoian
Diction Coach: Timothy Cheek
Dialogue Coach: Mark Madama
Chorus Master: Brandon Brack
Musical Preparation: Luiz Ballestero, Lynn Kompass
Wigs and Makeup: Guy Beck
Stage Manager: Emily Cornelius

Cast (Thursday-Saturday/Friday-Sunday)
Guadelena: Kimberley Dolanski/Beverly Schneider
Estrella: Alissa Mercurio/Jennifer Johnson
Virginella: Jean Broekhuizen/Megan Besley
Don Andres de Ribiera, Viceroy: Tyler T. Oliphant
Don Pedro de Hinoyosa, Governor: Mark Edward Kent
Count of Panatellas: Michael Gallant
Marquis de Tarapote/Lord Chancellor: Thomas Oram
La Périchole: Kira Slovacek/Kindra Scharich
Paquillo: Jesse Blumberg/Nicholas Phan
First Notary/Policeman: Nick Edwin
Second Notary/Policeman: Chris Temporelli
Brambella: Rachael Crim
Ninetta: Deborah Selig
Manuelita: Lindsay Pettitt
Frasquinella: Amanda Thomas
Old Prisoner: Chris Meerdink
The Turnkey: Ryan C. Steinman
Ensemble
Soprano: Donna Bareket, Kathryn Drake, Valerie Ogbonnaya, Annie Radcliffe
Alto: Leah Dexter, Dory Mead, Ellen PutneyMoore, Rachael Solomon
Tenor/Bass: Sean Panikkar, David Wilson
Sponsors
The School of Music, Theatre & Dance acknowledges the generosity of McKinley Associates, Inc. whose support has helped make this production possible.
Resources
[accordion title="Synopsis"]
Act I
The patrons of the Three Cousins' Inn drink to the viceroy on his birthday. The viceroy arrives incognito though everyone knows it is him. Two street singers – La Périchole and Paquillo – entertain the crowd in hopes of earning the price of the wedding fee so they can marry. Unable to do so, Paquillo goes off to try his hand elsewhere. While he is gone, the viceroy offers Périchole a position at court, which she reluctantly accepts. She writes Paquillo a farewell letter. Since unwed women cannot reside in the palace, the viceroy tells his first lord, the Count of Panatellas, to get La Périchole married. The Count unwittingly chooses Paquillo for La Périchole's husband. The lovers do not know they are to marry each other and are reluctant. The viceroy and his cronies get them drunk and perform the service. The lovers are separated and led off to the palace.
Act II
The ladies of the court inform Paquillo that he has been made Count of Trocadero. He is to present his unknown wife at court. The courtiers are full of malicious gossip about the new couple. Paquillo discovers he is married to La Périchole, but he is jealous of the viceroy and denounces his wife before the full court. The viceroy orders Paquillo arrested and thrown in the dungeon.
Act III
Scene 1 – Périchole visits Paquillo in jail and the lovers are reconciled. They attempt to bribe the jailer, but it is the viceroy in disguise and he locks Périchole up with her husband. An old prisoner manages to unchain the pair. Together they seize the viceroy, bind him, and escape.
Scene 2 – The Count of Panatellas and the Governor are unable to discover the fugitives, who have hidden in the Three Cousins' Inn. The three cousins are astounded that the lovers have abandoned wealth so easily. La Périchole and Paquillo reveal themselves and beg the viceroy for mercy. He forgives them.
– from the Da Capo Opera Manual
[/accordion]
Media
Program