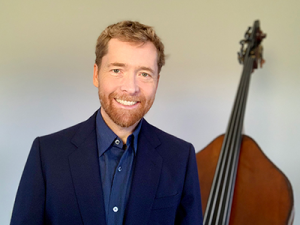 The University of Michigan School of Music, Theatre & Dance announces that Professor Nicholas Walker will join the faculty as professor of music in the Department of Strings in fall 2022. Walker is an accomplished performer who brings a broad range of training and experience to the double bass, including American social music, European concert music, modern and baroque, solo, chamber, and large ensemble collaborations. 
"I am delighted to join the University of Michigan in a full-time capacity this fall," Walker shared. "As a visiting professor last year, I was wowed by the faculty, staff, and students here; this is a remarkable team of individuals who are building a future to outshine even the venerable 140-year history of this institution. It is clear to me that these folks at SMTD train and also practice deep artistry, personal integrity, and a commitment to making real and sustained impacts on communities and individuals." 
Before joining the faculty at SMTD, Walker taught at Ithaca College for 17 years. He has given master classes and performances at music centers and conservatories in the US and internationally, and served as the president of the International Society of Bassists. A Fulbright Scholar, Walker has diplomas from Rice University, the Nadia Boulanger Conservatoire de Paris, and Stony Brook University, where he earned his doctorate in early music in 2004.
"The string department is excited to welcome Nicholas Walker to Ann Arbor," said David Halen, professor of music and chair of the strings department. "My colleagues and I are delighted to have retained such an articulate and nationally respected individual who is devoted to his students' successes. We have already had the benefit of his teaching for the past year and look forward to his long legacy as an integral part of the fabric of the department."
Walker has been featured on two dozen CDs and has been heard on NPR's Performance Today. Walker has played with the St. Paul Chamber Orchestra, the Knights Chamber Orchestra NYC, Oslo Philharmonic, National Arts Center Orchestra of Canada, Handel & Haydn Society Orchestra, St. Petersburg Chamber Philharmonic, Phoenix Chamber Orchestra, and the Cayuga Chamber Orchestra. He has premiered new music with Ensemble X and Ardesco. In addition, Walker is an inventive prize-winning composer who features the bass in solo, chamber music, and improvisational contexts. Earlier in his career, he worked as a freelance musician and band leader in NYC, where he played with and learned from many jazz and Afro-Cuban master musicians.
Regarding his role as professor, Walker said, "I can't wait to return to campus with this excellent studio of 18 students! Their attentive support of one another and joyful camaraderie bolsters a special culture of hard work and brave creative learning. For me it is galvanizing and also fun to teach these striving and thriving musicians!"