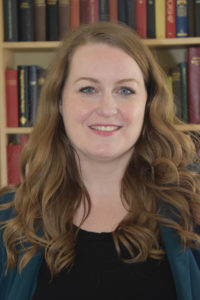 The University of Michigan School of Music, Theatre & Dance announces that Professor Nancy Murphy will join the faculty as assistant professor in the department of music theory in fall 2022. She is a music theorist who studies singer-songwriter music, metric flexibility, self-expression, vocal production, music-text relations, and transcription.
"I am thrilled to be joining the School of Music, Theatre & Dance at the University of Michigan this fall," Murphy said. "I'm so looking forward to working with the outstanding faculty and students at SMTD and for the opportunities this position offers for high-quality research and pedagogy." 
Murphy has published articles and reviews in Music Analysis, Music Theory Online, and Music Theory Spectrum. Her book on flexible meter as self-expression in singer-songwriter music is currently under contract with Oxford University Press.
Murphy currently serves on the editorial boards of Music Theory Online and Indiana Theory Review, and she is an associate editor for Engaging Students: Essays in Music Pedagogy. She was the chair of the Society for Music Theory's Popular Music Interest Group from 2015–17 and has reviewed journal submissions for multiple peer-reviewed publications.
"The breadth of Nancy Murphy's experience really showed in her teaching through presentations that were thoughtful and engaging to the students," commented Andrew Bishop, associate professor and chair of the jazz & contemporary improvisation department, and co-chair of the search committee. "Much of her research centers on singer-songwriters from the 1960s and '70s, such as Bob Dylan and Joni Mitchell, so she will bring an intellectually diverse scope of inquiry to an already dynamic music theory department here at SMTD."
After receiving her PhD from the University of British Columbia in 2016, Murphy was a lecturer in music theory and ear training at the University of Chicago before joining the faculty at the University of Houston as an assistant professor of music theory. She completed her BMus and MM degrees in music theory at Western University.