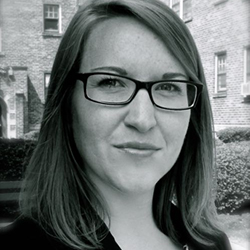 The members of the Ruth Solie Prize Committee were pleased to announce today at the American Musicological Society – San Antonio North American British Music Studies Association business meeting that the 2018 Ruth Solie Prize for Outstanding Article on British Music is awarded to Alison DeSimone (PhD '13) for her article "'Equally Charming, Equally Too Great': Female Rivalry, Politics, and Opera in Early Eighteenth-Century London," published in volume 12 of the journal Early Modern Women. The Committee commends Dr. DeSimone especially for her first-class musicological scholarship, interdisciplinary fluency, engaging writing, and the originality and scope of her research inquiry.
Alison DeSimone is currently assistant professor of musicology at the University of Missouri – Kansas City. She specializes in music of the Baroque period, with focuses on the early history of opera and seventeenth- and early eighteenth-century music in London. She cultivates particular interest in the history of opera singers and singing practices of the early modern era, as well as the music of George Frideric Handel.
Congratulations to Alison on this achievement!